Mambo Nihongo
by Eric Iverson
I am a great lover of cross-cultural hybrids, the weirder the better. Be it Modern Fears doing a Greek rendition of the Charlie Daniels Band's "The Devil Went Down to Georgia" (on a Techno album no less!) or Joseph Salama checking in with a spirited Arabic Lambada, I just can't seem to get enough of the stuff. Lately, my tastes have gone Japanese Latin, which unlike Punjabi Zydeco, is much much easier to find.
My introduction to this sub-sub-genre came in the form of the Tokyo Panorama Mambo Boys Bongo Tengoku's Bongo Heaven (Teichiku Records). I first saw this band a few years ago on an MTV news segment. Three Japanese men bedecked in 50's mambo regalia standing stone cold silent between interview questions, punctuated by the occasional random "Hai!" or "Aaaaaah!", a la Perez Prado. Then they went to the video clip with shots of them banging on congas, interspersed with footage of them being pursued by a dogged twentysomething news reporter (why this is happening is never made completely clear). They even had great stage names: Comoesta Yaegashi, Paradise Yamamoto, and Gonzarez Suzuki. I was hooked.
After many abortive attempts, I finally snagged the album, which does not disappoint. Yes, there are the letter perfect tributes to the likes of Prado, Puente and Ponzo. But the best ones are the songs of Japanese authorship. Bongo Tengoku is a multicultural mambo masterpiece; mixing Japanese vocals, extended bongo solos, big horn charts, and go go girl backup singers who "la la", "yeah yeah", and periodically shriek their way through the tune. Key Hunter, sounds like the Munsters taking a surf vacation with the Ventures off the coast of 1950's Cuba. There are many more.
Besides Bongo Tengoku, the Tokyo Panorama Mambo Boys have also put out Mambo Spy (Vols. 1 and 2) (Teichiku Records). These are strong efforts, but are heavy on the tributes and light on the originals. Volume 2 starts out with John Barry's Autobahn March (presumably from a 60's era James Bond Movie); a severe Teutonic anthem which is abruptly stopped in
mid-record-play, only to be replaced by a bouncy version of Esperanza. Volume 1 has the deliciously demented Husky, in which that word and that word only is belted out at random intervals over what sounds like a musical cast-off from an episode of Laugh-In. Perez Prado's Marilyn Monroe Mambo sounds positively tame in comparison.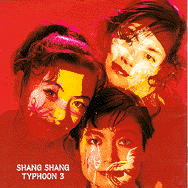 Other artists in the Japanese Latin pantheon include Shang Shang Typhoon, whose album Shang Shang Typhoon 3 (Columbia) contains Sanma Song, a big band latin production number that unexpectedly detours into a Koto solo. It also has the non-latin Revolution Ondo, which reverses the formula above by taking a very traditional sounding Japanese song and splicing in a guitar riff from the Beatles' "Day Tripper."
Orquesta de la Luz Sin Fronteras (Sony) is letter perfect Salsa with a cameo from Tito Puente, which caused a minor stir in the Latin community a while back as to whether a band from Japan could play "real" Salsa. I vote "yes." Finally, Frank Chicken's Best Of... (Kaz Records) intersperses Latin tunes like "Japanese Rhumba" and "Green Banana" amongst tributes to Mothra and various other pop-culture icons.
All in all, a fine crop of albums to tide you over until the next cross-cultural craze. I can see it now: Buckwheat Bhangra: Bollywood on the Bayou. Hey, a guy can dream can't he?
Eric Iverson ([email protected])

---