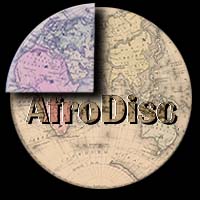 June 1996
Geoffrey Oryema's latest album Night to Night (Virgin) is a huge departure from his first and second albums. It is a let down because Oryema is an accomplished player of the lukeme (thumb piano) and the traditional nanga harp from the Acholi culture in northern Uganda, yet very little of that rich tradition is reflected on this album. There is soft rock, a bit of blues and even something of Led Zeppelin's "Stairway to Heaven" thrown in for good measure. But there's none of the feisty Acholi beat that brought him world recognition on the debut album Exile (Real World) in 1990.
However, if you believe that a true artist is one capable of expropriating an alien voice and moulding it as his own, then Night to Night has something to offer to the world (though not necessary the world of African music). Oryema's strong voice is bathed with soft emotion whether he sings in French, his native Luo or in English. The songs though nostalgic, even whimsical, do appeal to a somber, very reflective mood.
And that's the way Oryema wants it (See related article on Oryema). On tunes like "Passage of Dusk" and "Sardinia Memories" one detects a man determined not to be pigeon-holed into a category. In fact, as most of the songs on this album amply demonstrate, Oryema simply wants to be known as a good musician, a great singer. In this regard, his beautifully voice resonates with warmth and possibilities. That said, this album will be a hard sell among Oryema fans whose appetites were aroused by the first two albums.
---
It's a long way from Harare, Zimbabwe to the sleepy town of Champaign, Illinois, but distance is peeled away by the heart throbbing music put out by Zimbob Inc., the small music label that fell in love with Zimbabwean pop music and whose releases include albums by Thomas Mapfumo and the Black Unlimited. The enthusiasm of a US label for Chimurenga is understandable once you realise that this was the music of Zimbabwe independence in the 1970s. This musical style which drinks deep from the heart of Shona traditional mbira music, continues to thrive in modern Zimbabwe pop. Two new additions to the genre include Jonah Sithole's Sabhuku (Zimbob) and Robson Banda's Greatest Hit Vol. 1 (Zimbob). Sithole, a pioneer who has worked with likes of Thomas Mapfumo in developing the unique style, carefully works a layer of guitars, embellishing the melody with the sound of the mbira and vocal harmonies. The immediacy of the music conveys the spiritual reawakening in the Shona culture, a call to tackle societal problems in post-independence Zimbabwe. Some of the songs like "Chenjera Upenyu", "Sabhuku" and "Kussana" speak of the challenges of being alive in Zimbabwe today, but the music is buoyant, hopeful and, above all, celebratory.
Robson Banda's Greatest Hit Vol. 1 draws its fire from four previous albums released only in Zimbabwe. These tunes, while staying within the Chimurenga music pioneered by Thomas Mapfumo and Jonah Sithole, is nonetheless very crisp, with emphasis on upbeat dance music favoured on the floors of Zimbabwe's night spots. While Banda's eloquent voice weaves poetry around the steady roots beat, the lead guitar of John Chivere licks the ear with razor-sharp intensity.
Kyat-Hend Dittmann sounds German, but the guy is a Zairean and one who enjoys his Soukous hot. Listening to Le Premier Cosmonaute (Shava), one realises that this dance music style that has its origin in Zaire of the early 70s, is still very much alive. Dittmann may not be the strongest vocalist, nor is he from the Pepe Kalle generation when the lyrics dripped tears and love, but he knows how to enliven the beat. The guitars are like skylarks who refuse to perch on the telephone wire, preferring instead to float, dove and duck and dance in the wind. There is a solid drum section that keep things in perspective, just in case the atalaku (vocal animator) got carried away. It's true that in this day and age when Soukous music is a dime a dozen, distinguishing one sound from the other is a tough job. But there is no lofty claim or promises in the Le Premier Cosmonaute, just a chance to shake your bones dry and come back for more tomorrow.
The current issue is here. Previous editions of Afrodisc are available
Opiyo Oloya is the host of the radio program Karibuni on CIUT 89.5 FM Radio, Toronto. The show airs on Saturday 4:00 PM- 5:00 PM.
E-Mail: [email protected]
---