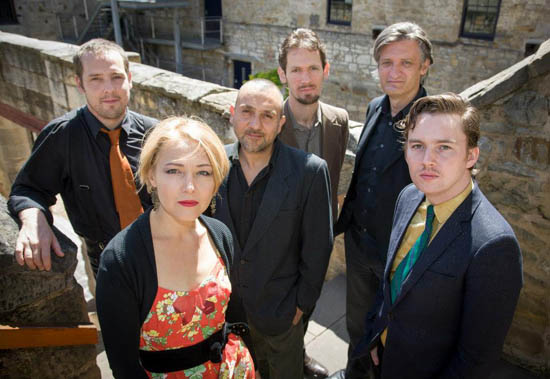 Zulya and the Children of the Underground
On Love and Science
Artist release

Born in the Russian republic of Tatarstan and now based in Australia, Zulya Kamalova teams up with her band The Children of the Underground (drummer Justin Marshall, bassist Andrew Tanner, guitarist Lucas Michailidis, pianist and accordionist Anthony Schulz, and multi-reedist Aviva Endean) for an interdisciplinary concept album. On Love and Science reflects the singer's interlocking interests in art, theater, and song. Equally comfortable in folk and popular idioms, here she fashions an otherworldly cabaret in the context of a self-styled "science fiction fairytale." The album is sung in six languages and packaged in a hardcover book, complete with lyrics, the fairytale in English, and full-color illustrations by Kazakh artist Dilka Bear.

Due to its multisensory nature, On Love and Science is best experienced with the actual product in hand. That way, you can appreciate the multiple layers of thinking that went into its creation. On one level you have the central thematic story, which tracks an unrequited love triangle between a chemist who loves a girl, Alma, who loves an astronomer. On another level you have the artwork, which is expository even as it adds nuance to characters' inner lives. And then, of course, there are the music and words.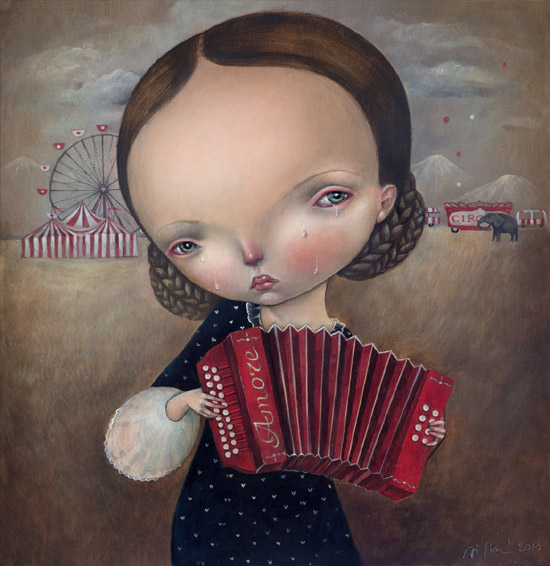 Anyone who has followed Zulya's eclectic career will not be surprised by her dramatic costume changes from one album to the next, but should nonetheless be impressed by the variation of genre within this one. Between two atmospheric instrumentals, "Mise-en-scčne" and "Epilogue," Zulya renders her own images by voice, paying attention to movement as only a comfortable stage performer would.
In "Alma's Song," the album's first proper, our protagonist wanders through her orchard, yearning for a lover who has yet to reveal himself. Zulya conveys Alma's longing in a balancing act of vocal strength and gentility, as bass clarinet and bowed bass move beneath her like a dream within a dream. The young chemist hears her sing and, in "For you there is no Other," expresses his being moved. Love kindles his heart, the palpitations of which manifest themselves in the song's restless energy. An accordion waters this budding romance, less reminiscent of Paris streets than of the twisted emotional complex of a Rainer Werner Fassbinder film—which is to say, of an irrational beauty. Even the lovelier "Trouv," with lyrics in French extolling love as a universal force, feels like a signal intercepted from space rather than one sent into it. Like gravitation it attracts in all directions until naked desire is left suspended in the middle.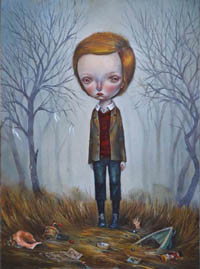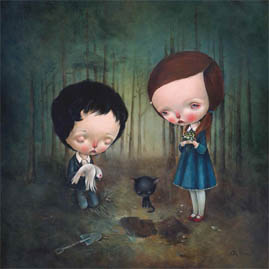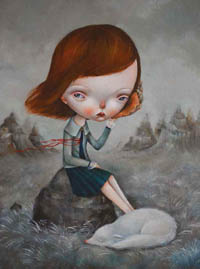 Thematic staples and metaphors of unrequited love stories abound. There is the Eastern European-sounding "Backwards and Forwards," another instrumental that embodies the chemist's frustrations when his attempts to win Alma backfire; his ballad of lament in "Other side," superbly rendered by the band; and Alma's own "Hours," in which she slogs through the depths of denial when the astronomer pays her no heed.
As the chemist's determination to win her carries over into obsessive, almost disturbing territory ("Museum of Lovers"), his own demise feels inevitable in the fatalistic "God has no Heart." It's mixture of determination and fatalism packs the album's hardest wallop. And as Alma, grieving over a tragedy best left for the first-time listener to discover, prepares to move on, she finds herself locked in a cage of her own making, wondering what could have been. The ominous bell and train-tracked drums of "Somewhere" indicate the only logical fadeout. But for those who need every knot untied, there is a bonus track of sorts, "Happy End." A cynical, tongue-in-cheek jab at obligatory resolution, it swoons with a Marlene Dietrich-like allure and bleeds into a ghostly radio signal that plays out into the great beyond. - Tyran Grillo
Find out more about the band and the book.
Further reading and listening:
3 Nights
elusive
Aloukie
All audio ©2016 Zulya and the Children of the Underground
Illustrations ©2016 Dilka Bear

© 2016 RootsWorld. No reproduction of any part of this page or its associated files is permitted without express written permission.