Zulya Kamalova
Aloukie
self-produced (www.zulya.com)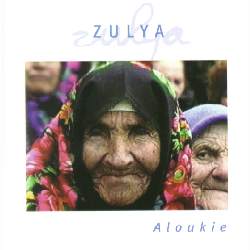 One does not generally expect to find haunting central Russian ballads coming out of Hobart, Australia. But thanks to Zulya Kamalova, they do. Kamalova grew up near the Volga River in central Russia, but since 1991 has lived in Australia. She was originally attracted to her new country by its diversity of cultures, and she found there a group of singers and musicians with whom she could record her own music. Kamalova's second CD, Aloukie, was awarded the World Music Album of the Year 2000 at the Australian World Music Awards. In 2001, she won the prize for "Female Artist of the Year" at the same awards celebration. Many people may have already encountered Kamalova on the Putumayo release "Songs from the Tea Lands," which contains one of her songs.
Aloukie features the music of the Tatar people, a proud and resourceful folk who endured waves of attempted domination over the centuries. Kamalova first learned this music from her grandparents, and then later from her studies of music and language. The lineup includes Kamalova on vocals, mbira and guitar, along with 13 other musicians on a range of instruments from talking drum, kora, accordion, tabla and jaw harp to flugel horn, saxophone and piano.
Kamalova's vocals ground the CD, but the instrumental contributions provide the crucial scenic design for the pieces. For example, the first track ("Saginou" or "Yearning") offers thoughtful, sultry vocals with layers of instrumentation, all sounding a bit like a Cesaria Evora with an Eastern flare. On "Sahralarda [In the Woods]," the interweaving of a bass and saxophone open the piece. "Hairan Bulam [In Amazement]" uses a didgeridoo, thus locating the song more obviously in Australia, along with a lyric that includes "Sometimes I look out/ of the window/ In amazement/ Where am I? What am I doing here?/ Why is my heart aching?" On this song, the Tatar musical motifs accompanying the didgeridoo illustrate the pleasures of a new home mixed with the temptations of the old.
There are nine songs from the Tatar tradition and four original pieces (which all fit seamlessly with the traditional material) on Aloukie. From the rich melancholia of pieces like "Sarman River" to the playful "Kubalagem [Butterfly]," this is a mature and satisfying release. - Ivan Emke