Omar Sosa Quarteto AfroCubano &…
ilé
Otá Records (www.melodia.com)
Cuban pianist-composer-bandleader Omar Sosa has resided outside his homeland for over 20 years, and while he has engaged and recorded with an extraordinary array of artists from four continents, his ceaseless musical inspiration remains deeply rooted in Cuba and the African Diaspora, in the island's Lucumí spiritual tradition that gives this recording its name, ilé, home, earth.
It's hard to comprehend the sense of freedom inscribed Sosa's artistry without having seen him perform, without witnessing his capacity to engage evocatively with musicians and audiences alike, without sitting down and conversing with him. To approximate, a quick web search will yield videos that convey something of the joyous freedom and meditative temperament of Sosa's artistic mission, and close listening to his recordings (preferably with headphones) will reveal the complex sonic layering and profound humanity that is his signature, both recorded and live. So, what of ilé? Of Sosa's many ensembles over time, he is literally at home with fellow homeboy Camagüey conservatory mates Leandro Saint-Hill (alto and soprano saxes, flute, clarinet, vocals) and Ernesto Simpson (drums, kalimba, vocals), buoyed by more than a decade's rhythmic partnership with Mozambican Childo Tomas (electric bass, kalimba, vocals). This is one tight and versatile quartet, interweaving musical idioms from across the globe without ever a hint of the derivative. Take "Dáme la luz" ("give me light"), its seamless balance of percussion, flute, piano, Fender Rhodes, slide guitar, and voices could be Brazilian, West African, Cuban, or something previously unimagined, all these things and still more, a swinging sense of home in a wondrous universe beyond mortal comprehension.
"Sad Meeting"
Equally, ilé conveys a boundless feeling of longing, a swirling sense of eternal change in "Sad Meeting"; an immaculate meld of Cuban carnival and Spanish flamenco in "Mi conga"—mad product of a vexed transatlantic history in all its paradoxical outcomes, past into present; the dawning grief of what, for all time, has passed with the tides in "A Love Lost Reprise."
"Mi conga"
In all its spaciousness, ilé projects a delicate, true-north, world jazz sensibility, a lightness of being-in-music beyond category, if not truth beyond time itself.—Michael Stone
"Old Afro Baba"
Find the artist online: www.omarsosa.com
Omar Sosa's ilé is our April Music of the Month offer.
You can get a copy of the CD while supporting RootsWorld .
© 2015 RootsWorld. No reproduction of any part of this page or its associated files is permitted without express written permission.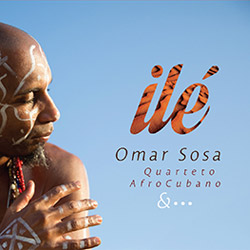 Omar Sosa's
ilé
is our April
Music of the Month
offer.
You can get a copy of the CD while
supporting RootsWorld
.