I

n 2009, Omar Sosa's French booking agent set up an eight-country tour of East Africa, supported by the Alliance Française and documented by a French film team. Joining Sosa were two of his recurrent collaborators, singer Mola Sylla (Senegal) and bassist Childo Tomas (Mozambique). The tour resulted in the film documentary "Souvenirs d'Afrique," and an evocative trove of recordings by local traditional artists during each of the tour stops.

As Sosa himself predicted in 2010, a busy touring and recording schedule ultimately delayed this title's realization for a decade. Sosa and Steve Argüelles, his Paris-based co-producer, took up the East African project again while finalizing Transparent Water, Sosa's singular collaboration with Senegalese singer, percussionist, and kora master Seckou Keita. In Paris, Sosa added piano, Argüelles added tasteful and restrained drums and percussion, all augmented by the work of bassist and synth player Christophe Minck.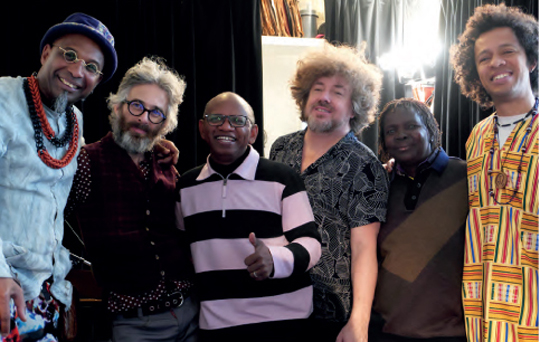 Omar Sosa, Steve Argüelles, Rajery, Christophe Minck, Olith Ratego, Alan Souza
The consequence of close and sympathetic listening across half a continent, An East African Journey achieves what few so-called "world music" undertakings ever manage. Sosa's playing is restrained throughout, engaging with, augmenting, and building upon the subtle creations of his artistic partners, rather than using their striking and diverse talents as mere spice for his own work. What makes this title still more compelling is its departure from European and North American artists' more typical turn to West Africa for genre-bounding musical inspiration.
| | | |
| --- | --- | --- |
| | | w/ Seleshe Damessae "Che Che" (excerpt) |
Consider "Che Che," krar (5–string Ethiopian lyre) player and singer Seleshe Damessae's nonpareil vocal evocation of a galloping horse. Just as unlikely is Sosa's engagement with the late Monja Mahafay of Madagascar, who sings and plays marovany (24–string box zither) and lokanga (3–string violin), the latter on "Sabo," whose rhythmic exhalations invoke the spirits who carry the deceased to the realm of the ancestors.
| | | |
| --- | --- | --- |
| | | w/ Abel Ntalasha"Shibinda" (excerpt) |
Every piece here is its own revelation, dawning more fully with each new listening. The spirit of relaxed, knowing collaboration comes across joyfully on "Shibinda," with Abel Ntalasha , a Zambian singer and player of the kalumbu, an instrument reminiscent of the Brazilian berimbau. We hear the banter between the musicians on an endless percussive loop that would be equally at home in an all-night Cuban rumba session. Closing the album is Mauritius ravanne (frame drum) player Menwar on the meditative "Ravann Dan Jazz," as good an indication as we may have of Sosa's next unpredictable horizon.
| | | |
| --- | --- | --- |
| | | w/ Menwar "Ravanna Dan Jazz" |
Different still from the preceding is the sonic chemistry between Sosa and Madagascar's Rajery (vocals and valiha, an 18–string bamboo-tube zither) on "Tsiaro Tsara," "Veloma E," and "Dadilahy," each unique yet perhaps together the tracks most readily accessible to those seeking beyond the aural bounds of Western musical convention.
| | | |
| --- | --- | --- |
| | | w/ Rajery "Tsiaro Tsara" (excerpt) |
But to say that risks diminishing the animate genius of An East African Journey, only the latest expression of Omar Sosa's determination never to play the same thing twice.
Editor's note: we just learned that Monja Mahafay passed February 2nd at the age of 51.

An East African Journey
is our selection for
Music of the Month
for February, 2021
Hear some more music, then
subscribe
and get the CD as our thank-you for helping RootsWorld.
Read more:
Omar Sosa and Seckou Keita - Transparent Water
An interview with Omar Sosa
3MA - Anarouz (w/ Rajery)
Fendika - Birabiro
Sosa's live, multimedia music video collaboration with Argentine videographer Carlos Larrondo happens on Friday, February 12th at 6:00 PM Pacific Time

All photos and audio are courtesy of the artist and record label. Find out more about Omar Sosa, including concert dates and other recordings.