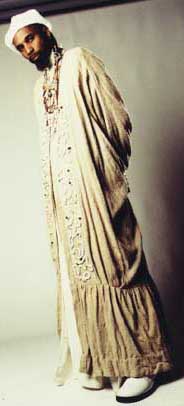 Jazz is freedom.
The spirit gives something to us in the music.

Omar Sosa talks with RootsWorld's Michael Stone

The 23rd Leverkusener Jazztage (Jazz Days) in Leverkusen, Germany, offered the chance to talk with breakthrough Cuban-born pianist, composer and bandleader Omar Sosa. Bernd Skibbe, head of Skip Records, Sosa's German label, was also on hand. A freewheeling exchange ensued, but we always returned to the art of politics and spirituality that animates the human condition, concerns central to Sosa's musical vision. But to understand that vision, some background is in order first.

Born in 1965 in Camagüey, Sosa studied from age five to 12 at the regional music conservatory, moving in 1977 to pursue percussion studies at Havana's Escuela Nacional de Música and the Instituto Superior de Arte. Toward the end of his apprenticeship, he taught percussion to school children, and founded his own first group in 1986, Tributo, which toured Angola, the Congo, Ethiopia and Nicaragua. Subsequent work as a producer and musician in Brazil, Ecuador, Mexico, Spain and France marked the ever-widening musical horizons audible in Sosa's music.

Moving to Ecuador in 1993, Sosa has since pursued projects fusing the African-inspired musics of Ecuador, Spain, Morocco, Cuba and the United States. After several years in San Francisco, he's now based in Barcelona, working with a brilliant array of musicians from three continents. Cuban singer Martha Galarraga has been with the ensemble since 2000. Skibbe relates, "Omar heard her singing in a club during one of his tours of Germany and asked her to join the group. He's always looking for new sounds and new talent." Also on the Fall 2002 European tour were the other Sosa regulars of late: hip-hop lyricist Sub-Z (a.k.a. Terence Nicholson, from Washington, DC), San Francisco's Eric Crystal (saxes), Venezuelan percussionist Gustavo Ovalles (vocals, batá drums, bongos, congas, small percussion), Cuban percussionists Javier Campos and Miguel Rios Morales, and from Mozambique, Childo Tomas (bass).

The expansive humanism of Omar's musical vision comes through clearly in his latest recordings, the best gauge of his ecumenical spiritual orientation. These include Prietos (2000), a paean to "all children of the same Mother Africa," which convenes musicians from Burkina Faso, Ivory Coast, Morocco, Brazil, Cuba, Ecuador, Peru, Venezuela and North America. (Prietos is also the last to feature the inspired work of U.S. rapper Will Power, who joined Omar in 1997.) Sosa calls it "an honest sample of what I think our convulsed world could be... simply a unity of light, peace and love." The sentiment may strike the cynical as recycled New Age, but Sosa is sincere, intensely so, and his enthusiasm and easy sense of humor are infectious.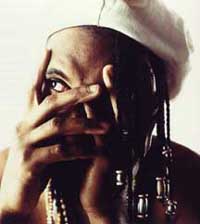 The influence of North Africa is keenly present in his most recent work. Sentir convenes Galarraga, Sub Z, Ovalles, members of Nass Marrakesh and El Houssaine Kili (who introduced Sosa to North African music). The Moroccans collectively cover Gnawa and Arabic vocals, gimbri (North African long-necked lute), oud, mandolina, Moroccan violin, t'arija (a small, single-headed Moroccan vase drum), qarqaba (paired iron castanets) and handclapping. While purists may grouse that the ecstasy of Gnawa singing is subordinate to the overall musical project, Sosa is after something other than mere replication of the many traditions coursing through his work.
Likewise, Sosa's is a collaborative spirit. In kindred exchange, he and fellow Cuban Jorge Pardo (flute, sax) return the extended favor, lending a jazz feel to Nass Marrakech's own Bouderbala, along with Abdelaziz Khodary (darbuka), Senegal's Mapote Gueye (djembe), Carlos Pussetto (Brazilian percussion) and the Bulgarian L'Orkestina, taking Moroccan traditional music in uncharted directions.
Omar's Sentir won the Jazz Journalists Association's Afro-Caribbean Jazz Album of the Year award (2002), was nominated for a Latin Grammy, and is in the running for the 2003 Grammy Awards' Latin jazz album). Regarding Sentir, Omar says, "Our encounters in the studio were based on freedom and spontaneity. They were full of emotion and discovery on everyone's part. Different worlds were meeting for the first time and experiencing a fraternity without limits."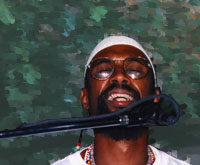 Two of the more subdued tracks, "Sucesión en Blanco" (Succession in White) and "Tres Notas en Amarillo" (Three Notes in Yellow) stand in contrast to the full blast of Santería batá drumming, piano free flight, and the Yoruba chanting in which Galarraga specializes. And like the band's Leverkusen performance, every time the recording seems poised to veer of into the unknown, Sosa brings them back to the human plane, transformed by the flash of the spirit.
His latest, Ayaguna (2003), proceeds in the vein of Sosa's earlier collaboration with San Francisco Bay Area percussion stalwart John Santos, Nfumbe: For the Unseen (1997), recorded live at Berkeley's La Peña. Ayaguna is a sublime piano-percussion duo, from a 2002 concert in Yokohama, Japan. Sosa says, "The freedom is there. I gave the freedom to the sound guy too, to record it like he heard it. If the sound guy hears something, let him play too. He's a musician in that way."
Sosa's keyboard work sometimes recalls the classical Cuban stylings of one of his teachers, Ruben Gonzalez. But he also cites Bill Evans, John Coltrane, Miles Davis, Charlie Parker, Thelonious Monk and Duke Ellington as influences, quickly adding that "each is inimitable, unique — there's no one like any one of them." One also hears diverse invocations, influences ranging from Frederic Chopin to Herbie Hancock, Keith Jarrett, McCoy Tyner and Randy Weston.
While Omar makes no direct references to Randy Weston, an obvious connection is Weston's extensive work with Gnawa musicians since leaving the U.S. for Morocco in the late 1960s. And Omar's work is replete with Monkish figures. For instance, Spirit of the Roots (1998) includes a longish tribute, "Remember Monk," while Ayaguna opens with the pensive, big-handed, Tyner-esque reverberations of "Black Reflection." These influences are also audible in the call-and-response chant, percussion and supercharged keyboard of "Una Tradición Negra," and the majestic lyricism of "My Three Notes," the tender bolero that closes Ayaguna, wherein Jarrett and Chopin are manifest. (Earlier versions of "My Three Notes" can be heard on Omar, Omar, his 1996 solo debut, and the ensemble effort, Free Roots, released the following year.)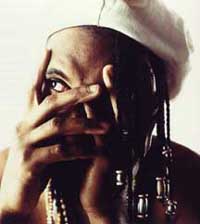 Sosa freely acknowledges his classical romanticism, observing, "I listened to Chopin for two years every single night before I went to sleep, and I feel very close to his music. He is one of the spirits that is around me." Classical inclinations manifest in a different way on Bembón (2000), a big-band effort that seamlessly combines a string quartet with jazz, Afro-Cuban, spoken-word and diverse world-music elements.
Another classically oriented project is Sosa's new symphony, From Our Mother Africa, premiered by the Oakland East Bay Symphony in January 2003, with Omar at the piano. He calls it my "first full-length AfroSymphonic work." The California Council for the Arts and the Rockefeller Foundation underwrote the composition, whose second movement Omar calls "very Afro-Venezuelan," reflecting his work with Ovalles. Music union rules prevented taping the Oakland debut, but Omar is exploring the possibility of recording From Our Mother Africa with the Orchestra Radio France.
On Africa's broader musical influences, Omar says, "We talk about Africa but most people just think drums and black people. But what about North Africa? The African Diaspora means that whoever you are, you can have African spirit. I don't talk about names of countries, but the spirit of the earth and the atmosphere in many different places."
Parallel to his interest in Gnawa trance music, Sosa's jazz perspective taps the Yoruba spirit-possession tradition traced to present-day Nigeria. This awareness carries over in the Diaspora, of course, manifest in the African musics of Brazil, Cuba, Haiti, Jamaica and Caribbean Central America, wherein humanity's highest form of expression is as a channel for the divine. Says Omar, "The spirits play through us."
He continues, "The media interpret Africa as energetic, rhythmic peoples. But rhythm connects every people with the supreme spirit. Every country has a tradition of contacting the spirit, calling the spirit. Maybe not all societies deal directly with the spirit, but they all have a way to pull people together."
Using the metaphor of material sustenance, as rooted in Santería practice and belief, Sosa attempts to invoke and nurture this ideal onstage. "My idea is, let's put everyone at the table and see what they have to say. We put the food in the middle and eat together. This is the philosophy, put everybody together at the table, regardless of religion and politics. Today, people don't have time to breathe, to be together, to say 'Hey, brother, thank you' or 'Hey, brother, I love you'. Nobody apologizes when they bump into someone in the streets, they just try to get away as fast as possible."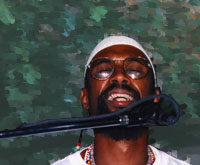 Ayaguna is dedicated to Obatala Ayaguna, the Yoruba deity of peace, wisdom and revolution. The spiritual center emerges in the percussive opening of "Iyawo," bridging into "Días de Iyawo." The album's bonus video track anticipates one of his impending projects, the New Media Quintet (NMQ), whose piano, bass and percussion are complemented by two video jockeys (VJs). Behind the strains of "Iyawo (Peace Refrain)" runs archival footage of popular worldwide peace struggles. With a sense of urgency, Omar speaks directly to the camera to convey his philosophy: "It is peace that illuminates and moves things." Regarding the NMQ, he says, "I want to let people know how jazz can look in images, because jazz is freedom. The spirit gives something to us in the music. Every music is inspired by something. Pink Floyd did this kind of thing in the 1960s and 1970s, playing in front of images. Maybe the idea is crazy, maybe it won't work, but if we take the philosophy of jazz seriously, why not?"
Regarding imagery as a musical complement, Omar says, "We have to hear the music in political context, although people don't want to think about politics. So, let them see it. They don't try to avoid politics just because of terrorism. More basically, everyone is just trying to survive. But the media don't want people to have a choice."
Omar continues, "What is jazz? For me, today nothing is avant garde. Everything is already on the table. Garlic, onions and rice can go together in so many different ways. The fire, the spirit people put into the food when they cook, is always unique from one place to the next. That's pretty much how I feel about the music. It's hard to make the music you really hear, because of the technical and financial constraints. Tonight, for instance, we're pretty traditional. A singer, spoken-word artist, piano, saxophone, bass and three percussionists. If I want to put 12 drums on stage, the sound guys go crazy. But we want to bring together all the traditional sounds."
At Leverkusen, Sosa took risks that other artists (and their managers) might seek to avoid. Bernd Skibbe confirmed the freewheeling character of Omar's music, even as he worried about the audience's inability to perceive its deeper truths. Band members were all dressed in the sacred white of Santería, the piano was lit with devotional candles, and Omar himself swept onto the stage trailing a long white scarf and a collapsible white hat that reclined on his head like a latent concertina. He grinned wildly, brimming with pleasure as the musicians worked out in their respective spheres. This was no staid, buttoned-down, cool jazz concerto, and a visibly unsettled portion of the crowd shifted restlessly.
As Omar told me, "Every place we play is different. What happens in the moment, the musicians' own feelings, makes every day the first and the last. Personally, I never know what will happen onstage on any given night. I'm not nervous about it, but I'm concerned about what happens with the music. It's not like working in a bank, all business-like. Everything presents a challenge. Audiences in different countries are distinct, and two days later even the same person will hear and feel and play differently. And even if the critics say 'I hate it,' something happened."
Scanning the youngish crowd, many of whom apparently had been drawn by the cerebral pyrotechnics of the preceding act (Sweden's critically acclaimed E.S.T. Trio), it was clear that not all could grasp Sosa's affirmative cultural synergy. At one point, the band members left the stage, one by one, until only Tomas remained, taking an extended bass solo that threatened to veer into the outer limits, far beyond the audience's expectation of mere "entertainment." It was several minutes before the other musicians began to filter back onstage, and the audience's unease in unfamiliar sonic terrain was palpable.
Sosa may not worry about such things, but he retains a deep respect for his audience's humanity, adrift though some may feel before the grand musical and spiritual challenge. Along similar lines, Omar has deliberately chosen to remain with an independent label whose head, Scott Price, champions and supports his work without reservation. Omar relates, "Most record companies' commercial interests make jazz so constrained. They only ask, 'Will it sell? How much?' I'm interested in something else."
Omar continues, "This is why I started to think more politically about the music. There is no alternative perspective in the world now, only capitalism. There's this idea of success in the United States, but success is not lots of money, lots of girls, lots of cars, nice clothes, the good life. We need to think a little about this. Let's put our feet on the ground for a second, let's see what we can give to the next generation. The problem is not for me, it's for my little son, Lonious [named after Monk, naturally]. I don't know what I can give to him. There's so much noise in this world. That's why I want to do a music project with integrated visuals. Everything else has already been done. I don't want to be Mandela or Gandhi in my music, I just want to discover a little bit of their spirit in sound. I don't just want to be the musician who walks on stage and says, 'Look at me, look what I studied, look what I can do'. I'm looking for the higher spirit."
- Article and interview by Michael Stone
Audio: "Toridanzón" (c)(p)2003 Sosafunke Music Publishing, used by permission
---
Omar Sosa Discography (all recordings on Otá / Skip Records, unless otherwise indicated)
Ayaguna: Live Duo Concert with Gustavo Ovalles, at Motion Blue, Yokohama, Japan (2003)
Sentir (2002)
Prietos (2000)
Bembón (2000) (Read the RW review)
Inside: Solo Piano (1999)
Spirit of the Roots (1998)
Free Roots / Raices Libres (1997)
Omar Omar: Solo Piano (1996)
Omar Sosa and John Santos
Nfumbe: For the Unseen (1997)
Nass Marrakech, with Omar Sosa and Jorge Pardo
Bouderbala (World Village) (Read the RW review)
Further reading
Omar Sosa's web site
His concert schedule can be seen here.
Label web sites
Otá
Skip
Oakland East Bay Symphony