Cuban musicians, embargoed from direct, ongoing contact with U.S. jazz artists, have drawn stylistic inspiration from the home-grown brilliance of such stalwarts as Chucho Valdés, Irakere and Gonzalo Rubalcaba, imported jazz, funk, R&B, Latin and Brazilian recordings, the chance musical encounters of international touring, and sometimes, expatriation. A number of recent releases display the inspiration and promise of Cuban and international Latin jazz futures.
If Tony Martínez forged his saxophone style by dissecting the seminal work of Charlie Parker, John Coltrane, Cannonball Adderley and Miles Davis, his musical signature also reflects an intimate knowledge of Afro-Cuban rhythms, sacred Yoruba song, Cuba's own jazz greats, and sundry global revelations. A Camagüey native, Martínez grew up on rumba, son and related Afro-Cuban genres, but from age nine he undertook conservatory study of the piano, voice and saxophone. He went on to teach at his alma mater, directing Cuban folkloric music and dance ensembles. In 1990, Martínez moved to Havana to pursue a performing career that led to the European touring circuit, and in 1993 he settled in Switzerland, his present home. Talent comparisons with Paquito d'Rivera are inevitable, perhaps, but in any case, Martínez's abundant musical imagination is manifest in spades on a pair of recent releases.
La Habana Vive, a collection of Martínez originals, features the talents of drummer Julio Barreto (Gonzalo Rubalcaba quartet veteran), trumpeter Mario Hernandez "El Indio" (a 20-year Irakere stalwart) and Julio Padrón (Irakere's current trumpeter). In addition, Gonzalo Rubalcaba lends his piano wizardry on "Noticias De Cuba," the samba-dappled "De La Habana A Bahia," and the Yoruba-inspired "A Elegba." Martínez also discourses on rumba ("Porque Soy Rumbero"), cha cha cha, funk and Latin jazz ("Coltrane My Giant," "Reconciliación II," and the title track), in an evocative blend of instrumental and vocal elements that signals a standard-breaking debut.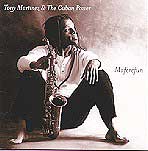 Maferefun (Yoruba for "blessing to the divine grace"), Martínez relates, is inspired by Coltrane's spiritual example. The all-Cuban lineup fronts Rubalcaba, Padrón and Barreto, and the considerable percussive talents of Miguel "Anga" Díaz, backed by many other superb players and singers. Maferefun achieves cruising altitude from the opening montuno of "Tumbao Pa' Mi Timbal," weaving a dense trumpet-sax dialectic with a ruthless rhythmic undertow that buoys a flat-out descarga. Invoking the fusion spirit of Irakere (with a nod to Weather Report), "Gracias Chucho" begins with a Camagüey rumbero's tribute to the Cuban keyboard giant, gliding into a jazzy vocal comparsa peppered by the rhythmic genius of Rubalcaba, and a conga, bass and sax exchange that summons the pure elation of a Cuban street festival. "Pa' Lo' Latino" is a sizzling son montuno, a percussive appeal to dancers worldwide. "Cha Cha Cha Para Mi Alma" gives the classic dance genre a soulful update a la Rio and Detroit, while "Latin Funk" would do Willie Bobo, Pucho or Ray Barretto proud. "Mr. Coltrane" is a bass-grooving jam whose pan-stylistic mastery transcends the bounds of Latin jazz, as does "Homenaje A Emiliano," dedicated to Cuban keyboard jazz pioneer Emiliano Salvador (with a Martínez piano solo). The album closes with a meditative Lucumí chant, "A Babalu Aye," with a resonant vocal chorus. On the recorded evidence, Martínez offers a daunting prospectus on the far reaches of contemporary Cuban jazz.
On La Culebra, Osdalgia, a spirited young Afro-Cuban singer with a keen French following, conveys a sultry vocal presence, with backing by NG La Banda. A former stage and film performer who paid her dues as a cabaret chanteuse, this is a singer with vocal style to spare. Osdalgia conveys something of Graciela's panache, in the uncompromising perspective of a woman who has lived to tell. Consider the opening track ("Así Es La Humanidad"), an affirmative claim to Afro-Cuban identity in a guaguancó setting. She moves easily through a repertoire of salsa, samba, mambo, bolero and filin before returning to the rumba with Beny Moré's "Rumberos De Ayer," closing with two more Moré classics, "Dolor y Perdón" and "No Te Atrevas." Three of own her compositions reveal another of Osdalgia's talents: "De Cuba" asserts her Afro-Cuban Lucumí identity with a fresh musical quotation of "Summertime"; "Voces De Carnaval" speaks to the convergence of Cuban and Brazilian street festival traditions; and "Beribe," the most engaging track, is an entrancing, hip-hop-seasoned timba recital of Cuban women's efforts to blaze their own trail. La Culebra thus reveals the expressive assurance and élan of a coming Cuban voice.
Increasingly a singer in demand, Osdalgia also lends her translucent vocal colorings to the Afro Cuban Jazz Project's Descarga Uno, soloing on "Tú, Mi Delirio," a bolero, and "El Que Siembra Su Maíz," a son. She joins some of Cuba's finest working musicians: Orlando Valle "Maraca" (flute and musical direction, formerly of Irakere), Lázaro Dagoberto González (Orquesta Aragón violinist), Pancho Amat (tres), Barbarito Torres (lute, lately of Buena Vista fame), Tata Güines (the ubiquitous percussionist), and the stentorian singer, Santa Clara sonero Cascarita. The result is an erudite jazz-inspired exploration of rumba, Lucumí, son, guaracha, danzón, conga, changüi and charanga, in the unbridled spirit of the Afro-Cuban jam. From start to finish, Descarga Uno is an unhurried, straight-ahead essay on the folk roots of Afro-Cuban jazz, a recording whose constituent elements precipitate with a subtle, insistent musical chemistry that bears close and repeated listening to savor their far-reaching effect.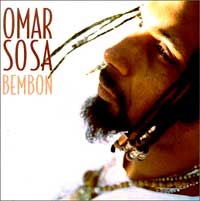 Omar Sosa (like Martínez, a Camagüey native) specialized in percussion at Havana's Escuela Nacional de Música and Instituto Superior de Arte. He taught percussion to school-age children for three years in Manzanillo and Havana, then formed a series of groups that toured in Angola, Congo, Ethiopia, Spain, Nicaragua and Mexico. Accordingly, his keyboard technique is profoundly percussive. Moving to Ecuador in 1993, he blended Afro-Ecuadorian folk influences with those of his Afro-Cuban heritage, before heading north in 1995 to break out in San Francisco's vibrant Latin jazz scene, while also touring widely in Europe. Sosa's Bay Area collaborators have included John Santos (multiple percussion), Orestes Vilató (timbales), Geoff Brennan (bass), Sheldon Brown (reeds galore), Elliot Kavee (drums), and Will Power, the sly, stunning hip-hop composer and vocalist. Bembón (Afro-Latin slang for anyone with thick lips) is Sosa's sixth release on Otá Records, a blend of straight-ahead jazz, bop, funk, rap and hip-hop in a Pan American Afro-Latin groove. Special mention also goes to Guillermo Allovi "Papá Roncón," the magnificently raspy Afro-Ecuadorian singer and marimba genius.
Sosa steps in with "Negros," a driving invocation of the orishas, an ironic, wailing repudiation of black subalternity whose sheer abandon recalls the keyboard majesty of Randy Weston and Rodney Kendrick. The angular melodic swing of "Lapiz En Pigalle" takes finger-snapping hip-hop jazz poetry to the rough-and-tumble, polyglot streets of a Paris les touristes never see. True to name, "Marimchacha" combines Ecuador's marimba with a cha-cha-leavened Afro-Cuban rhythmic undulation, an engaging soundscape whose outer limits Sosa extends in the descarga, "Narcisa Con Yalode." In praise of healing waters, "Juntos" chants to Ochun in the hip-hop Lucumí tongue. "Dame Un Tiempo" is an endlessly looping danzón-son, an exquisite melding of piano, clarinet, vocals, marimba, bass, drums and percussion. A fluid "Campos Verdes" narrates a spiritual coming-of-age, a pulsing polychrome of rhythm, voice and ethereal sound, while "Gracias Señor" conjures up Bill Evans' ephemeral late-night soul. Man of words Will Power soars alongside Papa Roncón's marimba and vocals on the title track, a wry, big-hearted Afro-Ecuadorian hip-hop improvisation in eulogy to the mythical Shameeka Jones, a swaying bembón whose mesmerizing beauty was always and ever immanent for those with eyes to see. Heading out on "Torbelegg," Sosa stirs up a transglobal tribute to Elegua and the panoply of Lucumí saints. Recently relocated to Barcelona, Sosa continues to invoke the celestial spirit that animates this brilliantly inventive release, sculpting the shape of Cuban world jazz to come. — Michael Stone
Available at cdroots.com