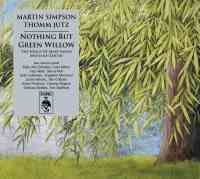 Martin Simpson has become an elder statesman among guitarists, his work on acoustic six-string and banjo simply devastating in its effortless style, and he's rightly achieved a hero's status for us. He's a man who's often made connections between the English and American traditions, and in Thomm Jutz, a German-born American bluegrass musician, songwriter, and Appalachian scholar, he's found a perfect companion for this particular exploration.
Most of the songs here will be familiar to folk fans – the possible exception is "I Whipped My Horse," given an exquisite instrumental setting by the pair, with a beguiling vocal by Fay Hield – but there's a twist. They were all among a staggering haul collected by British musicologist Cecil Sharp and his associate Emma Karpeles from two women in Western North Carolina in 1916 and transcribed in English Folk Songs Of The Southern Appalachians. The songs had made the journey across the Atlantic with early settlers and taken on their shape and new colouration in different surroundings, as Ted Olson's outstanding liner notes explain.
"Suffolk Miracle"
(excerpt)
"I Whipped My Horse"
(excerpt)
Recorded in both the UK and US, none of the pieces on the album took longer than two hours from first run-through to recording, bring in guests singers from both sides of the ocean to add their own magic. It's all spontaneous, full of joy and wonder, and the vocalists often illuminated songs in utterly surprising ways, like the heartache Odessa Settles brings to a gentle version of "Pretty Saro," or Cara Dillon with her luminous voice making "Come All You Fair And Tender Ladies" glow. The pure simplicity of "The Suffolk Miracle," where singer Angeline Morrison is framed by the two guitars, is music that could have been made one Sunday in a living room.
It's a triumphant project, and a very special kind of magic.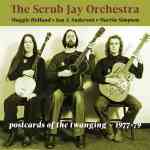 However, it's hardly Martin Simpson's first dive into recording American music. He guested on a pair of late 1970s albums by Hot Vultures (Ian A. Anderson and Maggie Holland), and they toured for a while as a trio, the Scrub Jay Orchestra. The fruits of their sessions are gathered together on postcards of the twangin' 1977-79, with Simpson a fairly low-key presence, but adding vocals on "Chattanooga Papa." A lovely little addendum.
Martin Simpson online
Tom Jutz online
The Scub Jay Orchestra online
Further reading:
Vinta: Beacons / Oli Tunes
Ian A. Anderson: Please Re-adjust Your Time
Shirley Collins: Archangel Hill