The subtitle is 'the early blues & psych-folk years,' but more apt might be 'growing up in public.' With this four-CD box set, pretty much everything of Anderson's is now available, I believe. (A confession: Ian was my editor at fRoots/Folk Roots from 1994 until its demise.)
| | | |
| --- | --- | --- |
| | | "Get In That Swing" |
It really does show the maturation of an artist who has proved important to English roots music over the decades. While his very early releases aren't here in their entirety, the first four LPs are, with some of the other items cropping up among the bonus tracks. Played one after the other, it offers a fascinating insight into Anderson's development. Everything kicks off with the blues hopeful and his Country Blues Band on the wonderfully-titled Stereo Death Breakdown (an album that should have appeared on Island Records, but the reason it didn't makes good reading). While much of the material is his own, he's very obviously in thrall to American performers and recordings, still sounding as if he just got off the boat from New Orleans and wanting to stomp the Delta mud off his boots. You can hear it on tracks like "Get In That Swing" and his take on "That's Alright." It's from a time when music was more open, and all the paths still seemed very possible. The performances are certainly more than creditable, and showed that by 1968 he was already very accomplished.
| | | |
| --- | --- | --- |
| | | "Silent Night No.2" |
Royal York Crescent, released on his own Village Thing label, offers a portrait of a man in transition. That sense of blues remains the deep core of his music, but he also spreads his wings to embrace the world of English hippiedom. Sometimes it works, like the beautiful "Silent Night No.2," with its glittering picked guitars, and sometimes it doesn't, as on the anti-school song "Shining Grey," a piece that hasn't worn too well. There are very definite fantasy and science fiction influences in some of the lyrics. One song is even named "The Man In The High Castle," after the Phillip K. Dick book. But, although this comes from the mercifully brief psych-folk (whatever that is) period these are all still very much songs, not stoned noodling. Anderson has retained the sensibility of construction from playing the blues and all the musicians are very focused in their performances.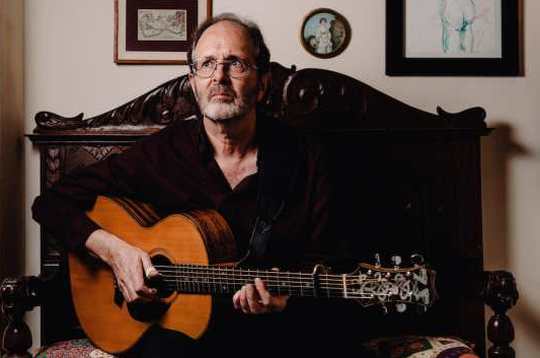 The latter day singer (Photo: Elly Lucas)
| | | |
| --- | --- | --- |
| | | "Well Alright" |
A Vulture Is Not A Bird You Can Trust was recorded 13 months after its predecessor. It's a much livelier, electric take on his music, laid down at the famous Rockfield Studios in Wales. There's some definitely meaty material here, showing the rapid development of Anderson's songwriting on tracks like "Well Alright" and a taste of Dylan with "One Too Many Mornings." Warning, however: that psych-folk rears its head again on the bonus tracks, which were put on tape in 1969.
| | | |
| --- | --- | --- |
| | | "Spider John" |
Fast forward to '72, and here's the fourth CD in the box, Singer Sleeps On As Blaze Rages. (Yes, there's a story behind that.) Some it was comes from Rockfield again, but with old compadre and National/steel guitar player Mike Cooper behind the desk and adding some licks, along with his band, while the rest was recorded in Anderson's now firmly-established home base of Bristol. There's still pieces of arcane weirdness, as on "Marie Celeste On Down" and "Shirley Temple Meets Hawkwind," with a little nod towards tradition on "Pretty Peggyo," and there's also a cover of "Paint It, Black" that's probably best glossed-over.
| | | |
| --- | --- | --- |
| | | "Western Wind" |
Listen, though, and muscle in the compositions and the playing are apparent. Anderson has completely found his voice, metaphorically and literally, and become a commanding presence. Yet this album also marks the end of one phase of his career, as the bonus tracks show. They're the 1973 demos for Hot Vultures, his duo with Maggie Holland, which would keep them buzzing around Europe for several years to come. A couple of these haven't seen the light of day before, but they mark a good, strong beginning, with just two musicians kicking up a might joyful sound. Re-adjust your time a bit over half a century and see the formation of a very underrated artist. It's definitely worth the trip.
The latter day singer sings. (2019)