Anna Cinzia Villani and MacuranOrchestra
Fimmana, mare e focu!
Anima Mundi

Giancarlo Paglialunga
T'Amai
Anima Mundi (www.suonidalmondo.com)
Anna Cinzia Villani and Giancarlo Paglialunga, though not yet forty, are accomplished veterans of the Salento music scene, masters of pizzica and other traditional forms native to the southernmost part of Italy's Puglia region. Both are compelling vocalists with distinctive styles whose work is deeply rooted in tradition. They're serious scholars of Salentine folk music, but there's nothing studied about their approach to it, the proof being the two recordings reviewed here.
Fimmana, mare e focu! ( Woman, sea and fire) is Anna Cinzia Villani's second album as a soloist; she made her debut in 2008 with Ninnamorella, after having recorded with Canzoniere Grecanico Salentino and the Ensemble Terra d'Otranto. Villani's latest work is the fruit of her research to find traditional songs in which women speak in the first person of their lives and emotions, instead of being the objects of a "male gaze" that idealizes them as madonnas or castigates them as heartless heartbreakers, la malafemmena. The women in these songs fit neither stereotype – they're much more complicated. Their unruly inner lives, and their social and sexual relations, certainly give the lie to clichéd notions of southern Italian female peasants as subservient wives and doting mothers.
"When a woman is unmarried she is half crazy/when she gets married she becomes totally crazy," Villani observes in "Mujerima pe' la musica e pazza pazza." In "Lu desiderlu miu cu bessu cozza," the singer imagines herself as a snail cooked and eaten by her lover. "Farnaru farnareddhu" tells of a woman nicknamed Five Hundred – the number of lovers she has had. The title track warns that "Women, sea and fire are dangerous."
Villani is rightly recognized as a leading figure in Salentine music; her striking voice has a quality that critics have called "antica" (ancient). She's a master of the monadic vocal style common to much southern Italian folk music and which has its roots in ancient Greece. (Salento in antiquity was part of Magna Grecia, Greater Greece.) In its upper register, her voice has a cutting edge that sometimes becomes strident. But Villani also can sing with a clear tone, employing supple, jazz-like phrasing, as on "Luntananza," one of her three original compositions and a highlight of the album.
She's backed by the MacuranOrchestra, an excellent and versatile septet with an affinity for jazz as well as Salentine folk music. The ensemble includes standup bass, trumpet, trombone and drum kit, in addition to the instruments typical of pizzica bands: violin, accordion, acoustic guitar and tamburello, or large tambourine. Giorgio Vendola, the band's bassist, and Valerio Daniele, the guitarist and musical director, have arranged everything, the traditional songs and Villani's originals, with flair and an unerring instinct for what a song needs, whether unadorned rustic simplicity or something more layered and complex.
As fans of Canzoniere Grecanico Salentino well know, singer and percussionist Giancarlo Paglialunga is a powerful and charismatic performer, on stage and on recordings. He's got a big, rough-edged voice that, like Villani's, has that "ancient" quality, and he uses melisma judiciously and effectively. T'Amai, his first solo recording, is a first-rate showcase for his vocal and instrumental prowess.
If Villani's album has the feel of a studio production, with polished arrangements and a full complement of musicians, T'Amai sounds like Paglialunga and a few friends got together for an informal session, say at his house or a local cafe. The album has a minimalist quality – there's just Paglialunga, on vocals and tamburello, accordionist Rocco Nigro, the Albanian cellist Redi Hasa, and, on a few tracks, the tamburellisti Dario Muci and Claudio Pusterla. But the simplicity is deceptive – Paglialunga's record is as rigorously conceived and sophisticated in execution as Fimmana, mare e focu!
Paglialunga pays homage to some leading Salentine artists who have passed on -- Uccio Aloisi, Uccio Bandello, Bruno Petrachi, Pino Zimba, and Tora Marzo, a female tamburellista who played with the celebrated violinist Luigi Stifani in his Orchestrina Terapeutica. (Canzoniere Grecanico Salentino adapted Stifani's "Pizzica Indiavolata" for their recent album of the same name.) T'amai's ten tracks focus on love (the title means "I loved you"), work, and prison. While Villani's album is woman-centric, Paglialunga's comes from the other side of the gender binary. The songs, all traditional pieces steeped in the peasant culture of agrarian Salento, recount men's experiences and express male attitudes towards women, seen as unattainable goddesses, heartbreakers, and tormentors.
And yet, there's a strong female presence on the album, in the person of Rachele Andrioli, a fine vocalist who accompanies Paglialunga on several tracks and is the solo voice on one, "La Cerva." The duet partners are a delight on "Ahi, quante pene!," – a jaunty number, despite its title, So Many Pains -- accompanied by just accordion and spare percussion.
"Su 'rivatu a San Frangiscu" is a terse and chilling account of violent struggles for survival in the eponymous prison, San Francesco. It's followed by the album's strongest track, "Rumba del carcerato" – the Inmate's Rumba. At a little over six minutes, it's also the longest, with superb work from Nigro, who reels off a solo rich with jazzy harmonics, and Hasa, whose solo bridges Arabic music and klezmer.
On the final track, "Pizzica di Tora Marzo," accordionist Nigro lays down a dissonant countermelody to Paglialunga's lead line, and then, at the two minute and forty second mark, the musicians drop out, there's a moment of silence, and then Paglialunga returns, accompanied by Rachele Andrioli, for an a capella reprise of "Ahi, quante pene." But the ebullience of the previous version is gone. The two sing at a slower tempo, and their echoing voices seem to come from different places, across a divide that, one realizes, is a prison wall. Singing to her from the window of his cell, his sorrowful "I can't see your beauty anymore" assumes a particular poignancy.
Kudos to Anima Mundi, the world music label that released Fimmana, mare e focu! and T'amai, for presenting these outstanding albums with the care and respect they deserve, in attractively designed packaging that includes booklets with the song lyrics in Salento dialect, Italian, and English, as well as production credits and informative notes. - George de Stefano

© 2013 RootsWorld. No reproduction of any part of this page or its associated files is permitted without express written permission.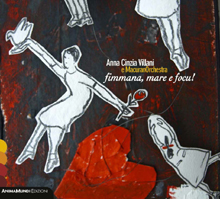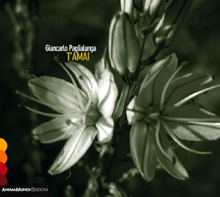 Listen
Further Reading:
The Grico Tradition
Canzoniere Grecanico Salentino's Pizzica Indiavolata
Canzoniere Grecanico Salentino: an interview