F

or pretty much his entire life, Scott Kettner has been keeping people moving: from drumming at middle-school pep rallies to the cross-cultural amalgam he creates with his band Nation Beat. On the band's latest album, The Royal Chase, Kettner said he has arrived at a place where the New Orleans jazz and the northeastern Brazilian forró he has delved into for years have now become a natural language for him.

"Some of my biggest influences," he continued, "were people like Louie Armstrong, Professor Longhair, Dr. John, Jackson do Pandeiro, Luis Gonzaga, Chico Science. If those artists were alive today and we put them in a studio and recorded an album, what would it be? That was the inspiration."

When Nation Beat released its first album in 2005, the shorthand description of their sound usually was that it was a pairing of American country music with the Brazilian country music from the northeast. On the second, 2008's Legends of the Preacher, the band reimagined Hank Williams "I'm so Lonesome I Could Cry" with a Brazilian syncopated beat, but the other cuts on the album were literally all over the map, touching on funk and soul too.

The Royal Chase now features Kettner on percussion and four brass players. The title of the new album hints at what has been going on with Kettner. "I'm always chasing something and I don't always know what it is, but it drives me. It makes me practice and keep recording albums. I never feel like I've completed it….I'm trying to get to something and that's my royal chase."

Kettner grew up in Florida, soaking in the sounds of nearby New Orleans and began his musical career pursuing jazz. A teacher – jazz drummer Billy Hart - suggested he look into Brazilian music, which started him pursuing a passion that saw him making trips to Brazil and mastering Brazilian percussion instruments such as the pandeiro, which looks like a tambourine but is played in a vastly more complicated way, and the deceptively simple-looking triangle.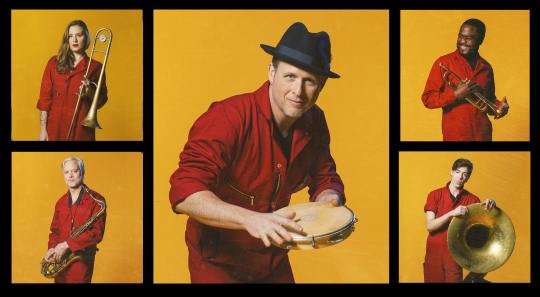 But he also continued to nurture his love of jazz, particularly the sounds of New Orleans, at one point touring and recording with the Mardis Gras Indian band Cha Wa. Irving "Honey" Banister of Cha Wa even appears on the opening track of The Royal Chase in a short monologue about the dedication needed to be a Mardi Gras Indian, spending a good part of a year sewing the costume for marching. Kettner recalled that Banister told him in the conversation that he wasn't seeing that commitment to the New Orleans heritage among young people who spend more time burrowing into their phone. "You can't text an Indian suit, you have to sew it," Banister told him.
The new album tackles New Orleans classics and has several original tunes penned by Kettner and collaborators, including his horn arranger Paul Carlon. While the songs immediately say "New Orleans," Kettner makes them his own with his underlying Brazilian swinging polyrhythmic percussion.
| | | |
| --- | --- | --- |
| | | "Big Chief" |
Acknowledging that recording classics like The Meters' "Hey Pocky Way" or Professor Longhair's "Big Chief" is a bit intimidating, Kettner said, "I'm not trying to imitate anybody…I'm really trying to bring something new to the table and I think after all these years of morphing these two styles, I've come up with my own fabric for it. Plus I have to give a shout-out to Paul's arrangements. They give homage to the originals and to the big pioneers, but his arrangements also bring a new Nation Beat sound to them."
While there are a couple of laid-back grooves on the album, Kettner said, "I want to make people feel good. People look to musicians for help, for release, to escape from something. I'm trying to offer some avenue to escape and just dance or enjoy the improvisation.
"I wanted to give something for the trained ear," he continued, "but also remind that jazz listener that [the music] can groove too and you can dance. It can be sophisticated musically and still be danceable. I feel like jazz has just lost that dance element. It got so sophisticated you don't even know where the downbeat is. So the sophisticated listener is dancing without knowing it and the person who is not a sophisticated listener is listening to sophisticated music without knowing it."
| | | |
| --- | --- | --- |
| | | "Algunas Cantan" |
Kettner has performed and recorded with a wide array of musicians, from The Klezmatics to Maracatu Nação Estrela Brilhante to Willie Nelson. "Every project I work on I try to make a learning experience," he said, noting that touring with Cha Wa "was a huge learning experience…that's like a history book right there."
The new album was recorded before the onset of the coronavirus pandemic, and it took a grant from The Fresh Grass Foundation and an IndieGoGo campaign it made, but it's its own world of feel-good grooves – not a bad tonic for the current times. Regardless of the tough road to its release, Kettner is satisfied with this new chapter in his musical life, a sound that exists nowhere else, but is home to him. "I feel like my drumming has reached a point where it really is my voice," he said. "I wanted this album to be the sounds I have in my head. These hybrid rhythms are part of my fabric now. It's not a formula anymore, it's just normal. This is just what I sit down and play, what just comes out."
Further reading:
Nation Beat featuring Cha Wa
Lakou Mizik in New Orleans