In Guatemala, CIA backing for the 1954 coup that toppled the democratically elected Arbenz government (tarred as "communist" in the cold war climate) led to civil war between 1960 and 1996, ending with the signing of the peace accord in Mexico City. That initiated a new era with respect to the country's complex ethnic landscape, where 24 indigenous groups comprise 40 percent of the total population. Guatemalans remember how, with U.S. backing, the military regime in the early 1980s leveled over 600 indigenous villages, slaughtered or disappeared some 200,000 indigenous people, internally displaced 1.5 million more into so-called strategic hamlets, and drove over 150,000 Maya into exile in Mexico and Honduras, genocide by another name.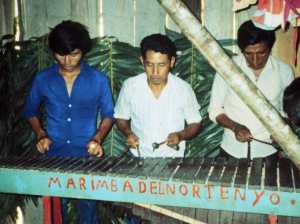 At that time, not far from the archaeological ruins of the Classic Mayan city of Copán, I was in western Honduras, working in a U.N. refugee camp that offered tenuous protection to Kekchi Maya fleeing for their lives across the border from Guatemala. In that troubled context, I came to appreciate the profound character of Maya spirituality and cultural resistance, and discovered Maya marimba, guitar and flute music.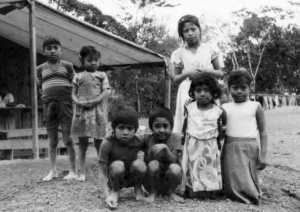 In an uneasy era of peace in Central America, where memories of Maya genocide remain as strong as elite fears of Maya retribution, a new generation of artists has emerged, and perhaps for the first time since 1492, they draw proudly on their ethnic and cultural identity, often with a pointed consciousness of historical subjugation, and identification with other oppressed peoples across the globe. This explains the openness to pan-Latin, pan-Caribbean cultural forms in Guatemala, as elsewhere in Central America.
Born in Quetzaltenango, Doctor Nativo (Juan Martínez) worked in his father's restaurant from a young age, imbibing the reggae, cumbia, salsa and bolero that blasted from its speakers. His father Arturo, a native of Cuba, welcomed the Guatemalan guerrillas who would slip into town from time to time; hence, in 1990 the regime assassinated his father, along with five of his friends.
Doctor Nativo left to travel in Europe, India and Latin America, landing finally in Havana to study music at the Escuela Nacional de Arte. He moved on to pursue his music in Barcelona before returning in 2010 to Guatemala. On a spiritual quest, he took part in a Maya ceremony under the tutelage of an indigenous elder, encountered his animal spirit or nahual, and began seeking to incorporate Maya culture and cosmology into his music. He founded Balam Ajpu, a group popular in part for rapping in T'zutuhil Maya, and in 2012 began working with Belizean producer Ivan Duran, known for producing Garifuna artists Andy Palacio, Paul Nabor and Aurelio Martínez among others.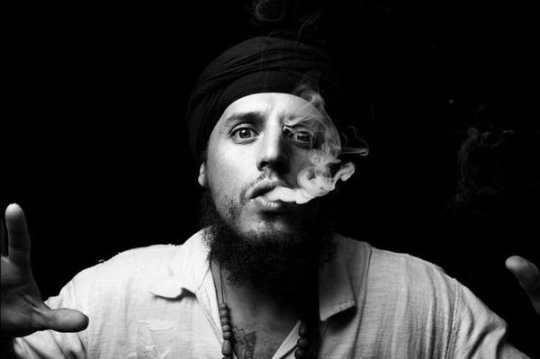 Backing Doctor Nativo (lead vocals, acoustic guitar, percussion, sound effects) are several stalwarts from Duran's Garifuna work, including Guayo Cedeño (lead guitar), Joshua Arana (Garifuna percussion), Al Ovando (Maya guitar), Chela Torres and Rosa Bermudez (whose unmistakably Garifuna chorus opens the cumbia "Ay Morena"), and Duran himself (electric guitar and bass). Rounding out the crew are rapper M.C.H.E., singer José López, multi-instrumentalist Danilo Rodríguez (marimba, trombone, cuatro, charango, harp, bass, chirimilla, backing vocals), Juan Chacaj (xirin or Maya fiddle), Carles Estruch (sousaphone), Sebas Sax (saxophone), Eduardo Santella (drums) and Eli Levinson (samples and programming).
Guatemaya is a play on the country's name ­ a pointed assertion of the indigenous presence that long preceded the Spanish conquest. The lyrics of the opening title track, a reggae-cumbia, feature Maya rapper Tzutu Kan and speak to the political core of this project. It helps to appreciate the historical context outlined above, as well as the cultural and spiritual significance of copal (also known as pom), the resin of the tree of the same name, burned ceremonially as incense since pre-Columbian times.
The track opens with an acoustic marimba riff but quickly goes ballistic with bass, percussion, samples, blazing brass and an ominous call out:
Guatemaya, burns copal
Babylon, you will hear me


In Guatemaya, we burn copal
Reggae-Kumbia is the recipe
Babylon, will hear me now
Feeling Irie-Irie… International!

Guatemaya, burns copal
Babylon, you will hear me

[Tz'utuhil Maya rap]
Good evening, honorable people
We are here to ask for absolution for our faults
I am here to transmit this verse for you
With all the power of my heart
I thank you all
I thank you all for our inheritance
Let's lift up, wake up, and receive it
We shall wake up our existence

We don't want more political genocide, ay no, no, no
We don't want them to kill us, silence us
Put us down, mami
What? I say we don't want that, I say no, not that

Guatemaya, burns copal
Babylon, we will burn you down
Guatemaya, burns copal
Babylon, you will hear me now
| | | |
| --- | --- | --- |
| | | "Kandela" |
Similarly, "El 20" opens with this refrain, "Babylon, you're coming to an end, Babylon, you're dying," while "Kandela" (Fire) asserts:
Kandela eh, the world is burning, Kandela eh, it's burning, eh
Kandela eh, the world is burning, Kandela eh, it's burning

Welcome to the 'hood all my brothers and sisters, this is the story of my people
And their truth, I'm telling you, the bureaucrats want to repress us, but it's in the people's hands
If the system continues like this, we are being manipulated by stinking politicians
They're thieves with a license to kill, stop thinking about it and take action
Otherwise, your children will pay the price
| | | |
| --- | --- | --- |
| | | "Pa'que se levanten" |
The closing track, "Pa'que se levanten" (Rise Up), drives the message home:
I'm gonna kidnap the mic, to begin the story
That I carry in my memory
From when I was a boy, in school they talked about the "glory"
His majesty Christopher Columbus was a culero (asshole), a bad omen bird
He came to steal and make a fortune from our treasures (no more, we want peace)
After the apparent end and 40 seconds of silence, we get a fade-in of 30 seconds of Juan Chacaj on xirin (Maya fiddle, as recorded in Quetzaltenango), taking the recording back to its indigenous roots. Recorded in Belize, Guatemala and Canada, and engineered in Montreal and Barcelona, Guatemaya is an international project from start to finish. As with every Duran project, the production values are superb, and to appreciate the soundscape fully, put on your headphones. Doctor Nativo is an important new voice from Central America, a region whose troubled legacy and popular resistance, so closely bound to U.S. machinations in the region, resonate profoundly across traditional borders, keeping Agent Orange reactionaries awake at night, not without reason. - Michael Stone

The
Music of the Month
selection
for October, 2018