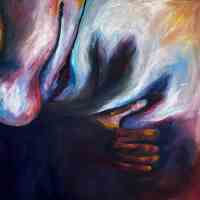 T

o set this new album by Nyokabi Kariũki in the correct context, we need to conjure cento poems, found sounds, languages, the African diaspora, COVID as well as the music that animates this beautiful new album. This work is a collage of natural elements, primarily the healing powers of water - a Kikuyu tribal philosophy, but also the power of words in convincing ourselves that there is another side to despair.

Kariũki was born and raised in Nairobi, Kenya. The album was recorded in New York and Maryland where the composer and musician splits her time. She has summoned a body of music that requires deep intellectual and spiritual contemplation to fully appreciate its depth. It is an engrossing work that transports the listener to a private environment that is all encompassing. It is a welcome relief.

The album invokes cento poetry, as constructed by John Ashbury and T.S. Elliot, which uses clips of famous works to elevate meaning. From the Latin word meaning "patchwork," a cento is a poem crafted from borrowed or found lines of other poems woven together. The chaos of fragmentation found, for example in The Wasteland, is actually an effort to transcend awareness by consciously knowing it. Elliot wrote that "To realize that a point of view is a point of view, is already to have transcended it."

Kariũki has achieved a similar effect in Feeling Body, an album that sounds like a singular genre of its own rather than a definable one. As a sound artist, she masterfully incorporates cultural markers as if you are on a trail, passing different languages, rhythms, instruments, and phone recordings. It creates a world that is both entirely intimate and personal and yet simultaneously is something unheard before. Each time you hear the album it is as if you are hearing it for the first time, and yet have known it all your life.

Here is some dialogue from the title cut "Feeling Body," commissioned by and aired on BBC Radio 3, in November 2022.

and so that's how you started to watch your previously hopeful mind fight with itself to keep up being hopeful
because like I said if you're not hopeful for your body then who is?

but the home is not ok.
but the home is not ok.
The voices of her mother, father and grandmother drift by with a lovely melange of other sounds and music. This deeply personal communication with her family also has another layer of connection with her homeland, an attempt to better understand the language, the history and the beliefs.
| | |
| --- | --- |
| | |
The album's closing tune "Nazama," meaning "to sink" in Swahili, begins with Kariuki's ethereal vocals and progresses into a sonic refuge which feels like a balm, a therapeutic recalibration after COVID. It begins with an a capella opening and adds bubbling water and then Kariũki's beautiful humming which ultimately trails off into a sound like rocks underwater gently undulating. The joy of the album is that these found sounds are definable based on the experience of listening to the music rather than simple sound effects. In "Nazama", Kariũki summons the River Jordan, which invokes a crossing into the promised land. The multiple layers of the tune speaks to the end of long COVID, the healing process and the completion of a long journey.
Kariũki is joined on the album by Yaz Lancaster on violin and vocals, Michael Denis Ó Callaghan on trumpet, Chris O'Leary on drums and Ian Fales on double bass who contributes to the final cut.
The album follows her release of peace places: kenyan memories which was released in February 2022. The work was noted as one of Bandcamp's Best Albums of Winter 2022, as well as reviws in The Guardian, Pitchfork, RootsWorld, Resident Advisor and The New York Times.
It is worth noting that Swahili was once an obscure dialect of an East African Bantu language but today more than one hundred million people call it their first or second language. Yet it is rarely heard and even rarer still to hear it performed with music. The language itself is rhythmic and certain words rise up from the music as leitmotifs.
Kariũki began playing the piano at five years old and announced she wanted to be a composer at 14. She studied film scoring at New York University and as she evolved as a composer, the pandemic made her rethink her work, wanting it to be more fulfilling to the listener. She began creating a sound journal filled with field recordings. She typically performs with the piano, voice, electronics, and on several instruments from the African continent — particularly on kalimbas, the mbira, and djembe. As an avant garde composer and vocalist she joins Moor Mother, Meredith Monk, Lonnie Holley, Urszula Dudziak and Laurie Anderson among others in taking lyrics and sounds to another level. In the more mainstream vein, Jane Siberry's When I Was a Boy comes to mind.
Another way to consider this album is Kariũki's desire to preserve and amplify African culture. The voices that float by on "Subira" and other songs are difficult to identify and merge with the electronic music and found sounds, yet there is a distinct feeling in the album that it is both from an ancient culture and simultaneously full of modern musical techniques. Kariũki's sonic improvising feels like the natural next step in the progression of avant garde music.
This album also expresses musically Kariũki's experience with long COVID; from the first tune that foretells her healing to the last song where she is healed. The album using this lens is an intimate portrait of the act of being sick and the challenge of believing we will be well again. She captures this experience in her writing and music throughout the album.
Let's leave the last word to Kariũki: "I am ever in awe of our bodies, and how they keep going, despite and in spite of all the pain we go through in life. In a way, this album is an expression of love, and gratitude, to my own."
Find the artist online.
Photo by Gianfranco Bello
Further reading:
Nyokabi Kariũki - peace places: kenyan memories
Lía - Como una Flor sin Raices
Sheila Chandra (interview)
Avishai Cohen - Naked Truth