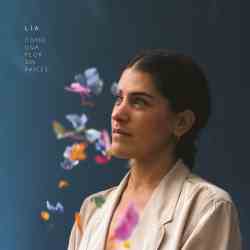 L

ía Naviliat Cuncic brings the polish of classical music and the romance of Latin America to Como una Flor sin Raices, the first release under her lead. Of Uruguayan and Chilean background, Naviliat Cuncic was born in Belgium and moved to France, where she studied Western classical music and voice. She has given concerts singing the works of Saint-Saëns, Mahler, Schubert and more. Now, she steers her maiden voyage back to South America and the music of her own heritage.

With an EP of just under 25 minutes, Como una Flor sin Raices encapsulates many-colored beadlets of musical travels and sentiment that she releases into the soundsphere with her finely honed voice, eschewing high jinks while embracing measure and clarity. Naviliat Cuncic pairs the music of the southern New World and its multiple genres with that of the Old, handily vaunting the baroque, and she uses her lyrics to summon the aching, the reckonings and the resiliency of her, and our, heart.
Como una Flor sin Raises boasts a fetching guiso of instruments and their players, most prominently double bass (Lucas Henri), clavichord (Santiago Gervasoni), guitar (François Leguen), and the South American bombo drum, as well as other percussion instruments (Paul Héroux). The arrangements for these six tracks evolved collaboratively with Naviliat Cuncic and the album's core side players, excepting that of "Mareo," coarranged with Jérémie Arcache.
| | | |
| --- | --- | --- |
| | | "Mareo" (excerpt) |
"Mareo" is lush and sensuous, enwrapping Naviliat Cuncic under the vertiginous swoon of a passionate yet unyielding love affair. Henri's plucked bass shadows her throughout, increasing intensity, darkening, while she examines the underside of her passion before he takes a poignant jazz inflected solo. The inevitable suggestion of tango, with its polarized sentiments, led by Martial Pauliat's staccato piano chords, further energizes her vertigo to complete this compelling track.
"Agua Feroz" is laden with affecting reminiscences; Naviliat Cuncic compares the lingering anguish of childhood tears to the raging currents of the sea. Tearful abandon leads to a final passage of indignance, her voice empowered, her rancor rising, with testimony from the bass and assertive bombo, while a galloping clavichord heightens the urgency of her plaint.
| | | |
| --- | --- | --- |
| | | "Como Una Flor Sin Raíces" (excerpt) |
"Como una Flor sin Raices" finds sweet melancholia, as a rootless flower cast off to the wind becomes an allegory of flight and fear, outlined by delicate percussion, a languid bass and the liquidity of the clavichord. The closing lines of the song ask us to appreciate that we are all wanderers, tossed hither and yon, no matter the accent or the language, and we should thus come together to honor our universality. In her delivery of the song's last word, "actual," wavering it gently, holding it long, picking it up a second time, she gives it new life, affirming her vocals as masterful and affective.
| | | |
| --- | --- | --- |
| | | "Pachamama" (excerpt) |
"Pachamama" is her tribute to Precolombian South America, honoring the continent's ages old Earth Mother. The song integrates European with South American/Andean themes by engaging the clavichord and Irish folk mandolin to channel traditional instruments such as the charango and cavaquinho, playing in the characteristic pentatonic scale. In this late age, when the Earth, and women, are gravely imperiled, Naviliat Cuncic sings to the Pachamama, today's emblem of climate activism: "Eres más que tierra. Sobreviverás? You are more than earth or soil. (But) will you survive?"
Como una Flor sin Raices offers a harmonious integration of two continents and their cultures that in a sense belies its title. Yes, it takes on the vertigo of love, the swirling of the seas, windswept people and populations, the uncertainty of survival like a flower adrift without visible roots, but it is firmly grounded by the musical traditions of Naviliat Cuncic's nomadic passages.