The Music of Haïti
Lakou Mizik
Wa Di Yo (Cumbancha)
Ram
Ram6: Manman m se Ginen (artist release)
RAM "Tout petit"

Lakou Mizik "Panama'm Tonbe"
Carnival season in the Caribbean came early this year — the second week of February — and in Haiti the usual bounty of new carnival music came spiced with political intrigue, as the country's controversial singer-turned-President, Michel "Sweet Mickey" Martelly gave his critics a parting shot before his term expired with the stinging ""Ba'l Bannann Nan," in which the President of Haiti offers to give his "banana" to one of his most vocal critics in the Haitian press (several weeks before Donald Trump and Marco Rubio decided to compare their respective "bananas," for whatever that's worth). But there's much more substantial new music coming out of Haiti this year, too, not least of which are two exceptional 2016 releases on the Haitian roots music (mizik rasin) front: a dazzling debut from a young group of all-stars, and a stunning return to form from a group of seasoned veterans.

Those veterans are RAM, the legendary Haitian roots ensemble led by American ex-pat Richard Morse. If you're not familiar with the legend, it goes something like this: In 1985 journeyman musician Morse left the whirl of New York's burgeoning downtown art and music scene to dig deep into his Haitian musical roots. Though he was raised in Connecticut, Morse's mother — Emerante de Pradine — had been a famous Haitian folk singer back in the 1950s. Given the downtown music scene's increasing fascination with Afro-Caribbean and Latin sounds in the '80s, it didn't take much convincing for a Princeton-educated anthropologist and musician to take the plunge into one of the deepest musical wellsprings in the Americas.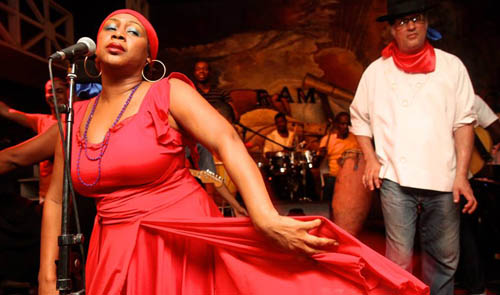 Morse settled in Port-Au-Prince, where he met his wife, singer Lunise Morse, and formed RAM (the name comes from his initials: Richard Auguste Morse) in 1990. He also came into possession of Port Au Prince's storied Oloffson Hotel — once the haunt of Graham Greene — thanks to a random encounter with a houngan (voudoun priest) in the back of a taxi. The Oloffson would become RAM's home base: a working hotel that also doubled as the group's rehearsal and performance space, and RAM's weekly performances soon became an institution in the capital.
From their 1993 debut, Aïbobo, to 2003's Le Jardin, RAM has charted their own course, evolving from a rough-and-ready experimental fusion of Haitian tradition and post-punk protest into a tighter, more polished act at in the vanguard of the Mizik Rasin explosion of the early 1990s. Alongside groups like Boukman Eksperyans, RAM mixed and matched the petwo and rada rhythms of the voudoun tradition with blaring rara carnival horns, and layered konpa guitar — and a deep dose of funk — to engineer a new kind of Haitian roots groove music.
Today the band has pretty much jettisoned any last vestiges of Morse's rock and roll roots (aside from the occasional Santana-esque solo), with songs entirely in Kreyol and a more danceable sound. Though RAM has always managed to release new music for Carnival, their latest album, RAM 6: Manman m se Ginen, is the group's first full-length studio album in 10 years, and their groove is as deep and textured as it ever was.
"Papa Loko"

"Jije'm Byen"
The new album kicks off with the raging rara horns of "Papa Loko," where the giant metal coronets are used to set the song's hectic carnival pace. But the tempo slows and the band spreads out and breathes on the lilting ballad "Jije'm Byen," which first introduces Lunise's world-wise vocals — injecting a welcome dose of female energy into the mix. But all of this is just a warm up for "Koulou Koulou," where highlife-style guitar trades licks with the warm konpa style playing, with lyrics based on vodou prayers in an archaic form of Kreyol that date back to the Haitian revolution… It's a fierce and funky workout that will get your inner history nerd dancing.
"Koulou Koulou"

"Ipokrit"
"Tout Petit" is a slow-burner, where Morse and a male chorus' vocals gently rise and fall a spare, simmering Caribbean funk, full of discretely deployed wah-wah guitar, atmospheric keyboards, and insistent drumming. It builds slowly, but when it hits full stride, it's a knockout that could easily fill dancefloors from Port-Au-Prince to Praia.
Other standout tracks include "Mon Konpe Gede" a funky, sweaty ode to Papa Gede — the benevolent, top hatted, cigar-smoking, rum drinking loa (voudoun "spirit") that inhabits graveyards and presides over the dead — the frenetic, rara-rocker "M'pral Dòmi Nan Simityè," and "Kolibri Anko," a quiet, semi-acoustic instrumental dedicated to the hummingbird spirit of the forest.
Another Haitian rasin group with a strong new recording to brag about is Lakou Mizik, whose debut album is Wa Di Yo. This multi-generational nine-piece ensemble was put together by guitarist/singer Steeve Valcourt and singer Jonas Attis in 2010, in response to the earthquake that devastated much of Haiti in January of that year. They wanted to make music to empower the people and speed the nation's recovery, and recruited a new group to so.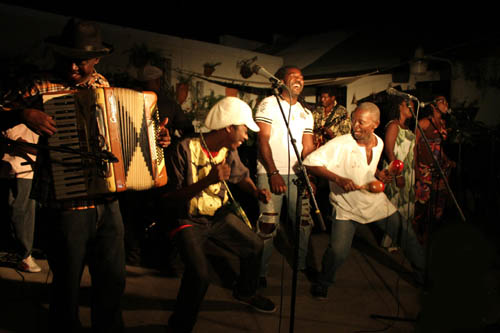 Valcourt is the son of Boulo Valcourt: a well-known singer and guitarist from the Caribbean Sextet, and a repository of Haitian folk and popular songs. Steeve spent years producing his fathers' music, and had collaborated with musicians from all over the island in the process. He had a deep address book, and assembled an all-star team for this project. In addition to Valcourt and Attis, Lakou includes singers Jonas Attias and Nadine Remy, drummers Sanba Zao - a.k.a. Louis Lesly Marcelin - and his son Woulele, bassist Lamarre Junior, accordionist Belony Beniste, and, most importantly Peterson "Ti Piti" Joseph and James Carrier, who play the group's signature rara horns: the enormous metal coronets heard at Haitian carnival.
On Wa Di Yo they pull it all together with the help of three like minded producers: American Zach Niles, Canadian Chris Velan, and British veteran Iestyn Polson, all veterans of the Sierra Leone Refugee All-Stars project. The resulting album draws on a variety of Haitian traditions, especially carnival songs, twobadou ballads, and vodou ritual music. "Bade Zile" and "Parenn Legba" in particular draw on vodou's rich drumming and rhythmic repertoire, with insistent, hypnotic beats that draw down the loas and the ancestors.
"Bade Zile"

"Anba Siklon"
Elsewhere, swinging, guitar and accordion-driven tracks like "Anba Siklon" and "Poze" are juxtaposed with slower, mid-tempo tracks like "Pran Kwa Mwen" and carnival favorite "Panama'am Tonbe," which showcase Nadine Remy's big, clear voice, and add depth and texture by letting the musicians stretch a bit. The title track, which translates as "We Are Still Here" is a clear-eyed statement of purpose.
"Poze"

"Pran Kwa Mwen"
There are some great performances here, too, especially from singers Jonas Attias — who brings a poet's ear to Lakou's lyrics — and Nadine Remy, whose church trained voice is a showstopper. Drummer Sanba Zao also deserves mention here. He's a master vodou drummer and singer with 30 year's knowledge of Haitian folk and ritual songs, and he brings that to bear on this album with a light touch that lets the rest of the musicians shine.
Taken together these two releases affirm that Haitian roots music is alive and well in 2016, and remains one of Haiti's most accessible exports. In fact, both bands are veterans of New York City's influential globalFEST concert, which features a dozen bands from around the globe every January. Lakou Mizik made their globalFEST debut to some acclaim this year, while RAM burned down the house back in 2011.
Lakou Mizik is still on tour in the U.S. through April, though you still might have to travel to Haiti and book a room at the Oloffson if you want to see RAM live… and if Manman m se Ginen is anything to go by, it's worth the trip. - Tom Pryor
Find the artists online:
www.LakouMizik.com
www.RamHaiti.com
© 2016 RootsWorld. No reproduction of any part of this page or its associated files is permitted without express written permission.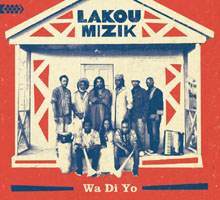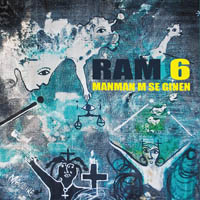 Both CDs are our Music of the Month offer for March.
Join now and get them both.


Support RootsWorld
Share on Facebook