RAM
RAM6: Manman M Se Ginen
Artist release
"These rhythms don't walk alone," insists Richard Morse of Haiti's powerhouse band RAM. "They come with melodies and songs and spirits and knowledge. They come with rituals."
"Papa Loko"
"Koulou Koulou"
"Jije'm Byen"
"Ipokrit"

But you can give them your own spin, which is what the groundbreaking, wildly popular Haitian group has done for decades. While racking up huge Carnival hits, RAM remains passionately dedicated to the ceremonial music and wisdom, the compelling spiritual and sonic expression with roots in African, European, and indigenous Caribbean culture and belief. It all dances together on RAM 6: Manman m se Ginen (release: February 5, 2016), the band's first studio album in ten years.

Funky guitars and keys blend with centuries-old invocations of aristocratic cemetery spirits in top hats ("Mon Konpe Gede"), or of the hummingbird spirit of the forest ("Kolibri"). The long-form vamps and jams the band is known for live are condensed into beautiful bursts, without losing energy or dynamic shifts, just as RAM goes electric and expands the arrangements of what are often spare traditional accompaniments without losing sight of the songs' origins.

"This generation is electric. But the rhythms are traditional," explains Morse. "The melodies are traditional. We have taken the ceremonial and mixed with the street. That's when you hear the rara horns," a mix that leaps out on tracks like "Papa Loko." "We've added street music to a band, and taken more arranged band stuff out into the streets."

Find the band online: www.ramhaiti.com
Lakou Mizik
Wa Di Yo
Cumbancha
"We have nearly lost everything - but we'll never lose our culture" - Steeve Valcourt, Lakou Mizik
"Panama'm Tonbe"
"Bade Zile"
"Anba Siklon"

The fabric of a community is always tested and often damaged in the wake of conflict or disaster. When the earthquake of January 12, 2010 struck Haiti – the world watched in horror as apocalyptic images emerged from the nightmare. These images would dominate international news stories for months. In these darkest hours when the streets were still filled with the wreckage of what once was, above the sorrow and confusion rose the sounds of songs. Vodou chants, gospel ballads and folk songs filled the air in a brave attempt to deal with the overwhelming despair. Music, as it has through every tragedy and triumph in Haiti's convoluted history, soothed, inspired, healed and brought people together.

Formed in the wake of this unprecedented tragedy, Lakou Mizik is a diverse collection of musicians representing a cross section of generations, faiths and musical styles. On April 1, Lakou Mizik release their debut album on the Cumbancha Discovery label, calling out to the world, Wa di yo, nou la toujou - "You tell them, we're still here"!

The nine members of Lakou Mizik range in age from late sixties to early twenties and come from across Haiti's musical, social, religious, and geographic spectrum. Each has a powerful story to tell: the young poet who survived a ferry disaster that claimed up to 1500 lives – floating in the ocean for 3 days on the back of a bloated cow carcass before being rescued; the church singer whose home was destroyed in the earthquake and whose Christian faith led her to initially resist singing vodou lyrics; the elder statesman of racine, or roots, music whose deep knowledge of vodou rhythms makes him a living encyclopedia of Haitian culture; the guitarist and singer seeking to emerge from the shadow of his famous father and define his own musical legacy. While each member of Lakou Mizik has a unique tale to tell, they stand united in a mission to honor the healing spirit of their collective culture and communicate a message of pride, strength and hope to their countrymen and world.

Find the artists online: www.lakoumizik.com
---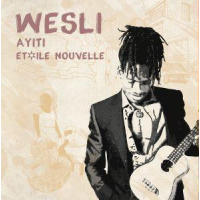 And as an added bonus, monthly subscribers will also get this 2014 release from Haiti:
Wesli
Ayiti Etolile Nouvellé
Artist release
Born in Port-au-Prince, Haiti, Wesli (Wesley Louissaint) built his first guitar out of an old NGO- provided oil can and nylon shoe lace when he was just eight years old. Coming from a family of 8 children where music was a daily food for the soul, it became second nature to him, a unique and vital way out of the violence and misery found in the surrounding ghetto. Wesli's musical journey started in the gospel choir of his local church and then he adopted the guitar as his main instrument.
Ever since, Wesli has worked relentlessly, perfecting his art, his only hope for a better life. Very early, he took part in serious projects such as the afro-roots Jazz 4ever quartet and SoKute. He performed in many of Haiti's concert halls and traveled abroad with Kreyol Mizik company. In his teens, Wesli produced and recorded the album Horizon with SoKute. Their soul music gathered wide success and even made them famous outside Haiti. Since he strung his first oil-can to make a guitar, musician and songwriter Wesli has taken seemingly disparate elements and tinker with them ingeniously, until they turn into a powerful groove. Born in Haiti, tempered in West Africa and Montreal, the guitarist and songwriter takes Haitian traditions like vodou, street styles like rara, and finds links with everything from reggae to quirky Acadian hip hop.