N

etherlands-based Makkum Records has been busy these last few years releasing compilations of Ghanaian masters of the Northern region's two-stringed lute, the kologo. Between This is Frafra Power and This is Kologo Power- the latter released in a collaboration with Sahel Sounds- the label is allowing the rest of the globe to hear this hard-driving, trance-inducing instrument in modern pop settings as well as occasional examples of its power unadorned. Ayuune Sule's sole track featured on the Kologo Power compilation shows the relentlessness of his approach. His vocals, often shouted with response, are underpinned by a constant buzzing flurry of repetition, demanding surrender from listeners.

And while Putoo Katare Yire, the second international release devoted to him, has examples of his solo playing, most of this is slathered in modern pop trappings, such as auto tune, synthesized rhythms and other production methods that will frustratingly date this record even as they may also help Sule expand his much-deserved global audience. This is not to say the record isn't without its charms. "Life is a Journey" rides a deep, two chord groove that begs for the dance floor. "Yaalima Nyaane Yoo" pits Sule's kologo against percussion, harmony vocals and a flute for urgent, dazzling effect. The music here continues to show that the kologo need not be merely considered a folk instrument, yet it's also likely that the slickness, something that sometimes blunts the intensity of some of these performances, isn't necessary to show the forever modern sounds Sule coaxes from his instrument as well as his voice.

*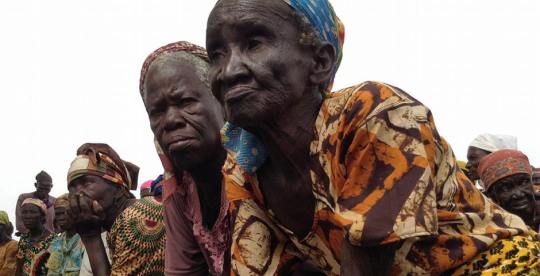 From the same country but arguably at the opposite end of the musical production spectrum from Sule's latest sits Witch Camp, a collection of musical snippets recorded by women confined to places where they find community and safety after they have been accused of witchcraft due to physical or mental issues beyond their control; some of them have been labeled witches so their land could be stolen after their husbands have passed. As with recent releases from the Tanzanian Albinism Collective or the Zomba Prison Project, Ian Brennan is once again behind these recordings, which were done in various locations in Ghana.
| | |
| --- | --- |
| | |
And like those aforementioned releases, the tracks here, often quite short, are instant compositions using whatever sound-making devices are available, played by people who may not have otherwise been musicians. The results, once again, are astounding. Corn husks, tea pots, tins cans, and tree limbs all play roles as sound sources here, as do a capella vocals and more traditional instruments. Like many of Brennan's other collections, this LP gives voice to some of the most marginalized people on earth, bringing awareness to situations that most of us had no idea about until these recordings appeared. Of particular note is the album's final track, "Left to Live like an Animal," a deeply mournful guitar-based drone that may be one of the most beautiful pieces of music Brennan has ever committed to tape. Context isn't needed to appreciate any of this music, but understanding the situations in which many of Brennan's field work is created allows the sounds here to take on an urgency as well as a radical modernity that no amount of production could ever enhance.
Learn more about the modern witch camps of Ghana from The Borgen Project
Further reading:
This is Fra-Fra Power
Zomba Prison Project
Alfred Kpebesaane & Brittany Anjou - Nong Voru