I'll get to reviewing Heart's Ease in a bit, but first some personal reminiscences and a bit of background.

At the end of the 1960s I was given a present of Shirley Collins' The Power Of The True Love Knot. To be honest, I wasn't immediately all that attracted by her singing – it seemed conversational, unlike the more projected singing I was accustomed to in the folk scene music of the time.

But that's precisely it; Shirley sings a song to you, she tells it, and the songs and their melodies from that LP lodged in my mind, so much so that in the early 1970s two of their tunes, "Richie Story" and "Lovely Joan" came naturally to my zither when I came to make my first album. By then I'd seen here sing, self-accompanying on 5-string banjo, at Inverness Folk Festival (and indeed I've just come across a tape I made of that gig), but it was the next time I saw her, some years later, at Norwich Folk Festival, that brought the revelation. The stage was a simple small platform at the bottom of a grassy slope, and as she began it seemed she – her singing and her attractive, unflashy warmth – brought out the sun, even though it was already out.

Much later still, having recorded on my 2004 Ochre album one of the forms I knew of the melody for "A Blacksmith Courted Me," I tried to track down where I'd absorbed it from. Having not succeeded, I phoned June Tabor to ask her. We both seemed to have always known it, but she couldn't find a source either. Then she suggested it might be the same one as on Shirley and her sister Dolly's 1969 Anthems in Eden album, where it was part of a sequence given the overall credit of 'trad.' So I phoned Shirley; she modestly admitted "Um… I made it up."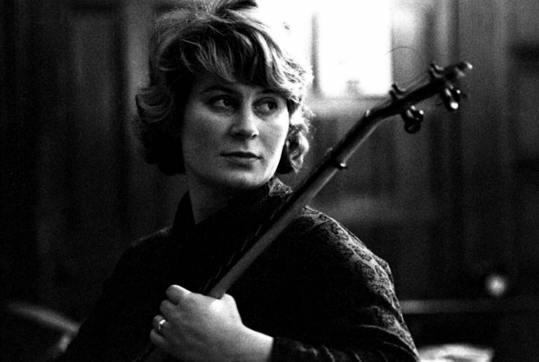 If I were to even try to recap on Shirley's long life and music this wouldn't be a review, it'd be a very big book, and indeed she has written two volumes of autobiography, "America Over The Water" about her time song collecting in the southern states of the USA with Alan Lomax and the 2018 "All In The Downs." And already out there in books, magazines, online and in the film "The Ballad Of Shirley Collins" there's plenty of fascinating interview material, further enlivened by Shirley's bold speaking of her mind.
However, I do need to mention the gap in her singing of over three decades. She performed and recorded from the late 1950s up to the late 1970s, variously solo, with Davy Graham, sister Dolly Collins, and with Ashley Hutchings in the Albion Country Band, The Albion Band, the Albion Dance Band, the Etchingham Steam Band and the play "Lark Rise To Candleford" at the National Theatre. But at that point emotional stress caused her to lose the ability to sing.
After decades she was gradually encouraged into performance, though not at that point singing, by doing illustrated talks with actor Pip Barnes, first about her time collecting in America with Lomax, and later about traditional music in southern England. She first dipped a toe back into the water of singing in public in 2014 with two songs accompanied by Ian Kearey, who's musical director of her current live band. And then came the 2016 album, Lodestar, produced by Kearey and recorded in the security of her Lewes home. She'd begun to be discovered and enthused about by a new generation, many of them outside the folk scene, including the Domino label on which it appeared, and it received a lot of media attention.
Now there's this new one, Heart's Ease which, as well as the CD release, Domino is treating to a special limited edition on 3-coloured vinyl with luxurious packaging and including a 7" of her previously unreleased cassette recording with Davy Graham of "Sweet Greens And Blues." That song, written by her then husband Austin John Marshall, appears in new guise on the new album, coupled with a guitar instrumental, "Sweet Blues And Greens" that was written at Shirley's request, and played, by Kentucky musician (and curator of the Alan Lomax Archive) Nathan Salsburg.
There are of course changes since her early albums. Her voice is deeper, but it still has that warmth, like she's telling the song just for you. Not commercial-type close-mic breathy intimacy, it's much earthier, and she sounds like family. And there's that rounded, natural Sussex accent.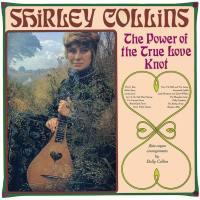 The accompaniments, too, have changed; they're more string-bandy, featuring the Lodestar Band of Ian Kearey, Pete Cooper, Dave Arthur, Pip Barnes and Ossian Brown, variously on 12-string guitar, fiddle, banjo, guitar, mandolin, bass, melodeon, electric guitar, hurdy-gurdy, and Ian also plays Shirley's erstwhile instrument, a cittern with 5-string banjo neck and a heart-shaped soundhole made for her by luthier John Bailey that appears on the cover of The Power Of The True Love Knot and here named simply 'the instrument.' In the instrumental "Orange In Bloom," a Cotswold morris tune from Sherborne, Anglo concertina master John Watcham, who used to play for the splendid and witty Albion Morris and now for Brighton Morris, leads the band, with the sound of his Brighton colleague Glen Redman dancing to it.
| | | |
| --- | --- | --- |
| | | "" |
It's only natural that Shirley has a close connection and long friendship with the generations of Sussex traditional singing family, the Coppers of Rottingdean. "The Christmas Song," a description of rural life in winter, comes from their repertoire, and it's their version of the traditional song "The Week Before Easter" that back in the 1960s gave Shirley the tune for Austin John Marshall's poem "The Whitsun Dance," otherwise known as "Dancing At Whitsun," about women dancing together after the Great War because their husbands had been killed.
| | |
| --- | --- |
| | |
The majority of the songs are traditional, most in Sussex versions. But the story of a ghost ship, the Baychimo, lost in the ice of the Beaufort Sea in the 1900s and last seen in 1969, was written as "The Baychimo" by Shirley's sister Dolly's late son Buz Collins. Shirley has changed its period to the 1800s and retitled it "Locked In Ice." And, as she points out, the tune of the US Sacred Harp hymn "Wondrous Love," which she sings here with Kearey's bottleneck guitar, is that of an 18th Century English ballad about pirate Captain Kidd.
| | |
| --- | --- |
| | |
"Canadee-i-o" – the story of a girl who dresses up a sailor to see 'the seaport town called Canadee-i-o' and marries the captain who saves her from being thrown over the side of the ship by the angry crew – is perhaps known to listeners from the different version by Nic Jones. And for "Barbara Allen" – a song well-known since at least the 17th century when Samuel Pepys mentioned hearing it sung – Shirley returns to, and re-embraces, the tune she and many others remember from school songbooks.
| | |
| --- | --- |
| | |
The album closer, "Crowlink," is very much a departure. Shirley says of it "Crowlink is at the cliff-edge on the South Downs Way and is my favourite place to sit and gaze at the sea and think about what's gone, and what is to come." The track consists just of a continuous fierce drone on hurdy-gurdy with sound effects of waves and birds, underneath which, after over two minutes Shirley sings, echoey and indistinct in the background, a four-line verse. It might or might not grow on one, but it gives the album a strange, powerful twist in the tail, and shows that Shirley, in her 85th year, isn't set in her ways. It's wonderful to see her so very much back in action, so unafraid to boldly go, surrounded by people who love her and her music, and being so celebrated anew. - Andrew Cronshaw