I'm going to tell you a long story about Shirley Collins and English folk music. To do so, follow me back to before Shirley Collins was born – to around the turn of the twentieth century.

When Cecil Sharp (1859-1924) explained what he believed lay behind English folk song in his "English Folk Song: Some Conclusions" (1907), he described an evolutionary process. Sharp believed that folk songs continuously circulated amongst a community through oral transmission. Sharp noted that song variations could emerge, either by accident or intentional creative license, as a song passed between people. If a community favored a song, then a folk song could survive the times. As a result, "…the folk-tale or song, throughout its life history, will always be approaching a form which will accurately express the taste and feeling of the community." (1907:12) Despite folk songs emerging from interactions between people, a 'collective anonymity' nonetheless comes to define them at the end of the process. Thus, we have the 'tradition' – a canon of folksong that has been subjected to a long process of refinement by living souls now submerged in times past.

Sharp's work took place during the first period of the English folk revival, roughly 1890-1920, and he and the other song collectors of his era gathered folk songs from the countryside with a nationalistic fervor. There was a fear that modernization – England being the first country to be industrialized – would sweep away the traditions of the past. The folk songs sung by families and workers were thought to be a resource, a repository of English values, which could be taught not only to children but also utilized as a foundation for new national compositions which would mitigate the influence of German music on English composers. And indeed, Sharp's work inspired Vaughan Williams, and his depiction of the rural idyll through sound.

Come the second folk revival of the post-World War II years, Shirley Collins stood out as a major singer. Born in 1935 into a working-class family, Shirley and her sister Dolly grew up in a household where singing occurred in her family, in church, and on the radio (programs such as the BBC's "Country Magazine" and "As I Roved Out" played folk songs). Eventually, Shirley moved to London, where she spent time researching songs at the Cecil Sharp House in the Vaughan Williams Memorial Library – a veritable treasure-trove of archived recordings and field notes from song collectors. And, some of the older folk singers were still alive, such as Harry Cox in Norfolk, and Bob Copper and the Copper Family were keeping the tradition in Suffolk. Shirley was learning songs, and her voice had an arresting purity about it.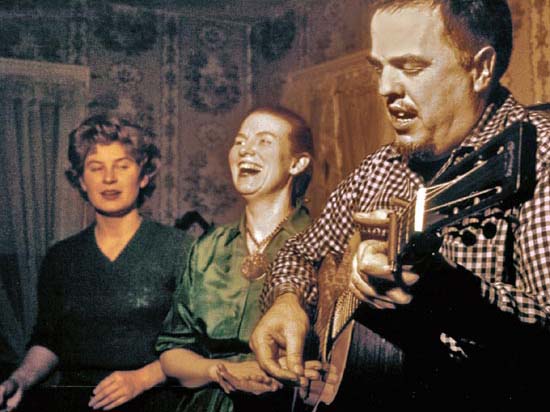 Shirley Collins, Jean Ritchie, and Alan Lomax, circa 1960 (Library Of Congress)
As Shirley Collins details in her book "America Over The Water" (2006), she accompanied the folk collector Alan Lomax on his trips in Appalachia and the Deep South, gathering folk songs in people's homes, in the fields, and even in penitentiaries. Among Collins' and Lomax's recordings were work by legends (i.e., Mississippi Fred McDowell). The experience would provide Collins with a love for traditional American music, and it also illustrated the connections between American folksong and the songs of the British Isles: connections that Cecil Sharp had also discovered on his song collecting swing through America from 1916-1918.
Shirley Collins' life, though, was singing. Collins held great respect for the tradition: having observed many masterful folk singers, she was aware of the importance of letting a folk song sing itself. English folk song runs the gamut of human emotion and experience: the singer, as far as Collins was concerned, should not get in the way of the song. Instrumentation, too, could detract from the power of a folk song. In her foreword to "The Folk Handbook: Working with Songs from the English Tradition" (2007 Backbeat Books), Collins wrote: "Traditional music by its very definition springs from the past. It has a history, some songs and ballads evolving over centuries, some over mere generations. But in our time, the approach of some people attempting to update this music can be inappropriate, sometimes lacking in understanding, and failing to pay sufficient attention to the value of what we have."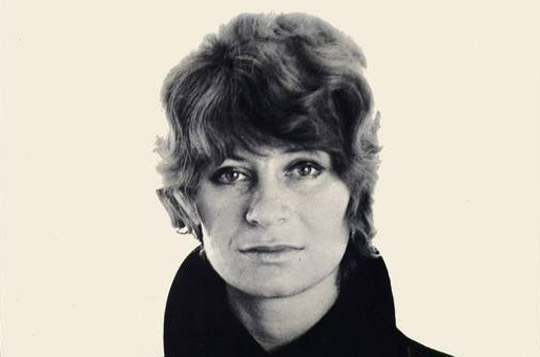 Shirley Collins, 1970
Which isn't to say that Shirley Collins is a stranger to experimentation. In addition to important recordings made under her own name in the late 1950s and 1960s, Collins also collaborated with other musicians of the 'second wave' of interest in English folk music to release landmark recordings. Collins recorded the landmark album Folk Roots, New Routes (1964) with the mercurial guitarist Davy Graham, lending her voice to the intricacies of Graham's unusual tunings and his world music influences. In 1969 and 1970, Collins recorded the albums Anthems in Eden and Love, Death and the Lady with her sister Dolly Collins. And, there were forays into the electric folk movement: the stellar No Roses, with the Albion Country Band, in 1971, featured the epic of "Murder of Maria Marten," with its gothic effects of a prisoner's cart crunching over gravel while heading to the gallows. Contributions to Morris On (1972), with its electrified morris tunes, and The Prospect Before Us (1977) with the Albion Dance Band, mined traditional material. Sadly, however, during a theatrical production Shirley Collins experienced a tragedy: her husband, Ashley Hutchings, left her for another actress in the show, and Collins' voice froze. Collins' dysphonia led her to abandon her life of song.
The recording of Lodestar is, therefore, an event, as it is the first Shirley Collins album in thirty-eight years. Thirty-eight years. In the interim, Shirley Collins raised her children, worked in shops, and served as President of the English Folk Dance and Song Society (EFDSS) at Cecil Sharp House. Very slowly Collins was coaxed back to recording by the musician David Tibet, and other close supporters, feeling out the recovery of her voice. And after so many years, Collins' voice is different. Deeper. Weightier. Mythic, with gravitas. It's a beautiful instrument, still.
On Lodestar, Collins sings English, American, and Cajun songs, from the 16th to the 20th centuries. The album was recorded at her cottage in Lewes, East Sussex, where Collins surrounded herself with musicians deeply sympathetic to her vision. Amongst the contributors are Dave Arthur (guitar); Ossian Brown (hurdy-gurdy); Pip Barnes (guitar); Glen Redman (drums); and Ian Kearey (production, and various instruments). The recording itself has an intimacy and vibrancy that reflects Collins' locale -- sometimes, quite literally. For example, on "Cruel Lincoln," a song documenting murder committed by an aggrieved mason, birdsong from outside Collins' cottage ended up being captured. It provides an interesting contrast (the ambient light birdsong, against the violence of the tale), but there's also the sense that this is the way it was, people singing their tunes as their natural lives unfolded.
The mood of the album is autumnal, and Lodestar does not hold back on a body count. Death is readily at hand: in "The Banks of Green Willow," a young pregnant mother who has followed her sea-captain to sea goes overboard. Death! On "Cruel Lincoln," there are basins of blood. "Washed Ashore" describes a young maid walking along the sea shore, where she encounters a drowned sailor on the sand. It's her lover - Death! and, Death! On "Death and the Lady," there is – wait for it – death. "The Rich Irish Lady" recounts a spurned doctor allowing the lover that he hoped to court die. Death haunts the album-closer "The Silver Swan," a 1611 madrigal written by Orlando Giddens, where a swan opens its throat to sing as death approaches. Death's work is never done.
Amazingly, though, the album bears these themes in interesting and, harkening back to earlier stages of Shirley Collins' career, experimental ways. The opening "Awake Awake/The Split Ash Tree/May Carol/Southover" is an eleven-minute opus that brings to mind the exploration of the Collins sisters on Anthems in Eden. The version of "Awake Awake" utilized here was collected by Ralph Vaughn Williams in 1909, in Herefordshire (although the song can be traced back to the 1500s). Sure, Collins sings that "…death will rot your bones/and your flesh will melt away," but then you get a hurdy-gurdy interlude, and a carol and morris tune which serve to resuscitate the seasons. "Death and the Lady," long associated with Collins, takes on another dimension as Collins, now in her early 80s, recounts the meeting of a fair maid escorted away by Death. Ian Kearey adds bottleneck guitar slides to the track, thereby lending this version an aura of the American South, where Shirley Collins collected folk songs in 1959. "The Rich Irish Lady/Jeff Sturgeon" ends with a blast of joyous fiddle: a scorned lover promised to dance upon the grave of the woman who spurned his advances, and he is jigging away. Other songs, such as "Pretty Polly" (here, in its rollicking American version), and the Cajun "Sur le Borde de l'Eau," add new textures to the flow of the album.
For Shirley Collins, this is the story thus far, and it is a redemptive one. The themes of death that are so prominent on Lodestar are simply what they are: part of life. With English folk song, the song is resurrected when it is given performance: so death never truly dies, and the songs live on by being handed singer to singer, from recording to recording. Collins is a singer without peer, and she acts as a vessel for this material. I've heard English traditional folk singers described as dispassionate, because they are ego-less when they sing; the listener is meant to be the judge of the tale. But I don't think that this is quite true, and Collins' work on Lodestar is full of feeling. It's English soul music, and an extraordinary return for a true musical icon. – Lee Blackstone