Ever since Napoleon's 1798 invasion of Egypt, the volatile bequest of European and U.S. imperialism in the Eastern Mediterranean often has obscured the region's dynamic openness over the past 8,000 years as a cultural, political and spiritual crossroads. Levantine song certainly bears this out, and if it does not figure prominently in the present-day framing of so-called world music, it embodies a venerable legacy of conservatory training combined with regional styles passed on in traditional fashion and more recently, as elsewhere, transmitted via cinema and recordings.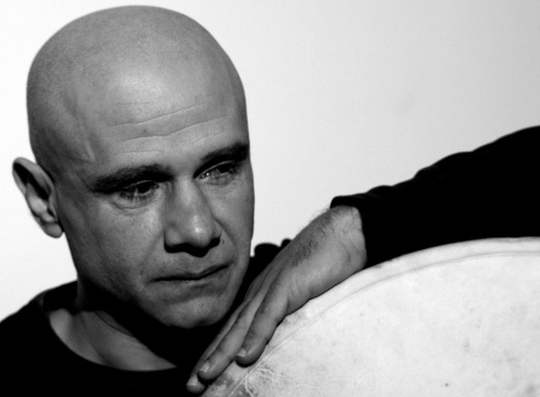 Joined by percussionist Youssef Hbeisch, singer Houry Dora Apartian-Friedli, flautist Ramy Maalouf and electric bassist Ognjen Beader, Paris-based Lebanese pianist-composer Philippe El Hage invokes a range of eastern and western influences on Asrar. Recorded in Lausanne and Dubai, its nine originals range from traditional regional leitmotifs to western classical and jazz. El Hage finds inspiration in the memories of his youth in Lebanon, and in regional history and modern politics.
El Hage began his musical studies in Lebanon, and after completing a bachelor's in French literature in Beirut, moved to Paris to study piano at the Boulogne Billancourt Conservatory. A Palestinian resident in Paris, Hbeisch studied music and philosophy at the University of Haifa; he performs with such artists as Lebanese trumpeter Ibrahim Maalouf, the Balkan-gypsy ensemble Bratsch, and from Palestine, Trio Joubran, the Khoury Project and oudist Simon Shaheen.
| | | |
| --- | --- | --- |
| | | "Byblos" (excerpt) |
Named for El Hage's birthplace, "Byblos" invokes the ancient city north of present-day Beirut, settled during the Neolithic and among the oldest Phoenician urban centers. Byblos bears unique evidence of Phoenician cultural origins and diffusion, including the alphabet that informed western forms of writing. UNESCO named Byblos a World Heritage Center in recognition of its role in the genesis of modern humanity. Significant in regional archaeology, folklore and oral history from the Bronze Age forward, its history and architectural inheritance reveal successive Greek, Persian, Roman, Byzantine and Ottoman influences. A subtle invocation of the enduring history of its inspiration, the piece begins with Apartian-Friedli singing in unison with the piano before easing into wistful, restrained improvisations by each artist in succession.
| | | |
| --- | --- | --- |
| | | "My Olive Tree" |
The news image of an elderly Palestinian woman clinging desperately to an olive tree on her land after the Israeli Defense Force ousted from her home was the genesis of "My Olive Tree." Counter to the cruelty of cultural extermination, El Hage calls the composition "a message of peace and hope." Hymn-like, it moves seamlessly from a major key into a darker minor mode where Hbeisch teases out its eastern undertones, before a return to its more optimistic main theme.
| | | |
| --- | --- | --- |
| | | "Where We Used To Hide" |
"Where We Used to Hide" is for El Hage "a song of memory from my childhood during the civil war in Lebanon… where we [would] hide from bombs and gunfire. I wrote this song to remind me how valuable life is, and how in moments of fear and danger, there was a feeling of safety and happiness [with my] family." Apartian Friedli scats over its pensive theme, joined by Maalouf's flute improvisation.
| | | |
| --- | --- | --- |
| | | "Asrar" (excerpt) |
On the title track, Maalouf and Hbeisch complement the piano's brooding modal feel, perhaps making this the album's most enigmatic and regionally rooted composition. It is thus even more remarkable that El Hage and Hbeisch had never performed together before going into the Lausanne studio, although they since have toured together behind the recording. This is a work whose subtleties reveal themselves quietly with repeated listening. Contemplate the stirring oriental classicism of the opening track, or the straight-ahead oriental café jazz of the closing tune, "Hope," to behold this finely hewed project's eloquent testimony to the beauty, resilient creativity and optimism of a region that has endured far more than its share of contemporary tribulation.—Michael Stone
Philippe El Hage shared his thoughts on two of the songs from the album with us, and you can read them here.
Asrar is RootsWorld's Music of the Month selection for July, 2018