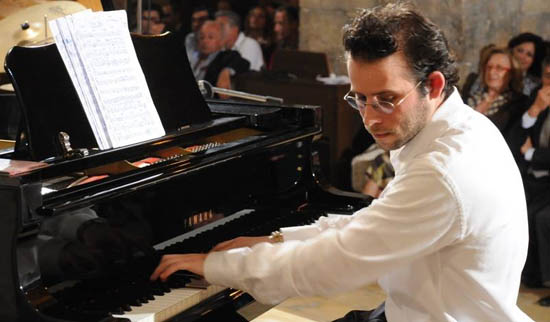 In The Artist's Words

Philippe El Hage

When I recorded the Asrar project with Youssef Hbeisch, we met directly in the recording studio at Lausanne (Switzerland). I did not have any previous stage experience with Youssef, but the recording process was very natural. It is only later on and after the release of the album that we played together on stage. I find the combination of piano and Oriental percussion very interesting but also very challenging and intriguing. Youssef used a very rich setup of different percussions performed with a great sense of musical colors (Arabic and contemporary) and a great sense of dynamics.
| | | |
| --- | --- | --- |
| | | "My Olive Tree" |
I wrote "My Olive Tree" after I saw a picture of an old Palestinian woman whose land and house were taken away from her by soldiers. She was holding on firmly to the only hope she had left: an olive tree.
The olive tree is rich in meanings and symbolism across many cultures, countries and religions. "My Olive Tree" has a message of peace and hope. In the middle part of the song the piano is having a conversation (improvisation) with the different oriental percussions of Youssef Hbeisch.
| | | |
| --- | --- | --- |
| | | "Where We Used To Hide" |
"Where We Used To Hide" is a memory from my childhood in Lebanon, remembering where we hid from the bombs and gunfire during civil war .
I wrote this song to remind me how valuable life is; that in moments of fear and danger, there was a feeling of safety and happiness because the family always managed to keep us safe. For this piece, Houry Dora Apartian Friedli sings over the main theme, while a flute improvisation by Ramy Maalouf accents in the middle passage. - Philippe El Hage

Asrar
is RootsWorld's
Music of the Month
selection for July, 2018.
Find out more and subscribe.