Three Cane Whale
Palimpsest
Artist release
| | |
| --- | --- |
| | "the bronze sounding" (complete track) |
Three Cane Whale is the acoustic trio of Alex Vann, Pete Judge, and Paul Bradley. Based in Bristol, UK, these multi-instrumentalists are the living heart of what folk music should be, creating leafless melodies that burrow into their homeland as much as emigrate from it. While the reviewer might in any other case be at a disadvantage to describe such a sound, Three Cane Whale lends itself to effortless comparison with the legendary San Francisco Bay Area duo known as Mandible Chatter. Although the latter project has explored farther and more widely, a kindred spirit of purity guides the former's hands to evoke an almost microscopic panorama of peripheries. Like the wan skin of a birch tree, striated by gashes of dark, Palimpsest redraws its identity with each new season.
Creative wordplay is all too often lost when leveled against the music it describes, but the evocative track names of Three Cane Whale prove to be more than worthy of their poetry. Titles such as "Roads Of The Sky," "A Magic Of Strange Welcome," and "An Acre Of Watery Light" imply more than their journeys might let on at first blush, and gently demand subsequent listening to fully appreciate. Yet it is the mono-titular tunes, like the three "Miniatures" or the emblematic "Sprig," that reveal the trio's barest aesthetic truths. The rurally inflected dulcimer of "Wingmore," too, says a lot with very little.
"Standing Sun Fanfare" (excerpt)

"Shadows of the Chalk Hills" (excerpt)
While sparse in cause, the effects are strangely resplendent. Despite the many instruments at their disposal, the musicians tend to favor the zither, glockenspiel, mandolin, bowed psaltery, trumpet, and guitar. Internal combinations thereof yield the album's highlight, "Red Bank," which hangs like a moisture in the air. By addition of harmonium ("Brute Angels" and "The Bronze Sounding"), cello ("Moon In A Bottle"), or piano ("Penda's Fen"), this nexus stretches itself thin enough to reveal every branch against a bloodshot sky.
"Roads of the Sky" (excerpt)

"Wingmore" (excerpt)
Although much of the album navigates the bramble of a sunless afternoon, the occasional streaks—as those of "Shadows On The Chalk Hills" and "Gurney's Oak"—draw brighter palette knives through the pall. These gestures mark the path of travel drawn from "Standing Sun Fanfare" to "Winchester Geese," each a way station of plucked strings yielding songs and striations. Between them one also encounters ambient field recordings of rain, ocean waves, trains, and birds, as if to remind us that settlement is never far away. As captivating as it is minimal, Palimpsest is a beauty, and one you'll want to understand through time. - Tyran Grillo
Visit the artists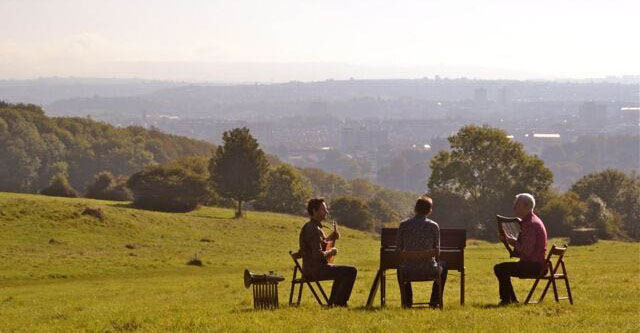 © 2016 RootsWorld. No reproduction of any part of this page or its associated files is permitted without express written permission.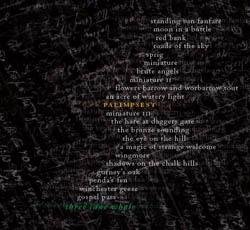 This is RootsWorld's January, 2016
Music of the Month


Or make a one time contribution of 21.00 (postage included) and get only the album.