<!!!column 1>

Sign up for Music of the Month with a 20.00 monthly donation: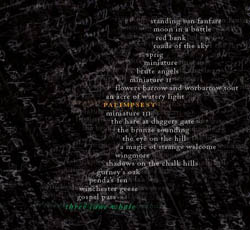 Three Cane Whale
Palimpsest

I am pleased to present the newest recording by a little known but wonderful trio from England - Three Cane Whale.
Alex Vann - mandolin, bowed psaltery, bouzouki, zither, banjo, dulcimer
Pete Judge - trumpet, cornet, dulcitone, harmonium, lyre, glockenspiel, tenor horn
Paul Bradley - acoustic guitar, miniature harp
You'll hear some strains of this music that will remind you of Spiro (with who they share a member) or the late, great Simon Jeffes and The Penguin Cafe Orchestra, but there is a much wider, deeper range of music here, an original streak the evokes landscape and sky.
This CD was donated by the artists, so all proceeds go to support the magazine and radio program. We thank them for the generous support.
Listen to a few samples:

"Standing Sun Fanfare"
"Shadows of the Chalk Hills"
"Roads of the Sky"
"Wingmore"
"An acre of watery light"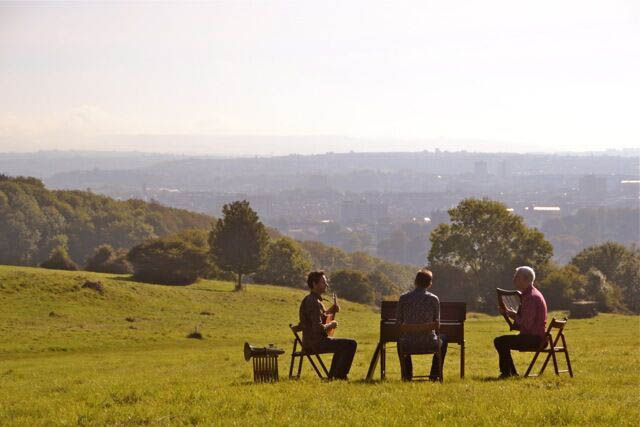 Three Cane Whale is a multi-instrumental acoustic trio based in Bristol, UK, featuring members of Spiro, Get The Blessing and Scottish Dance Theatre. As intricate as a team of watchmakers, as spare as a mountain stream, the music encompasses both a cinematic sweep and an intimate delicacy, in which "the aroma of muddy leaves and old nettles is almost tangible" (The Observer).
The band writes:
"We're very excited about this one. For the first time, we have guest musicians, Estonian fiddler Maarja Nuut and Kentish cellist James Gow, playing on some of the tracks. We have Adrian Utley's highly-talented hand on the tiller, plus Tim Allen's exceptional ears on constant alert. And it's the first time we've recorded in a recording-studio (Peter Gabriel's Real World Studios in Box). But we've also been very careful to maintain that robust fragility that characterises what we do...We're looking forward to hearing what you all think of it."
---
Sign up for Music of the Month with a 20.00 monthly donation:
Subscribe before January 7th and you will also get a copy of Anne-Mari Kivimaki's's A Closed Down Village, our December selection.
You can also choose to make an annual payment and get some extra CDs and discounts.
Sign up for Music of the Month with a 20.00 monthly donation (includes postage):
---
Or make a one time contribution of 21.00 (postage included) and get only this album.
---
You can also make a subscription by US check or US Postal Money Order payable to:
RootsWorld
Box 1285
New Haven, CT 06505