<!!!column 1>

Sign up for Music of the Month with a 20.00 monthly donation: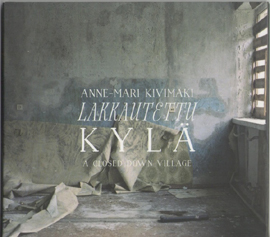 Anne-Mari Kivimäki
Lakkautettu kylä (A closed down village)

The music of this album has been collected and arranged from the Suistamo series third concert A Closed-Down Village. A Closed-Down Village is a photo exhibition with sound by Anne-Mari Kivimäki and photographer Hanna Koikkalainen, premiered in January 2015. It looks at Finnish WWII evacuees, wartime, leaving one's home and the current reality in a Karelian village of Suistamo that used to be part of Finland but now belongs to Russia. The music has been inspired by the life and the stories told by the Karelian storyteller and accordion player Ilja Kotikallio (1894-1961).
The Suistamo series is a part of the artistic doctoral thesis that Anne-Mari Kivimäki is doing in the Sibelius Academy (The University of the Arts Helsinki) under the title Suistamo – The Laboratory of Tradition.
As instruments on this album Kivimäki use Russian two-row Notka accordion, 5-row accordion and own voice.
Anne-Mari Kivimäki (b. 1976) is a musician and composer from Tampere, Finland. She is occupied with the renowned and original duo Puhti and the Hehkumo band with its full-blooded music . Kivimäki won the respected Konsta Jylhä Competition, in 2013. During her career Kivimäki has actively performed in Finland and abroad e.g. in the Nordic Countries, Central Europe, Mozambique, Benin and Hong Kong. In addition to giving concerts, Kivimäki has worked as a composer and performer in productions that combine music, dance and theatre.
This CD was donated by the artist, so all proceeds go to support the magazine and radio program. We thank her for the generous support.
Listen to a few samples:

---
Sign up for Music of the Month with a 20.00 monthly donation:
Sign up for Music of the Month with a 20.00 monthly donation (includes postage):
---
Or make a one time contribution of 21.00 (postage included) and get only this album.
---
You can also make a subscription by US check or US Postal Money Order payable to:
RootsWorld
Box 1285
New Haven, CT 06505