Jean Chocun Of Tri Yann
talks online with RootsWorld's Christina Roden
| | |
| --- | --- |
| Christina Roden: When did you realize that being Breton was different from being French, and how did this affect you? Are any of the band members native Breton speakers? | |
| | |
| --- | --- |
| | Jean Chocun: We never felt different from other people but when we decided to play our music, it was natural to look to our roots. |
How did you discover music? Who were your biggest inspirations in the beginning?
For me, music became important at about 12 or 13 years old. Rock and roll, twist, The Beatles, The Rolling Stones, Bob Dylan and this generation of singer and musicians. My first (electric) guitar was built by my grandfather...and what a guitar!
When did you meet the other two Jeans and how did the original trio come about?
At 15, I first met Jean Paul Corbineau. Jean-Paul met Jean-Louis Jossic in an amateur theater company. We played between the acts. It became obvious that we had great things to do together ... as amateurs!
How did you gather your material? Was it difficult? Were you working primarily from oral traditions, from manuscripts or a mixture of both?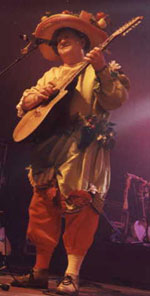 We have no method. Sometimes the oral tradition is a good way to make a new song. We compose a lot of the music and words, always with regard to the tradition.
How strongly is the group involved in Breton separatist politics and if so, how has this evolved over the years? Is there an official statement or platform you'd like to share?
Our process is mainly cultural, but this way of thinking is also political. When we sing in Breton, when we speak about Brittany, we claim the right to be different. We are Breton and we live in a bigger country named France. It is very important to fight against standardization.
Did you feel like part of a movement in Brittany (Alan Stivell, etc.) when you came up during the seventies and later on or as though you were on your own?
Sure. With people like Gilles Servat, Alan Stivell, Dan ar Braz and many other musicians, we are a part in the same movement in Brittany.
On the first few records ("Les Prisons De Nantes", "Dix Ans Dix Filles"), were you influenced by such non-Irish-speaking folk bands as the Dubliners or the Clancy Brothers ?
Yes, and also by music from Quebec. Do not forget that we live in the part of Brittany that does not speak Breton.
By "Suite Gallaise", some folk-rock was beginning to infiltrate the group's sound. How and why did this happen?
It was natural. The more we played, the more we looked to new influences.
How aware were you of what was going on in England (Fairport, Pentangle, Steeleye), Ireland (Clannad, Planxty), Wales (Ar Log) and in France (Malicorne, et al) during the seventies and eighties?
We listened to them with interest but we always wanted to make something different. We knew that Tri Yann had a specific sound - voices and medieval instruments mixed with a folk rock ensemble.
On the next two albums, "La Decouverte ou L'Ignorance" and especially on "Urba", the medieval and Renaissance music influences in Tri Yann's sound had become quite marked. Was this a conscious decision, or did it develop on its own?
It is intentional. Such music (classical and baroque) has an important place for the voices. But up to "La Decouverte Ou L'Ignorance", the group was acoustic, without electric guitars or drums.
The band's close-harmony vocal writing is unlike anybody else's. How did this develop?
Each one in the group is responsible to the limits of his own possibilities. At the end, all is shared, like in a socialist community!
By "An Heol A Zo Glaz" and "Cafe Du Bon Coin", Tri Yann was a full-fledged folk-rock band, with state-of-the-art production values and a wild sense of humor (I especially enjoyed how you treated those poor little Scottish dance tunes on "Cafe du Bon Coin" - what were you smoking?.
No smoking - but sometimes drinking and if possible, good eating!
These were also among your biggest sellers, am I right? What was going on with you back then and how did it effect your sound?
The success (or not) of a record has no influence on the music of the next . For example, just after "Cafe Du Bon Coin" (a big seller) we recorded "Le Vaisseau De Pierre", which sounds very different.
The live album, "Anniverscene", had everything on it from disco, to African flourishes, to a Gaelic version of "Si Mort A Mors" , but the band seemed to be between phases somehow - what was going on?
Sometimes we make mistakes! The sound of the synthetic drums on "Anniverscene" is now dated, but it was a public recording and our drummer Gerard (Goron) was glad to play with his new machines!
How did you decide to move in the direction that led to "Portraits"? How did you become aware of the Guillaume Seznec affair and how long had you been thinking about it?
Jean-Louis met Guillaume Seznec's grandson after having read his book, "Nous Les Seznec", in which Denis speaks about the miscarriage of justice of which his grandfather Guillaume was a victim.
How did you choose which other personalities to portray on the album?
At first we planned to compose the whole CD on the Seznec theme, but after considering, we thought this would be too sad. So, we decided to narrate the stories of people (real or imaginary) having an important place in the story of Brittany or in the dreams of the Bretons.
The use of early music instruments is now very pronounced and polished, and certain production elements are more refined than on previous recordings. How do you deal with the difference in levels between the acoustic and electric instruments, and keep them sounding realistic in relation to one another?
We have our own studio in Savenay near Nantes, where our office is. So we take time as necessary to work on the balance. Now, while I am typing, my friends are in our studio, preparing our next CD,"Le Pelegrin", which will be released in October or November, 2000. When they need me, they call by phone and five minutes later I am with them to sing or play.
Is there anything you'd like to say about the new album?
No - it is too early to speak about it. But I feel that it will be a major CD!
Tri Yann is not yet as well-known as they deserve to be outside of France and along the international festival circuit. What would you like to say to music fans from everywhere who are about to discover you?
Listen to our albums from "La Decouverte Ou L'Ignorance" onward. The first records are a bit old fashioned, but they make good souvenirs! And if possible, come and see us on stage. I am sure that you will come back at the next opportunity - with a lot of friends!
---
Tri Yann:
Jean Chocun (voice/mandolin/guitar/mandoloncelle/dulcimer)
Jean-Paul Corbineau (lead vocals/acoustic guitar)
Jean-Louis Jossic (lead vocals/flutes/psalterion/crumhorne/bombardes)
Gerard Goron (voice/trap drums/mandoloncelle)
Fred Bourgeois (voice/keyboards)
Konan Mevel (voice/flutes/bagpipes)
Christophe Peloil (voice/bass guitar/flutes/violin)
Jean-Luc Chevalier (electric & acoustic guitars)
Photos © Eric Doll
---
Discography
(* = recommended album)
Links are to cdroots.com
Tri Yann An Naoned
Dix Ans, Dix Filles
*Suite Gallaise
La Decouverte Ou L'Ignorance
Urba
*An Heol A Zo Glaz- Le Soleil Est Vert
*Cafe Du Bon Coin
Anniverscene (live)
Eguinane (compilation)
Le Vaisseau De Pierre
Belle Et Rebelle
Inventaire 1 (compilation)
*Portraits
Inventaire 2 (compilation)
Le Meilleur De Tri Yann (compilation)
La Veillee Du Troisieme Millenaire (profile of band - in French) *Tri Yann En Concert (live - includes CD-ROM)
Tri Yann & L'Orchestre National Des Pays De La Loire (live)
Le Pelegrin (fall 2000 - dtba)