"In a way I'm being pulled in two directions in that deep in myself my aim is to do today's music and to do new music every day."

Peggy Latkovich talks with the Breton innovator

It was a foregone conclusion that Alan Stivell would take up the Breton harp. His father was a driving force in bringing the Celtic harp back into use in Brittany. "The Celtic harp had not been used in Brittany for centuries, so he made a prototype," says Stivell, "My father had in mind to make a harp that would be specifically Breton, but then found that they weren't very different [from other Celtic harps.] At the time when the Celtic harp was in use, in the early middle ages, it was the same culture from Scotland to Brittany to Ireland, so the harp itself was not much different from one country to another. It was more the people who were traveling from one country to another among the Celtic countries. The end of the Celtic harp in Brittany was about the time of the end of [Breton] independence, around the fifteenth or sixteenth century."

Stivell (who was born Alan Cochevelou) was about ten when he took up the harp, after about five years of piano study. "As a young child, I felt impassioned with this instrument," he says, "but there were no teachers, there was no more tradition, so I had to go to a classical harp teacher. I began mixing classical with some Celtic, music arranged by my father and my teacher. It was unique in a way. I was born in a sort of fusion of the Celtic nations, because I played Scottish, Irish, and Breton tunes. I began to play onstage very soon after, not professionally, because I was only ten. And then the revival began in Brittany."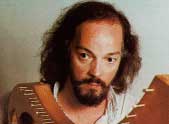 The revival has continued since then, with Stivell at the helm. "When rock and roll came to Europe, I felt it was something very good in a way," he reminisces, "I had the idea to make a fusion of Celtic music with rock music, and so I experimented with that for some years after." These experiments led to the formation of a band in 1967, with Stivell on harp, bagpipes, and Irish flute and featuring Dan Ar Bras on electric guitar. "In fact that was the basis of my music when I began professionally in the mid-sixties, this fusion of Celtic and rock," he says. Early in his professional career, he took on the stage name of Stivell, the Breton word for fountain or spring.
After releasing several recordings with the band in the early to mid-seventies, Stivell struck out on his own. Since then, he has been in search of new sounds and new avenues of musical exploration. "What I like in music is never doing the same thing, so when I had done an album very electric, for example, often I would com back to something more intimate, more acoustic," he says, "But whether I go from electric to acoustic, each album is a very different approach. It's not always what people expect. Sometimes when I play electric it's more traditional and sometimes when I play acoustic, it's less traditional. For example, when I composed music on the acoustic harp for modern Breton poets, there was nothing traditional at all, compared with some other albums where I just played traditional Breton or Celtic tunes, but with a more standard rock band and it's closer to traditional."
"In a way I'm being pulled in two directions in that deep in myself my aim is to do today's music and to do new music every day, even if it's based on my Celtic roots, but at the same time I always want to show that I have authentic roots," he says, "From childhood I was always curious and wanted to create new kinds of music. Sometimes I feel like going back to the roots, but in general my direction is creation."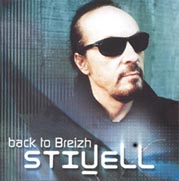 Stivell is proud of his Breton heritage, as is obvious from his latest release, Back to Breizh. It is a celebration of Brittany, from the beauty of its landscape to the tenacity of its people. While the music runs the gamut from simple acoustic pieces to hard rock and hip-hop grooves, the lyrics reflect Stivell's thoughtful, literate observations on Breton life and history. Most of the songs are sung in Breton and show a fierce love of place. He bristles at concept of nationalism, however: "My previous album 1Douar (1 Earth) says that I'm a citizen of the world before being a Breton. While I think it's important to claim our identity, it's important to say that we are first human beings. So I insisted on that on the last album. I felt more free on the next one to say now that we are going on to a new century what heritage do we have to give to other people, to exchange with them? Our Breton roots, our difference is what we have to give to others."
"I don't like the word nationalist," he insists," because to be nationalist is to give to the nation the main importance in life. Being part of a land, of a people, there is a certain degree to which that is good. We need it, the pride to be Breton or American or whatever, so this culture, this civilization can survive. But the second degree is to be so excited about our identity that we cannot suffer others who are different, so we try to destroy the other."
Stivell's recordings reflect his "citizen of the world" philosophy in his choice of musicians. He has collaborated with a number of gifted artist over the years, from Kate Bush to Youssou N'Dour to Paddy Maloney. "They were very nice people and very professional at the same time," he says, " so there have been many good collaborations."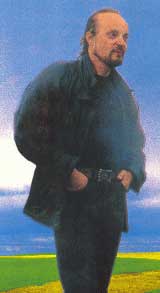 He began this year's tour in Mid-march, traveling through France, Belgium, Spain, and England before landing in the States in May. In Washington for the Potomac Celtic Festival, he ran into the curse of the globetrotting musician – a visa snafu that prevented him from playing in the States. So his plans are to tour more of Europe and Asia before returning Stateside in September.
Meanwhile, he's working on two new albums to be recorded next year. He's also in the process of writing a couple of books. "One is about the history of the Celtic harp and the other is more general, a kind of auto-interview about different subjects," he says, "It's partly autobiographical, but also speaks a bit of politics and philosophy and music and, of course, Brittany. I'm trying to say everything I want to say without limiting the pages."
Stivell has been hailed as the driving force behind the renaissance of the Breton harp. When he took up the instrument as a child in 1953, virtually no one was playing it. Twenty years later, over a hundred Bretons had taken up the instrument. Coincidence? Maybe, but with as skilled and innovative an artist as Stivell, it's not much of a stretch to imagine hordes of followers jumping on his bandwagon.
- Peggy Latkovich
Audio:
"Amoricaine" by Alan Stivell
©2000 Disques Dreyfus / (p)2000 Keltia III
Used by epxress permission.
Back to Breizh available at cdroots.com
More of Stivell's CDs
More music from France on RootsWorld

all content ©2000 RootsWorld
No reproduction may be made without written permission