The Voice of the People
Topic Records: 20 Individual CDs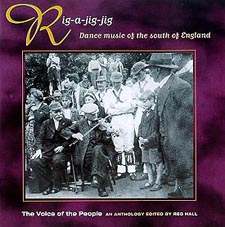 It's hard to know where to begin with this. Twenty individually-packaged CDs, each packed to the limits of current technology with the crème de la crème of Britain's traditional singers and musicians. That's "traditional" in the strict sense; these are source singers, the old breed who learnt their stuff from family, friends and acquaintances, and sang them in the public bar or the back kitchen – you won't find Martin Carthy here, but you will find the people Martin learned songs from. Amongst the performances, recorded over the last ninety years but mainly between 1950 and 1980, are the very foundation stones of the British folk revival: Margaret Barry's She Moved Through the Fair, Paddy Tunney's Blackwaterside (what a splendid antidote to bogus new-age Celticism!), or Harry Cox's Just as the Tide was Flowing, recordings that the new generation of sixties folksingers soaked up and passed on to a wider audience. But for the benefit of the sad individual who wrote recently to "Folk Roots" describing these very performers as "bleating old dodderers who sound like they're about to croak and fall dead on the pub floor any minute", it's worth pointing out that the reason you should listen to them is not just because they're worthy or historically important, it's because they're wonderful to listen to. Yes, many were elderly when recorded. Some aren't technically perfect, a few are indeed wobbly. But then traditional song has its own rules; it isn't opera, and the skill lies in the directness, the storytelling, and the essential honesty, as well as the technique. Don't think I'm just making excuses for poor singers, though: many of these performances are great by any definition, and it's difficult to imagine any current folk scene performer surpassing Phil Tanner's Young Henry Martin for sheer drama, Joe Heaney's Rocks of Bawn for measured power, Joseph Taylor's Creeping Jane for tunefulness and subtle ornamentation, or Sara Makem's Barbara Ellen for emotional force. I know I'm not the only one moved to tears by the last of those, and there is plenty here to set the pulse racing or the heartstrings twanging. Traditional singing isn't always easy listening, especially when you're not used to it, but it doesn't half reward the effort.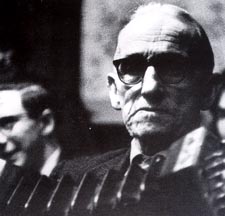 The set isn't exclusively vocal, though, with one CD each devoted to the rollicking dance music of Southern and Northern England, the former featuring fine musicians like Scan Tester (concertina, pictured right), Oscar Woods (melodeon) and Walter Bulwer (fiddle), the latter mostly Northumbrian and containing several tracks from the superbly precise mouth-organist Will Atkinson (though surprisingly little pipe music). In general, however, the discs contain a mixture of material – mainly song, with a sprinkling of tunes - selected by theme: the sea, love and courtship, farm work, drink, and so on. There's also a particularly good CD devoted to travellers and gypsies. Although there's a lot of overlap between categories, the theme formula works well in providing listening variety. So you get unexpected bedfellows like William Kimber, the influential concertina player and Morris musician who here plays Haste to the Wedding, and Belle Stewart, with Queen Amang The Heather, on the "Love and Marriage" disc. One of the maritime CDs ranges from Tunney's exquisite Lowlands Of Holland, to a sailor's hymn, a splendid snatch of Bob Roberts nautical nonsense, and a hammered dulcimer piece by John Rae (a revelation to me) titled Sailor On A Rope. And if you're into the business of comparing versions of songs, there's plenty of fodder here. Sam Larner's Henry Martin variant isn't quite such a knockout as Tanner's, but it's a grand tune and he sings it with earthy relish. Or you could set a traveller's version of Long A-Growing from Mary Ann Haynes beside that of the celebrated Shropshire farm-worker Fred Jordan (one of the few still alive and singing) – quite different melodies and styles, each wonderful.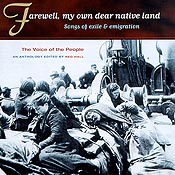 Each CD comes with a substantial booklet providing an excellent introduction by editor Reg Hall (though I must quarrel with his statement that the tunes "call on a well-used stock of melodic phrases"; maybe they do, but melodies like Mary Ann Haynes' Colour of Amber or Norfolk singer Walter Pardon's A Ship to Old England Came bring you up short with their unexpected turns). There are also fascinating biographies of all the singers on each disc - it adds a little to Pop Maynard's definitive Polly on the Shore, for instance, to know that it reminded him of his late wife Polly. Part of the motivation for this release is to establish the importance of the singers as individuals in a community, not mere vehicles for passing on a bunch of old songs. Perhaps for this reason, information on the songs themselves – which would have been of great interest to me for one – is less extensive, though full lyrics are provided.
I could go on forever – I've not even mentioned the queens of Scots singers, Jeannie Robertson, or her daughter Lizzie Higgins, who each turn in several splendid performances. All the greats are here, with the notable exception of the Copper Family, whose exclusion I can't understand. But I can't close without drawing your attention to a couple of personal favourites, not amongst the heavy-duty classics, but little gems nonetheless. George Spicer sings the tongue-twisting Barley Mow – each time around getting more complicated and faster – with the kind of competitive relish that has "Come on then you buggers, beat that!" written all over it. And, on the CD devoted to seasonal events and customs, there's an amazing recording of wassailers in Gloucestershire singing The Waysailing Bowl with wild (and probably drunken) enthusiasm and hilarity, bringing familiar words and melody straight out of the Oxford Book of Carols and into real life. You can argue till the cows come home about what "folk music" really is, but this track sums it all up for me.
These CDs do for British traditional folk music what the Alan Lomax series does for America's. If you want to know what it's really about, you can't afford to be without at least one and preferably several of them. - Brian Peters
---