Tarika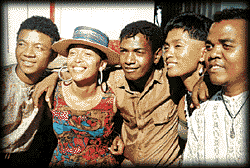 D
Xenophile (www.greenlinnet.com)
Sakay /UK (www.tarika.demon.co.uk)

Tarika's last album, Son Egal, was a complex, beautiful recording that explored both historical and political themes with a full complement of guest artists and studio overdubs. D (the pronunciation of the Malagasy word "dihy" which means "dance") shows the band in the way that their live audiences know them best: as a skillful, rollicking dance group with plenty of energy to burn. Taking their cue from late 70s and early 80s singles that mixed the local dance steps with an electric pop sensibility, they have re-recorded and in some cases recreated tsapika, sega, salegy, watcha watcha and other popular regional styles.

The record is full of the graceful grooves of bakabaka ("Retany") and blozy ("Raitra"). These tunes use the choral style that first attracted me to the music of Madagascar, accompanied by local instruments like valiha and maravony coupled with electric vibraphone, bass and drums. "Ilahikolo" is probably the prize ballad on D, a story song about a real farmer who speaks of the hard life of the poor in Madagascar.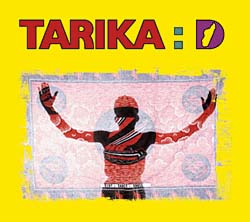 The band also moves into the decidedly rock territory of tsapika (my current favorite island pop sound) on "Mihetsika," with fuzzy electric guitars and full throttle electric bass facing off the kabosy and small percussion instruments in a crazy rhythm that will surely force the Americans and Euros on Tarika's next tour to pay attention to ther

steps. The upbeat and anthemic "Fety" shows the real strength of this band. They can make a solid groove and a frenzied dance beat. They seamlessly mix jazzy saxophones and swinging folk fiddle with a heavy drum beat that is as dance-inspiring as any super-wattage pop band, creating music that is energized without being enervated by cheap tricks or crossover cliches. This has become the hallmark of the band in most of its work, both live and on record. They are determined to be popular, at home and around the world, but they are unwilling to make huge trade-offs to achieve fame. D is full of music that is accessible, to be sure, but it is first and foremost music that matters. - CF
Tarika Web
More Malagasy Music

Sound samples are used with express permission of the authors/publisher
"Ilahikolo" composed by Rasoanaivo, published by Rogue Music, UK
"Mihetsika" composed by Randriamanantena, published by Rogue Music, UK
Copyright 1998 Rogue Music
Web pages: Copyright 1999 RootsWorld