THE SKATALITES
Foundation Ska
Heartbeat Records (vinyl LP and CD)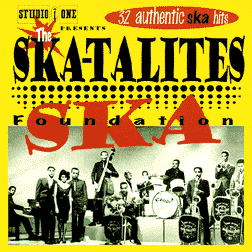 Deep in the night of America's airwaves in the 40's and 50's pulsed the swing of Count Basie, Stan Kenton, Woody Herman and the latest rhythm and blues from radio stations in Miami, New Orleans and Jacksonville. On a clear night, and unbeknown to most stateside listeners, there were unseen ears with powerful radios across the ocean absorbing every note; musicians who eventually rewrote the history of popular music.
Ska - the essential root of reggae and pervasive media term for many popular rock groups today, has deeper roots than most are aware of. Due to powerful radio transmitters on America's south-eastern shoreline and savvy tourists from Jamaica carrying armloads of records back home, Jamaica fervently absorbed the contemporary beat of African-American jazz, blues, boogie-woogie and R&B. A new industry began: DJ's spinning discs on portable sound systems and local musicians copping every groove they heard at all the weekend dancehalls.
Eventually, somebody was destined to take the imported sounds and create something new - unique - distinctly Jamaican. One of the first to do so were the short lived (in their original lineup) but innovatory super group The Skatalites. Fast rhythm and blues tempos were chopped in half, leaving a rather awkward emphasis on the after beat. Ignoring James Brown's call for placement 'on the one!' a slightly displaced "chug-a-chug-a" beat was born that can still be heard today in everyone from The Mighty Mighty Bosstones to No Doubt.
To set history straight, Heartbeat Records, a long distributor of classic Jamaican music, has released the testament "Foundation Ska" -- thirty-two essential instrumentals from 1964 and 1965 documenting the birth of a global art form that is required listening for anyone interested in the roots of modern reggae, dancehall and ska.
Each Studio One [the legendary recording studio] hit reads like a who's who of Jamaica's all-star instrumentalists: Tommy McCook, tenor; Roland Alphonso, tenor; John Moore, trumpet; Don Drummond, trombone and even a adolescent Bob Marley on "Simmer Down."
Due to Jamaica's humidity, intense temperatures and lackluster preservation techniques (classic tapes have often been found unmarked, piled in storerooms or altogether missing) most of the original master recordings have a slightly worn, muffled sound that ironically only adds more warmth to the throbbing bass drum, snare and punchy tenors. For vinyl purists who want even more crackle in their crunch, Heartbeat has also released a limited edition double LP of the collection.
The Skatalites were the top dancehall band of their day who recorded more hits together than any other musical ensemble in Jamaica's history. Amazingly fresh after thirty years, their high-flying swing is still essential party music - then and now.
- W. Todd Dominey
see also: ska and reggae, Caribbean