Sainkho Namchylak is one of the most revolutionary vocalists to emerge from Tuva. An important cradle of "throat" or bi-phonic singing - in which usually two (but as many as four) harmonically related tones emit from one mouth, Tuva has so developed this particular art that there are actually many styles, some distinguished by the slightest of differences in nasal inflection. There are numerous examples of Tuvan singing available on record today but none are quite like this intimate gallery of ideas, poetically rendered with impressive vocal technique and enhanced by master instrumentalists.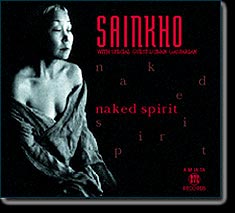 The word impressive falls short in remarking on a singer with a reported seven octave range who has made artistic statements in traditional recitals with the Tuvan State Folk Ensemble and severe experiments with Europe's free jazzmen and electronic artists. Sainkho's third release finds her freely drawing lines and shapes in shamanic earth, and offers proof that she has considerable talent as an arranger too. Naked Spirit is a collection of eleven selections, no two alike, relying mainly on acoustic instrumental support and multi-tracked vocals, quite distinct from her work with producer Hector Zazou. Sainkho's various voices meld eerily well with a variety of accompaniment from Djivan Gasparyan's duduk, Walter Maioli's percussion and Roberto Cacciapaglia's piano. Frame drum, tabla, conch shell, mouth harp and a sourceless drone add complimentary surface to the album. Overall, the tracks create a palpable sense of outdoor awe and contemplative sadness.
On the few a capella tracks Sainkho builds harmonic and rhythmic vocal textures with economy. Her voice travels from piercing highs to guttural lows, summoning images from classical court singers to trance-immersed shamans, from the feminine to the masculine. Despite her range of vocals none represent stunts but instead evocatively serve the music and vision of this nomad and pilgrim. These are personal, imaginative projections of old and new vocal tools; sure, grounded, nature-leaning and freshly mystical. As much as the music may echo traditional Tuvan expression, these pieces are also Sainkho's alone. The succinct text elements which form the basis of the cuts here are a treasure of wisdom and compassion all by themselves, in part the legacy of a persecuted people.
This resonant recording presents a wide and fairly deep soundstage, though more through electronic than acoustic means. The album clocks in at under 40 minutes with track lengths typically 3 to 4 minutes. Thus, this is not quite a ritual disc for extended listening and deep tissue work. It is a very satisfying parlor expedition into the darkness and light of harmonic sound. Some tracks will leave the listener completely spellbound, as in the ethereal sonorities of "Valley of Shadows" or "Moon Trance." This is reward enough from any record. - Steve Taylor
Photos courtesy Amiata Media, Italy