April 18, 1998
RootsWorld News:

That outrageous "sweetheart of the rodeo," and one of the editor's personal favorites in country music, Rose Maddox, died this week (April 15, 1998). She was 71.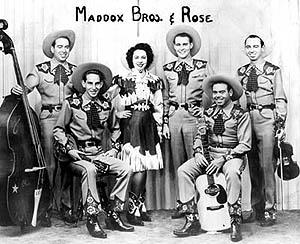 Maddox was born in Boaz, Ala., in 1926. Her family moved to Modesto, California during the Depression, traveling through the valley picking fruit and cotten. Her brothers formed a band, and got their big break in 1937 with a 15-minute program on Modesto's KTRB. The catch? They had to have a "girl singer" to be on the show. Rose Maddox, at age 11, became a country singer.
The Maddox Brothers and Rose were a hard working country band with a flair for showmanship. They toured America in the years immediately following World War II, making a name for themselves as "The Most Colorful Hillbilly Band in America." In the early 50's they recorded "Philadelphia Lawyer" for Columbia, which became a gold record and a national country music hit.
Rose Maddox broke the country music mold for women, singing sometimes risqué, blues-tinged country songs about love and drinking, and playing towns like Las Vegas, not known for its country music scene at the time. They made many appearances at the Grand Ole Opry, as well as touring with famous artists like Hank Williams, Marty Robbins and even Elvis Presley.
While the Maddox Brothers band broke up in the mid-50s, Rose Maddox continued a solo career through much of the last 30 years, making new records as one of the "legends" of southern California country. Her older recordings have enjoyed multiple "revivals" with many of the best songs reissued regularly on a number of record labels including Arhoolie Records.
As my friend Dave said, "This one goes to heaven."
Cliff Furnald
RootsWorld