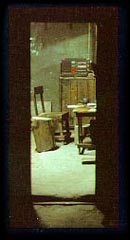 BAABA MAAL & MANSOUR SECK
Djam Leelli
(1998, Palm Pictures - www.islandlife.com)
"Djam Leelli" -the adventurers - is the story of young men forced to journey from their home. The land is dry and they know they must travel to Gabon, Ivory Coast, even Europe. They have no choice, there is no reason to stay..."
The story of how this recording came to be is as long and confused as a good folk tale. In 1984, Baaba Maal and Mansour Seck recorded a cassette called Djam Leelli. A copy found its way to England, where it became something of a legend, but when sought out for release, it was discovered that the original taped mixes had been lost. After a long search, the multi-track originals were found and remixed by Rouge Records' Ian A. Anderson and David Kenny. And a good thing, too- this is a recording of rare beauty, sweetness and subtlety.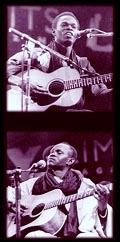 Baaba Maal is probably as big a star in Senegal as the more world famous Youssou N'Dour, but sings in the Tuculeur language rather than the dominant Wolof of N'Dour. Maal and Seck weave a complex web of acoustic guitar lines inspired by, but not imitative of, the kora players of West Africa. Backed by electric guitar, small percussion instruments and balafon, these songs snake slowly into the soul, prodding, insinuating themselves with a sly tempo that belies their power. Recommended songs: "Bibbe Leydy" with its quiet but insistent melody underscored by the balafon, the Latin-tinged "Loodo," and the insistent call and response on the guitars in "Lamtooro." This is music that grows with each repeated listening, so let it play.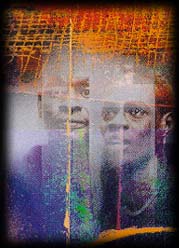 The album was originally released by Rogue Records in Europe and then in the US and other parts of the world by Mango. It is once again available throughout the world via Palm Pictures, with three wonderful new tracks added from the same 1982 sessions, featuring kora, balafon and a much drier, grittier sound, so even if you own the original, these three long tracks make it a worthy purchase!
- Cliff Furnald
Photos: Doorway by Howard Hull, first artist shots by Dave Peabody, both from the original Mango CD cover and liner notes. Second artist shot from cover of the 1998 release.