Dancing in the Street
Marty Lipp hears Carnival sounds
It's not every day that a journalist will publicly admit his or her prejudices, but I'm ready to confess: I love Brazilian music more than any other in the world. Of course, not all Brazilian music. Some, quite frankly, stinks out loud. But the best . . . ah, the best. This true melting pot of a nation combines the cultures of Africa, Europe and the Americas into a uniquely sweet and sexy mixture - music that can caress like a brush of the lips and simultaneously seize you with a swing that will not be denied. Samba is certainly Brazil's heartbeat rhythm, but it is not the country's only - or even its biggest-selling - genre any longer. Three recent releases show how good contemporary samba can be.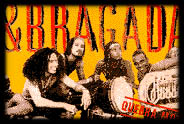 This week is Brazil's carnival, which means that for several days - economic collapse or not - the country will bump and grind to a halt. To get a slight taste of that kind of overflowing joyousness, one can listen to Tony Mola and Bragada. This multimember group electrifies the drum battery sound of Bahia's street carnival celebrations, turning it into the popular music called axé (ah-SHEH). Powered by galloping hand-beaten drums, the group layers on chanted vocals and a hot horn section, including one of the funkiest tubas you'll ever hear. Quebra Mola (Blue Jackel) is unabashedly a pop confection, but it has a pronounced folkloric flavor, too, often using the accordion and triangle combination of northeastern forro music. The group, though, is a product of today's Brazil, so it also uses electric guitars and a repertoire that includes ragamuffin and hip-hop rhythms.
Except for one "lover's reggae" number, every tune is relentlessly upbeat, the kind of exuberant partying that is uniquely Brazilian. This is the kind of caffeinated music to spirit you through the drudgery of everyday chores, which, given the pervasive poverty in Brazil, probably hints at the reason for its popularity there. Sergio Santos, on the other hand, presents the gentler side of samba, closer to the bossa nova. Though the difference can be subtle, bossa is usually more musically sophisticated and jazzy, whereas samba is more straightforwardly rhythmic. On most of "Mulato's" tunes there is an undercurrent of percussion beneath Santos' billowy soft voice and instrumentation, while other songs lay back into bossa territory.
In Brazil, this music would be considered old-fashioned - not in the sense of being folkloric, but in its being in line with the sambistas who revere pure samba unadulterated by electronics or the influence of other genres. Though it has an easy-going backyard samba feel, the music here is not raw-sounding - it glistens as much as any music polished in a modern recording studio. One of Brazil's most beloved performers, Gilberto Gil, came to prominence in the late 1960s as part of the tropicalismo movement, which brought a new experimentalism to pop music during a particularly repressive time. Now over 50, Gil is still an innovator, but he continues to embody the smiling, generous spirit of Brazilian music.
Quanta Live (Mesa) is a concert album, the emphasis is on energetic, crowd-pleasing songs - with about half the cuts coming from Gil's exquisite 1997 Quanta. Among the highlights are two Bob Marley songs, an auspicious sign of Gil's upcoming tribute album to the late reggae star. In the mix of Gil's own songs, he and his band demonstrate their agility at playing anything from Afro-Brazilian rhythms to rock. In fact, categorizing Gil's songs is often impossible. Even in a country famous for syncretizing music, Gil is unparalleled in his ability to wrap up the past and future to make one big, colorful present for us. – Marty Lipp
---