La Charanga Habanera
A review of the hot salsa group from Cuba by Robert Leaver

Last summer Cuba held a festival for the youth of the world, with over twelve thousand in attendance, including about one thousand Americans. I happened to be there at the same time visiting my wife. My interest in Cuba arose primarily out of my passion for Cuban music and has evolved into an intimate personal experience. As with all things Cuban, including my marriage, one cannot avoid politics, just as one cannot ignore technology here in America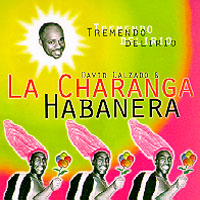 The people I know in La Habana Vieja and Centro Habana are struggling to get by ("luchando") in the most fundamental way, and there was little that the festival offered them but a large stage outside the Hotel Nacional along Havana's famous seaside promenade, the Malecon. As if demonstrating that the youth delegates were, in reality, "tourists", their passes were worn around the neck. They were implored to wear them at all times in order to be allowed into the barricaded "invitados" section, in front of the stage.
I arrived the night that Cuba's most popular youth group, La Charanga Habanera, played live on television from this stage facing the youth of the world. Unfortunately, I arrived late and this show that created such a tremendous scandal shall have to remain a myth, one that has certainly sparked my imagination. The owner of their Spanish recording company, Francis Cabezas of Magic Music, refers to them as the "Rolling Stones" of salsa. I prefer to think of them as the "P-Funk" of Cuban music.
Accordingly, they paid five thousand dollars to rent a helicopter to fly them in like rock stars. Lacking their mothership, they disembarked in their bohemian, hip-hop pirate gear from a military helicopter, which in Cuba is a most impressive way to arrive.
Cuba is certainly a sexy place - the music, the people and especially, the way the women dance - and if you want to see the new style at its wildest, La Charanga, as they are affectionately called, is the scene to see. They pack any venue they play at a cost of twenty dollars a head, far beyond what most any Cuban could afford to pay, yet there are always lots of Cuban women there with foreign men. The women generally ignore the men as they dance seizure-fast winding down in the most provocative manner.

Needless to say, the band is doing well in Cuba and they have torn it up in Europe on extensive tours. A friend of mine saw the drummer recently, driving his new Mercedes-Benz. This past year or two, they have had numerous number one hits in Cuba that everyone seems to know by heart.
They are a truly modern band that incorporates funk and rap-like vocals in an adrenaline charged Cuban salsa format, creating a new, fresh sound, and they sing about real life in Havana today. One could say they are the new consciousness of Cuban youth, and even their name is ironic, because in the music, there is really no "charanga" (a more traditional form of Cuban music, featuring violins and flutes) but instead, a heavy rhythm section, a group of singers and several trumpets.
Back to the stage. From all accounts, it was a typical La Charanga show but a much larger audience. They played for more than two hours, dancing their choreographed scenes, which included some acrobatics, and stretching songs out to twenty minutes, as the singers improvised in the soneo and sang to the women, who take it like a drug and let loose. They sang the hit "Lola, Lola," which contains a veiled reference to smoking marijuana ("vamos a chocar la bola con Lola") and apparently, they shouted out the audience a question that could mean, "Who smokes grass?" to an enthusiastic response.
They also made a request to remove the barricades so that Cubans could come to the front of the stage. But the incident that was singled out for punishment was when the singer, the skinny one, climbed some lighting structure on the side of the stage and gyrating sexually, removed his shirt and started to unbuckle his trousers, at which point the censors pulled the plug on the television broadcast. Apparently, he ultimately did not expose himself but nevertheless, he dared to make the gesture of lowering his trousers to the youth of the world and the Cuban populace. A fitting gesture, given that Cuba's biggest tourist attraction and biggest export these days seems to be its flesh.
For this gesture, the government has banned them from television, radio and from playing gigs in Cuba, and they cannot leave the country for six months - just as they were about to embark on a European tour.
All of Cuba is talking about this scandal. Some say they should be punished even more for their vulgar show; others say it was nothing out of the ordinary. Some say they are artists and should they be allowed to do their thing; others that they are out of control and confrontational with authorities. And still others think that the government is jealous because they are so popular and successful.
At any rate, if the government intended to stop them, they've just helped provide them with the greatest publicity they could ever ask for. Too bad they couldn't hook up with the Rolling Stones for their upcoming tour so the world could see how amazing they are. They'd probably convince the Stones to retire for good as they blow them off the stage.
Robert Leaver is a producer and owner of Round World Records, a world music record store in the Mission district of San Francisco, featuring African and Cuban music, as well as a variety of CDs from around the globe. Round World also is a record label with a catalogue of four salsa releases. Contact Round World, 593 Guerrero St San Francisco, CA 94110. (Their web site isn't open yet, but check www.roundworld.com soon!)