REQUIEM FOR 1847
Summation and Resources
Today, the remains of Famine-era stone fences are easy to find in Western Ireland. They stagger painfully up the steep, balding hills and measure off tiny plots still bearing the telltale ripples of "lazy beds" dug in futility a century and a half ago. The wind knocks living trees nearly horizontal and sculpts them into tortured shapes, searching among the weed-choked ruins of roofless cottages. There are plenty of sheep and no people. It is a lonely terrain.

In 1991, The Reverend Desmond Tutu of South Africa accepted an invitation from one of Ireland's most honored famine relief organizations to walk with them along an infamous stretch of road in County Mayo. A roughly hewn cross stands there today. The inscription reads: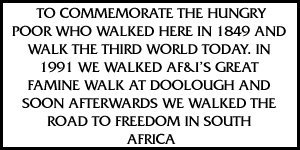 In 1995, Ireland House at New York University hosted a two day Conference On World Hunger. The new Famine Museum at Strokestown, Ireland mounted exhibits while panels of experts from throughout the world gave talks and held workshops. In her keynote address, President Mary Robinson of Ireland spoke movingly of her recent visit to Somalia, where she had observed the horrors of catastrophic starvation first-hand. She described how her experiences there impacted on her understanding of the Great Irish Famine and how such devastation must be stopped, at any cost.

On March 17, 1997, the Saint Patrick's Day Parade in New York ground to halt. As the bells of the great Cathedral on Fifth Avenue tolled in the windy noon, hundreds of thousands of participants and onlookers observed a moment of silence in tribute to their ancestors. Then, like the Famine immigrants before them, they lifted their heads and went on.

---

RESOURCES:


ON LINE:

Some of the images used in this article came from The Pictorial Times illustrations published in the 1840's. There is an excellent collection of these images at Views of the Famine. It contains newspaper illustrations and articles from the Illustrated London News, the Pictorial Times, and Punch.

The Lie of the Potato Famine
A commemoration of the Great Famine
Ireland Online
Commemerative Poems by Margaret O'Beirne
Interpreting the Irish Famine - includes photographs, Irish-American commentary and background materials.
Hunger, a series of poems by Máighréad Medbh.



CD'S: (Aside from those already mentioned)
"I'm Leaving Tipperary" (1994) GlobeStyle Irish - CDORB082, London, UK
"From Galway To Dublin" (1995) Rounder Records - CD 1087, Cambridge, MA
"Wheels Of The World - Volumes 1 & 2" (1997) Yazoo, A Division Of Shanachie Entertainment - YAZOO 7008 & 7009

The above compilations document the earliest known recordings by Irish traditional musicians. The Yazoo and GlobeStyle releases draw exclusively from tunes set down during the '20's and '30's by immigrants who settled in the US. The Rounder title covers musicians living in Ireland, England and the US from the '20's through the '50's. All provide priceless insights into the Irish diaspora as experienced by the first generations following the Famine.

"Out Of Ireland - Soundtrack" (1995) Shanachie Entertainment - 79092, New York, NY
A treasure trove of traditional material used in the film are given stunning performances by some of the best Irish and Irish-American musicians around.

Black '47 - Green Suede Shoes (1996) Mercury records, New York, NY
They never let up, thank God! An especial highlight is the song about the hunger strike of Bobby Sands. Hunger remains a powerful image in Ireland.


BOOKS:
Cecil Woodham-Smith - "The Great Hunger" (1962) - Old Town Books, a division of Marlboro Books, Harper & Row, publishers.
This classic tome is still the most fairly observed and comprehensive history of the Famine. The author, an Englishwoman, is a writer of wit and elegance whose style sometimes recalls that of the late Barbara Tuchman.

Mark Morris - "Ireland - The Emerald Isle And Its People" (1995), Passport Books, Chicago, publishers.
This is one of the best tour guides of Ireland ever written, featuring wonderful photographs and graphics. It is rich in well-described history and legends yet gets down to brass tacks, including an Irish Gaelic language glossary of words and phrases. Indispensable for actual and virtual travelers alike.

Kerby Morris & Paul Wagner - "Out Of Ireland", Elliot & Clark Publishing, PO Box 551, Montgomery, AL 36101
Excellent companion volume to the film. Get a copy to savor total immersion after the VCR pause button finally crashes.

FILMS:
"Out Of Ireland - The Story Of Irish Immigration To America" (1995) - Shanachie Entertainment Crop, New Jersey
The story is told with grace, tenderness and humor. The film has gorgeous production values and is painlessly erudite. Narrated by Kelly McGillis, it features readings by Liam Neeson, Brenda Ficker, Aiden Quinn and Gabriel Byrne plus music and cultural commentary by Mick Moloney.

"When Ireland Starved - The Great Famine" - Celtic Video, New York, NY There's plenty of enlightening detail supplied about the Famine and the events leading up to and following it, illustrated by contemporary newspaper graphics. While not so smoothly produced as "Out Of Ireland", it is scholarly, thorough and not to be missed.


"The Field" (1990) - Directed By Jim Sheridan - Starring Richard Harris, John Hurt, Brenda Ficker, Tom Berenger
Set in Ireland during the 1930's, this is a blistering study of how the Famine and related historical wrongs could mutate a profound love of the soil into an obsession. Also includes a perceptive view of Irish attitudes toward the Tinkers, or Travelers, which do not appear to have changed very much in the decades since.

RELIEF ORGANIZATIONS:

These groups are largely made up of Irish volunteers. They are struggling to provide medical services and eradicate hunger throughout the world. Donations are welcome.

GOAL
PO Box 20225
DHCC
New York, NY 10017

CONCERN WORLDWIDE
104 East 40th Street
Room 903
New York, NY 10016


Go raibh maith agat (Thanks to):

Etain O'Malley and O'Malley Clan of County Mayo for the kindling.

Also, Charles Comer AKA "Mr. Showbiz" and the staffs of Ireland House, The Irish Echo newspaper and The Irish Book Shop for fanning the flame.


Christina Roden is a publicist and marketing consultant.
She specializes in Classical and World music.


---
Return to the beginning.






This article was originally published (in shortened form) in Rhythm Music Magaine. This is the full text as written by the author.
Copyright 1997 Christina Roden
---