Mats Edén
Läckerbiten
Amigo (www.amigo.se)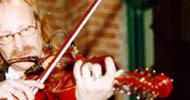 Mats Edén was a founding member of one of Sweden's most important ensembles, Groupa, who have been pushing the limits of the folk revival in Europe for almost 20 years. He is not only a fiddler of high regard, but a composer and arranger who has been involved in recordings by dozens of Sweden's best artists.

Läckerbiten gives us a unique look at this musician, as a fiddler and also as an accordionist, playing almost entirely traditional tunes from his hone of Värmland and the regions near it on the Norwegian border. The fiddle pieces are performed on drone fiddle (a slightly lower-pitched Hardangar fiddle variant based on an ancient viola d'amore, with a violin-lengthed neck and 5 strings), viola and regular fiddle. He plays with an openness and grace that is refreshing; a flashy note is never played for its own sake.

The second group of the tunes on Läckerbiten are devoted to the accordion, a one-row diatonic. It is rare to hear the tunes of Sweden and Norway played on solo accordion, so this is a particular treat. The violinist's touch is to be found in his playing, with interesting "bends" in the notes giving a new tone to the usual jauntiness of the instrument. The CD is accompanied by personable notes by Edén (in Swedish and English) that not only illuminate the tunes, but also give a little insight into one of the quieter musicians on the Swedish folk scene. - CF
Sound excerpts:
Fiddle: polsdanser efter Johan Hollsäter
accordion: Liesmendens polska efter Henrik Henricksson Mårth,
sound files © 1998, used by permission
CD is availabel at cdRoots