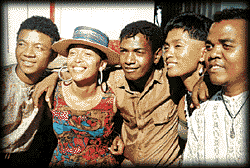 Two recent releases have confirmed the island of Madagascar's claim as a hot spot for contemporary African dance music. First, the five-member Tarika is back with a hot number titled simply as D (Xenophile-US www.greenlinnet.com / Sakay - UK www.tarika.demon.co.uk). Featuring colorful dance grooves, many penned by singer-songwriter Hanitra, D is a spicy blend of Congolese soukous, South African mbaqanga, Senegalese kora and home-grown Malagasy dance rhythms. The music is all the more exquisite because of the exotic sounds of the indigenous instruments including the marovany, valiha and kabosy.
D (Dihy, Malagasy for dance) recreates various Malagasy dance rhythms from the different regions of the island. The track "Bonne Annee," set to the Bakabaka rhythm, demands vigorous hip-swinging and leg-kicking routines. Meanwhile, the track "Raitra" ushers in the more intimate blozy rhythm which calls for a slow tango. But all hell breaks loose with the pepper-drenched "Mihetsika." This one takes no prisoners.
Indeed, D confirms Tarika's talent, its musical inventiveness which borrows from many traditions yet remains authentic Malagasy fare, and the group's eagerness to become ambassadors for Malagasy music around the world.
The other Malagasy album making waves is Vetse (EMI) by the group Njava, three brothers and two sisters who draw most of their repertoire from music performed in southwestern Malagasy ceremonies. The album offers arguably the best recorded vocal harmonies coming out of Africa today. For one thing, Monika's trembling lead voice weaves beautifully webs around sister Lala's laid back voice. Check out the moving a cappella track "Belina" with its extraordinary vocal embellishments.
Even when the acoustic guitar of brother Dozzy gains full flight as on the track Halatsa, there is plenty of room for the sisters to display their polyphonic vocal gymnastics and brother Pata to play serious percussion. All of which add up to one hell of a strong performance filled with emotion, warmth and fun.
Baaba Maal Rules At the Royal Festival Hall...
Baaba Maal's last album Nomad Soul was OK; some sparks here and there but nothing spectacular. But his latest album Live At The Royal Festival Hall (Palm Pictures / www.ryko.com ) marks a fiery reentry onto the world stage. The album features four tracks jam-packed with raw percussive drive, vocal horsepower, hot saxophone and lively chorus. Just listening to the opening track "Mbolo" is enough to get the adrenaline pumping and heart racing for more. And so there is more including the tracks "African Woman" and "Koni" featuring legendary Jamaican jazz guitarist Ernest Ranglin.
The appeal of this album goes beyond the acoustics of a live show; it reveals Baaba Maal the tender story-teller and Baaba Maal the indomitable entertainer. On both counts, he is a master and the crowd roars its approval for more. Too bad, there are only four tracks on this must-have album.
More From Senegal
From the same neck of the wood as Baaba Maal comes Malik Pathe Sow and his group Welnere. Their album Danniyanke (Yoff Productions / Palm Pictures) is a cross-breed of the dry Pulaar traditional sound and Malinke contemporary guitar music played by the Rail Band. The result is a very edgy, danceable, happy music kept only in check by the brooding mood created by the remarkable hoddu and kora harps.
As lead vocal, Sow is as much at ease with the traditional sound expressed on the tracks Pullo and Beeli Yamano as he is with the more bouncy urban sound in "Danniyanke," "Galo" and "Boobo Yonti." But his strength clearly lies in the ability to breath intimate soul into traditional music as he does on "Diama Manatali." It is as beautiful as it is artfully crafted and molded. The only question left to ask is: Why have we not heard of this guy before?
Meanwhile, Alioune Kasse's Exsina (Tinder Records / www.worldmusic.com ) is a lean album reminiscent of N'Dour's early days before big studio production killed his creative juice. Singing in Wolof, Alioune is sharp as a razor as he leads guitar veteran Yves Njock on hot club mbalax. His amazing vocal maneuvers are apparent on the tracks "Weulbatiku Nga," "Etudiant" and "Ndogal." But my absolute favorite track is "Lingay Diay (Mix 2)." It is explosive, earthy and deep.
The only drawback is that Kasse sounds too much like N'Dour which robs him of due credits for a very promising debut album. But he is young, extremely talented and hungry enough for good music to find his own voice some day.
More Reviews
Los-Angeles based, Nigerian singer Jerri Jhetto brings Highlife to reggae in his jaunty album Silver and Gold (Solid Discs). He stays closer to the classical root reggae of Peter Tosh and Bob Marley than to the Africanized version of fellow countryman Sonny Okusun. Jhetto sings it straight - what your hear is what you get.
Congolese soukous from the golden era gets a new lease on the compilation Lightning Across The River (Music Club / www.musicclub.com). Compiled by soukous aficionado and music critic Christina Roden, the album brings together some of the towering names in Congolese music: Franco Luambo Makiadi, Tabu Ley Rochereau, Kanda Bongoman, Zaiko Langa Langa and many others.
Another compilation titled Freedom Blues: South African Jazz Under Apartheid (Music Club) is a rare musical footnote to the dark days of South Africa's racist law which suppressed black's cultural expression. But express themselves they did and what a treat it is to hear Zacks Nkosi, Kippie Moketsie, Winston Mankunku Ngozi, the Jazz Epistles and many more. Compiled by music writer Rick Granvill, this is a collector's dream of some of the best jazz music from South Africa.