The Voice of Change from Congo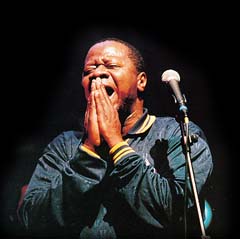 Zairean vocalist and sometimes fashion guru Papa Wemba, is always on the cutting edge of new music in Congo. It should be noted that Wemba and the group Zaiko Langa Langa helped pioneer soukous in 1969 when slow Rumba was the sound of the day in Congo.
In any event, Wemba's new disc titled Molokai (Realworld / realworld.caroline.com) digs deep into Congolese folklore and traditional music known as mutuashi. What makes this album unique is Wemba's insistence on actually singing as opposed to merely shouting like most soukous singers do.
Wemba's radical departure from soukous is evident from the opening track titled "Excuse Me," an a capella sung in Lingala. On subsequent tracks, Wemba gallops ahead of the pack as he leads a call and response chorus. Meanwhile, the guitars, instead of being tight and shrill as is normally the case with soukous, are more funky, bluesy and jazzy. Sure, Wemba does get hot with the mutuashi sound on the tracks Bakwetu, Shofele, and Sakana. But even so, he stays away from the fire and brimstone approach of classic soukous.
Then in the most daring move on the entire album, Wemba, accompanied only by the piano of Patrick Bebey, sings solo on the track "Awa Y'Okeyi." And what a voice.
What makes Molokai such a terrific album is that it uses all the traditional sounds of Congo: strong voice, drums and stringed instruments to produce great pop music. Soukous may still sound great, but it is no longer the defining voice in Congolese Music. Just as there is a new Congo, so there is new Congolese music.
---
Musicians Without Border (Musicien Sans Frontiere)
The latest such effort worth noting is between legendary Jamaican-born jazz guitarist Ernest Ranglin with Senegalese artists on the disc titled In Search of Lost Riddim (Palm Picture / www.islandlife.com). For Ranglin, who worked with the likes of Bob Marley and Peter Tosh, this was something he always wanted to do and only now found the time to carry it through.
On this disc, Ranglin works with some of Senegal's best pop and traditional musicians including Baaba Maal, Mansour Seck and a half a dozen others. Instead of taking center stage with his guitar, Ranglin who is a master arranger, gives the Senegalese plenty of room to work their magic. And they do as the tama talking drums sets the pace on such tracks as "Ala Walee" and "Nu True" while Ranglin follows softly on his guitar.
The result is a superb blend of Senegalese traditional mbalax, jazz, blues and funk. On the tracks "Minuit" and "Haayo," Baaba Maal is terrific on vocals. (What I find ironic is that Baaba Maal's latest disc is so westernized that it has lost its African roots... but, that's another review)
Ranglin does come into his own element on the hot track "Pili Pili" (which translates as hot pepper); here, he simmers and burns on the guitar, showing the dexterity which made him famous the world over.