Guitarist Rigo Star and vocalist Sam Mangwana, two veterans of the Congolese soukous and rumba sounds made the album, Attention (IMA Records), a hip-shaking, feet-kicking dance number.
Their rumba-soukous hybrid is aimed squarely at pleasing those who want to hear more music in their soukous instead of the meaningless shouts (atalakus) that have dominated this genre for the past decade and a half. The two artists even incorporate American urban sounds into their album, thus appealing to fans on both sides of the Atlantic.
The coupling of Mangwana's classical rumba voice and Rigo's impetuous, almost experimental guitaring, provokes truly amazing interplays. Suddenly, you are dancing rumba/rock/soukous/R&B, all rolled into one. The tracks "Attention, Poupa and Kali, all commence with deceptively simple rumba openings, but soon layers are added toward the gigantic explosion of joy in the middle. As always, Rigo is tight on the guitar, keeping perfect timing with the drums and vocals.
So what if these guys started playing since the beginning of time; they remain vital, vibrant and vigorous. This is music to be enjoyed and danced to.
From down south comes two releases from Tequila, a record company based in South Africa. Searching For The Truth (Tequila Music) is an inspired piece featuring the raucous jazzy horns of South African saxophonist Ratau Mike Makhalemele. This fellow mercilessly grabs you from your misery and delivers you in a heap in a fantasy land of beautiful sound. With an ear firmly planted in South African township ambiance, Mike whips up furious tempo on the tracks "Emakhaya", "Meadowlands", and "Freedom Dance."
On "Freedom Dance," Mike hangs out raw horns as if he is not really playing for keeps. Yet, impeccably, he develops the music until it is both serious and intense, only to step back to allow the saxophone to laugh at you as you weave and bob to the tune.
But rather than go for more thrills, spills and blaring horns in the best tradition of African Jazz Pioneers, the veteran horns man veers away into soul jazz and stays there long enough to tease your ears, leaving you panting for more. In the end, he touches that delicate spot in the spirit which makes one realise that some things are simply meant to be beautiful. This is the way jazz should sound- challenging for the mind, beautiful to the ear and food for the soul.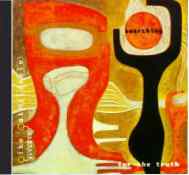 Then there is the album Things: A collection of the Marvellous and the Magical (Tequila) by the youthful Magic Cactus. As far as South African pop goes, Magic Cactus is a master of sound illusion. One moment you are floating aimlessly, drinking in the syrupy roll of township music on the track ""Who Gives A damn". The next moment , you hip-hop on the track "Walk Tough", and just as fast, you are carried to reggae land on the track "Things". This zig-zagging defies categorisation and that suits Magic Cactus just fine as they deliver one hit after another. All the while, Amanda Schofield's whispery voice is complemented by the wailing guitars of Owen "Professor" Mthembu. If you ask me, Magic Cactus has seen the future of South Africa pop, and it is not Mbaqanga. It is experimental music where you borrow hops from here, hips from there, put it all in a pot and brew your own magic.
Finally, on his first reggae album titled Greetings from Africa (Mouthpiece), Minneapolis-based Innocent whose roots are in Tanzania, is impressive as the lead vocal. He has the raspy-sweet voice of a veteran of jah world. Moreover, he has solid support from the bouncy band, Les Exodus. Tracks like "Greetings from Africa" and "Sote Ni Ndugu" are faithful to classical reggae as expounded by Saint Bob and the Wailers. The grooving gets even better on the tracks "Stay with me" and "Running".
Alas, by staying too close to roots reggae, Innocent fails to capitalise on what catapults African reggae artists to the limelight- innovation. After all, the likes of Toure Kunda (Senegal), Lucky Dube (S. Africa), Alpha Blondy (Ivory Coast), Sonny Okusuns (Nigeria) and O'Yaba (S. Africa), to mention just a few, added something different to this genre as we know it. Sure, Innocent sings occasionally in Kiswahili, but that falls short of the expected reggae fireworks the continent has produced.
In other words, this is a truly danceable piece that should get reggae fans rocking every where, but which is just as quickly forgotten at sunrise.
Tequila Music - www.tequila.co.za
IMA Records - www.imarecords.com
Mouthpiece Records, 106 W. 49th St., Minneapolis, MN 55409