Plundering The Archives
A RootsWorld Flashback This is the first in a series of re-reviews, a dig into the archives to find some of the editor's personal favorites and revisit them.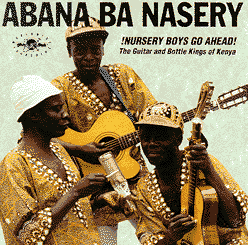 ABANA BA NASERY
Abana Ba Nasery
Globestyle (1989)
Nursery Boys Go Ahead!
Globestyle- UK / Green Linnet-Xenophile- US (1991)
Go ahead, indeed! Abana Ba Nasery (The Nursery Boys, a reference to their small stature and and a tendency towards truancy when they were young) are a three piece group from Bunyore, Kenya. Two sparkling guitars and one de-fizzed soda bottle (a Fanta, with those nice ridges to scrape on) provide the basis for an effervescent folk\pop music that is as delightful and easygoing as it gets. Their western Kenyan dance music, called omutibu, chirps like a cicada and rings like a waterfalls. The self titled album features just the trio. It is a compilation of their singles and tapes from Kenya, and it is a splendid adventure for any fan of acoustic guitar music.
Nursery Boys, Go Ahead! is a much more produced album. While they were on their first tour of Europe, they hitched up with some of illuminaries of the folk/rock scene, and made some startling and fresh recordings with Chopper and Alan Prosser from The Oyster Band, Hijaz and Expen$ive from the Mustaphas, Ron Kavana and Tomas Lynch. The blend of lilting Kenyan love songs slides right in with the bagpies, slide guitar, banjo and whistles that these folks provide, and cuts like "Abakambi" rock right along on the Oyster's bass and violin. A Celtic version of Benga erupts on these tracks, adding a new dimension to this otherwise sweet and subtle music.
Lest you think this is all just artifice, Abana Ba Nasery made a number of electric recordings over the years, but never tour that way because the expense of the instruments is overwhelming for a small Kenyan band. (The studios often provide the instruments for sessions.) Premiere tracks would have to include the Alias Ron Ba Nasery sound of "Plaster On The Leg," the story of a man in a cast with too many bugs and the girls he hope will love him (really!), and the priceless "These Women," which features a jazzy muted trumpet against thoose swirling guitar riffs. Rarely does a record cross my path as refreshingly simple and sincere as these folks. This is as highly recommended as they come. - CF