Los Zafiros
Story
Ahí-Namá 2000 (www.ahinama.com)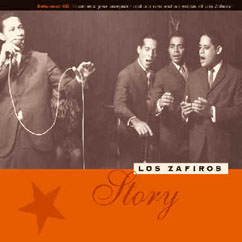 Stylistic eras rarely fit comfortably into the arbitrary divisions of common time reckoning. The musical Fifties, for example, persisted well beyond 1960, their end finally assured by the triumph of the Beatles. By the time the vocal quartet Los Zafiros (The Sapphires) was formed in Havana in 1962, their doo-wop style, novel in Cuba, was already in decline elsewhere. That didn't stop Los Zafiros from producing some fine music, intriguingly mixed with traditional Cuban styles, documented on Story. Sound quality, while free of hiss and distortion, is however subject to the technical limitations and, more significantly, the artistic preferences of a time now long ago and far away.
"Oye Nicola" starts the collection at a stately beat, then doubles it as vocal enters, backed by a high, smooth "ahhh" chorus, mimicking brass at the end, as well as full orchestration, with brass and strings, and salsa percussion, including the cowbell prominent in the lyrics. Very quick and lively, "Cuando Yo la Conoci" is the most successful blending of American pop and Cuban traditional elements, "The Lion Sleeps Tonight" meets Nueva Canción. Los Zafiros surprise with "Santa Barbara," a traditional rumba, a thicket of batá, clave, and cata percussion fronted by call-response vocals. "He Venido a Decirte," a very standard 6/8 doo-wop ballad, is distinguished by the beautiful, clear lead vocal, surfacing again in "Sera el Amor," its bistro-style piano accompanying a pretty, high, harmony melody, the lead vocal of surpassing, almost castrato, purity. The most compelling track, "La Caminadora," starts with a rolling piano figure and a choral "wha-wha" suggestive more of railroads than street-walking, transforms into a lively salsa with staccato brass and strings, then returns to the train motif after a dramatic orchestral chord.
While Story is in part a nostalgia trip, it also transports the listener to another place as well as another time, and reveals a unique and compelling musical synthesis. - Jim Foley