Music from the Yiddish Radio Project
Shanachie
Dave Tarras and the Musiker Brothers: Tanz!
Abe Schwartz: The Klezmer King
From Avenue A to the Great White Way: Yiddish & American Popular Songs
all three titles on Sony/Legacy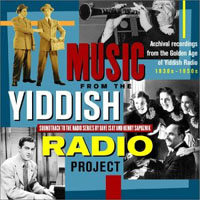 There may be suggestions to the contrary, but the reported demise of the Yiddish language is apparently premature. If the success of the Yiddish Radio Project on National Public Radio is any indication, Yiddish - or more precisely, Yiddish music - retains its popular appeal many decades after the language was regularly spoken in this country.
Yiddish is the daily language of thousands of Hasidic Jews, but their contribution to popular music is virtually nil. What's helped keep Yiddish alive in song and dance is, primarily, the ongoing revival of klezmer, which was brought to these shores more than a century ago by millions of Jewish immigrants.
The music, which originally was played by traveling minstrels and accompanied life-cycle events, remained popular even after morphing into what some called Jewish Jazz - a mixture of old-fashioned klezmer, swing and popular ballads.
Over the years, the music was almost entirely lost as tastes changed, especially among new generations of Jews who didn't speak Yiddish and whose interest hued more closely to the American mainstream. The recordings, when they could be found, were on scratchy, old 78's stored in attics and basements or sold in flea markets - if they weren't simply left at the dump.
Now, though, many of those old sounds have suddenly, almost magically, reappeared. And we have Henry Sapoznik to thank (see related article). Part musician, part archivist, Sapoznik oversaw the production of these discs, one of which is the soundtrack to the radio project, while the other three collect a potpourri of forgotten gems.
The soundtrack, which also includes some old commercials for Jewish-owned businesses, is outstanding. The disc features a wide mix of both traditional music - Moishe Oysher and Sholom Secunda team on "Dona, Dona" - and more Americanized fare - the Barry Sisters join Sam Medoff and the Yiddish Swingtet, for instance, serenade us on "Samson and Delilah" and "Yidel Mitn Fiedel (Yiddle with a Fiddle)."
The pacing and variety make it possible to close your eyes as if listening to the radio not just today, but decades earlier when Jews relied on such programs for comfort and insights.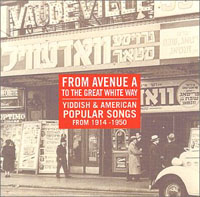 The other releases, which are part of Sony's Legacy series, fill a similar role, although the material casts a slightly wider net. That's especially true on the Avenue A collection, a two-disc set that encompasses predictable songs, such as Aaron Lebedoff's version of "Roumania, Roumania," to Benny Goodman & his Orchestra performing "My Little Cousin."
The thrust is to expose us to not only the usual Jewish sounds that emanated from the Yiddish theater - who wouldn't want to hear Molly Picon sing about hot dogs? - but also the influence this music had on a wide number of popular performers of the time - such as Eddie Cantor, Sophie Tucker, Al Jolson, Irving Berlin and even Xavier Cugat (no, he wasn't Jewish).
Most of the songs captured here were recorded in the 1920's, although a few were made around 1940, such as tracks from Gene Krupa and Cab Calloway. As a result, we can trace the evolution of Yiddish music from the cloistered neighborhoods of the Lower East Side to the more cosmopolitan venues along Broadway in midtown Manhattan.
And you don't have to be Jewish to appreciate what's going on, either such as when The Happiness Boys sing "Since Henry Ford Apologized to Me," or Willie Howard crooning on "When Nathan was Married to Rose of Washington Square." The songs were topical, addressing any number of issues of the day.
Call them snapshots, call them arcane memories, the music here ranks as classic material from a period when popular music was incorporating an incredible variety of ethnic tastes.
In a similar way, the other two discs also chronicle the evolution of Yiddish music in America. Schwartz, for instance, was - and still is - a celebrated klezmer. Born in 1881, his fiddling influenced generations of musicians, many of whom can be found in the most popular klezmer groups today. The 25 numbers offered here, which were recorded between 1927 and 1935, capture his genius as he evokes the homeland from which his listeners emerged.
The song titles tell it all - "The Trip to America, Blowing the Ram's Horn" (a reference to the religious ritual performed on the Jewish New Year), "Don't Worry Mama," "The Greenhorn Girl Cousin," "Live and Laugh." Schwartz provided a soundtrack to the adjustments Jews made in their new world.
Similarly, the other disc featuring Dave Tarras, the seminal clarinetist, combined the emotionally charged melodies found in traditional Yiddish song with the newer, worldlier sounds of American swing. Along with Sam Musiker, who once played with Gene Krupa, Tarras released a groundbreaking collection of tracks that helped bridge the past with the conservative 1950s.
Benefiting from more modern production values, this 1955 release was quickly forgotten, though, as the latest generation of Jews embraced still more popular mainstream entertainment that wasn't as clearly ethnic.
And that's what makes this entire series so valuable - these releases not only hark back to a time that's firmly in the past, they also make clear how enjoyable the music was all along. - Ed Silverman
CDs are all available via Amazon:
Music from the Yiddish Radio Project
Tanz! Dave Tarras and the Musiker Brothers
Abe Schwartz: The Klezmer King
From Avenue A to the Great White Way: Yiddish & American Popular Songs