Savina Yannatou
Terra Nostra
Lyra Records, Greece (www.lyra.gr)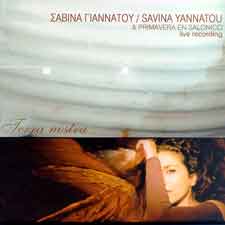 This is how I ended my previous review of a Savina Yannatou record:
"Although this record is a most welcome experience, the true talent of Savina Yannatou comes alive on stage, when she appears to be possessed by the power of the songs, delivering performances of unique quality."
Terra Nostra (Our Land) is a live recording from an Athens club, made in November 2001. Apart from her singular voice, it is also interesting for the heightened contribution of Lamia Bedioui, her constant collaborator in recent albums, who takes a much more prominent role in this performance. Further important additions come from her always excellent backing band, Primavera en Salonico.
The timbre of her voice is almost unparalleled today and I could describe its intensity as similar to a secular Diamanda Galas, with whom she shares the courage to let her voice express all her feelings without too much concern for always producing 'nice sounds.' Her rendition of a traditional Hebrides love song, for example, has a warmth and a longing that are very Celtic in their feel. Two minutes later, her voice is erupting in anger and possessed cacophony in an anti-establishment song from Sardinia, while the band has switched from a laid-back folk ensemble to a free jazz locomotive. Five minutes later, she is very happy doing backing vocals for Ms. Bedioui, who sings a Lebanese lullaby a capella, with the warmth and timidity of a young mother. The Asturian song that follows is a slightly sinister, mesmerizing ballad. Terra Nostra is demanding yet cativating, a must for anyone interested in powerful female vocals, commanding ethnic-jazz fusion or interesting (and in many cases definitive) renditions of rare material.
The 'land' of the title, despite its inclusiveness, is still quite a mystery to me. I somehow feel that it describes a Utopia built on a communion of shared feelings, humanity and courage in the face of adversity and supported by strong and ancient spiritual and emotional powers, whose prime feast is celebrated on this recording. - Nondas Kitsos
CD available at cdRoots.