Big Joe Williams and Friends
Going Back to Crawford
Arhoolie Records (www.arhoolie.com)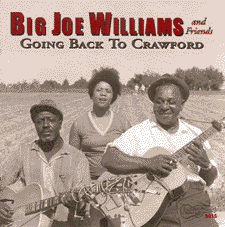 This CD is a real buried treasure! It was recorded one hot day in Mississippi twenty-eight years ago. Big Joe Williams, one of the strongest and most authentic country blues artists, assembled friends and family to make an extraordinary group recording. Legal technicalities forced Chris Strachwitz of Arhoolie Records to shelve the tapes until now.
Joe Lee "Big Joe" Williams was one of the most intelligent and original inventors of the country blues, famous for his composition, "Baby Please Don't Go" but largely ignored by a 1960s "blues revival" audience which favored more polished acts. Big Joe never polished his act. He stayed close to his origins in the farmlands of Crawford, Mississippi and to the intense delivery that links him to Son House and Robert Johnson historically.
Proud people gathered together to appreciate each other, have fun, and give voice to some very fine music. This CD captures that warm feeling and the true heart of the blues. - Bill Nevins