Lal & Norma Waterson
A True Hearted Girl
Topic (www.topicrecords.co.uk)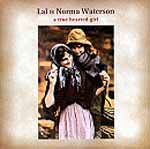 It's hard to be disappointed by any album touched by the grace of the Watersons; but as hard as I try, I just get a cold feeling from this 1977 reissue. Both Lal and Norma are unparalled singers, and on this recording they are joined by Lal's young daughter Maria. There is some fine old-timey country backing by squeezemeisters Rod Stradling and Tony Engle, fiddle by Peta Webb, and flute by Jim Eldon. Nonetheless, there is a strange tinnyness that grates on my nerves. While the performances are honest and immediate, they also feel inexplicably distant. I favor the tracks that feature solo performances by Lal ('The Welcome Sailor') and Norma ("The Unfortunate Lass"). Norma, Lal, and Maria turn in a stunning version of the plague song "Betsy Bell," its loping rhythm positively dripping with dread.
The standout performances are not even from the original record. There is a track from the 1966 album "A Yorkshire Garland" ("The Pretty Drummer Boy"), and a recent 1998 recording of the Waterson women (Norma, Lal, Maria, and Eliza) singing "John Ball." These two songs sound more upfront than the others, and particularly "John Ball," which perhaps should have been sequenced at the end of the disc rather than placed in its midst. It is quite poignant to hear the Waterson clan sing together so beautifully not long before Lal's passing, and it is this momento which makes this reissue notable. - Lee Blackstone