Waterson:Carthy
Broken Ground
Topic (www.topicrecords.co.uk)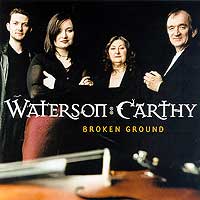 There's always a buzz when any recording comes out with the names Waterson or Carthy on the label, an anticipation of surprise and an assurance of familiarity all at the same time. So when it's Waterson:Carthy those elements are even more expected. The album is a flawless selection of tunes and songs; Norma Waterson's lovely reading of "Bay Of Biscay" and Martin Carthy's dramatic "The Lion's Den" are standout songs. Eliza Carthy continues to develop as a fiddler of subtle passion and a welcome lack of overt flash. She's also proving herself as a singer, showing great folk roots in duets with Norma and standing out as a fine interpreter on her own, notably on a mournful "Raggle Taggle Gypsy." And this family has grown to include Saul Rose on melodeons, to add yet another color to the palette both as support on the ballads and as a soloist on a number of sets of tunes. The album roars to an end with "Bald Headed End Of The Broom," a tune that has Carthy, Rose and The Phoenix New Orleans Parade Band providing a rollicking finish. The fact is, Broken Ground treads no new territory, but carries on with the family penchant for finding the personal nuances in old chestnuts and uncovering lesser known gems from the tradition and giving them a fresh reading. Few performers could be praised by saying they have given us "more of the same old thing." - CF

"Rowling Hornpipe/Our Cat Has Kitted/Sportsman's Hornpipe" is an instrumental. We thought we'd offer you this tune to introduce you to newest member Saul Rose and his melodeon, joined by Eliza Carthy on fiddle and Martin Carthy on guitar.

---
Audio: "Rowling Hornpipe/Our Cat Has Kitted/Sportsman's Hornpipe". Traditional, arr Carthy-Carthy-Rose. © 1999 Topic Records Ltd., UK
© 1999 RootsWorld. No reproduction of any part of this page or its associated files is permitted without express written permission.