Chucho Valdés
Fantasía Cubana: Variations on Classical Themes
Blue Note
Chuchito Valdés Jr.
Encantado
Town Crier (www.towncrierrecordings.com)
Mayra Caridad Valdés
La Diosa del Mar
Jazzheads (www.jazzheads.com)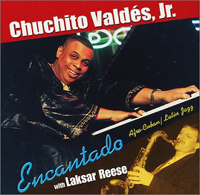 Composer and pianist Bebo Valdés was for many years music director at Havana's Tropicana Club, and arranger for Rita Montaner. He made a breakthrough mambo-inspired descarga ("jam session") recording in 1952 on Verve, but departed revolutionary Cuba in 1960, and has lived in Stockholm for the past four decades. While remaining active, he went unrecorded until Paquito d'Rivera lured him into the studio in 1994 to lay down Bebo Rides Again (Messidor), an elusive gem and one tremendous "comeback." Three new releases from Bebo's direct descendants confirm that the Valdés name constitutes a formative island music dynasty.
Nineteen when his father departed, son Chucho, pianist, composer and Cuba's leading jazz luminary, promises a revelation with each new release. Trained at the Havana Conservatory of Music, he apprenticed with legends Armando Romeu, Ernesto Lecuona and Beny Moré before co-founding Irakere in 1973. Beginning with his sublime but difficult-to-find solo piano effort, Lucumí (Messidor, 1988), Valdés has followed his own bright star. Fantasía Cubana, his latest solo outing, delivers an eloquent blend of traditional Cuban, classical and jazz idioms with a vivid lyricism whose clarity resonates throughout. Valdés' work has always cultivated a certain romanticism, especially that of pianist-composer Lecuona, whose Cuban themes incorporated Spanish and classical elements as well. Valdés retools Chopin ("Prelude in E Minor," "Waltz in A Minor," and a Chopin-like interpretation of Lecuona's lovely "Comparsa"), Debussy ("Reverie and Arabesque"), and Ravel ("Pavane for a Dead Princess," in almost a Keith Jarrett vein), transposing these nineteenth-century pieces into contemporary territory. Valdés counter-balances with his own compositions, including the reflective title track's sidelong references to Satie; the laid-back "Sunrise," "Reverie" and "La Campesina"; the swaying, breezy "Tumbao"; the Monkish angularity and flamenco undertones of "Impromptu"; and the driving percussive groove of "Wakamba." Fantasia Cubana testifies to the sustained vitality of Cuba's dean of pianists, an artist whose creative horizons continue to expand after four decades at the keyboard.
Son Chuchito Valdés, Jr., has followed in the footsteps of his father and grandfather. His recording debut, Encantado ("enchanted"), teams Chuchito with Australian co-leader Laksar Reese (tenor and soprano saxes, flute), along with Tito Carillo (trumpet, flugelhorn), Hector Silveira (electric bass, percussion), Frankie Ocasio (congas), Carlos Quintos (congas, vocals), José Ormaza (drums) and Javier Gonzáles (timbales, maracas, drums). Chuchito essays elements of jazz (a percussively suave rendering of Coltrane's "Giant Steps" and some rippling, New Orleans-inspired solo-piano impressions of Billy Strayhorn's "Take the A Train"), retooled traditional dances (a reflective, ballad-like "Bolero en Chicago") and folkloric forms ("Guaguanco / Montuno"). Six tunes are Chuchito-Reese compositions, including the former's album-opening homage to his grandfather, "Homenaje Bebo." The overall sound is warm and bright, Chuchito's piano clearly out front, but without dominating. Consider the Valdés-Reese composition "Andariego," a straight-ahead mambo in which Chuchito's dead-on staccato keyboard attack blends seamlessly with Carillo's brassy accents and a solid percussive foundation. Two other Chuchito tunes exemplify the band's tightly packed sound: on "Son Cha Cha Cha," Reese shows his command of the charanga flute sound (minus violins, of course), while "Guaguanco / Montuno" provides a front-line display of Reese's tenor sax sensibilities, which carry something of Coltrane's Ballads-era tonality. But Encantado is no sleepy resurrection of chestnuts and standard forms, and if it doesn't map the outer limits of contemporary Afro-Cuban jazz, on freeform pieces like his and Reese's "Danza de los Gigantes," Chuchito smoothly and resolutely propels the island's vital jazz piano tradition forward into the twenty-first century.
Chuchito's aunt, knockout singer Mayra Caridad, a Latin Grammy nominee, on tour with her brother Chucho for the past few years, now steps out on her own. She studied at Cuba's National Art School, worked with ethnomusicologist Odilio Urfe, and only began her own performing career in 1981. After a series of performances across Cuba with Harry Belafonte, she went on to sing with Irakere and other ensembles. Listeners may recall Mayra's earthshaking turn on Chucho's recent Live at the Village Vanguard (Blue Note), with a brilliant interpretation of Cuban composer Eliseo Grenet's ageless lullaby "Drume Negrita." She reprises it to open her own solo debut, La Diosa del Mar ("The Sea Goddess"). Recent years have loosed a throng of Cuban female pop singers, but after the senior generation represented by Omara Portuondo, Mayra represents one of relatively few female Cuban jazz singers. Backed by some of the island's finest young instrumentalists (pianist Tony Peréz deserves particular mention), whatever the material, she is a singer who takes no prisoners, a singular vocal talent with a predilection for risk taking. Throughout, what manifests is her gutsy alto, emanating from a place deep within.
Comparisons can be odious, but the fluidity of her jazz phrasing and scat-singing reflect an earthy communion of the lingering spirits of Sarah Vaughan, Ella Fitzgerald, Betty Carter and Carmen McRae. Consider her expressive scatting on Chucho's "Mambo Influenciado" and Charlie Parker's "Billie's Bounce," or the unexpected, gospel-infused reading of Lecuona's "Danza Ñáñiga." Even Consuelo Velasquez's over-recorded classic, "Bésame Mucho," finds a new incarnation with Mayra's expressive wordless vocalizations. Vocally further out is her audition of Chucho's "Yemayá," a Yoruba-language chant to the goddess of the sea and moon, and the mother of the saints in Afro-Cuban spiritual practice. Ditto the album-closing "Rezo Afrocubano" ("Afro-Cuban Prayer"), whose evocative vocal chorus and traditional percussion opening come straight from the same folk tradition, capping a promising debut from a mature if only now-emergent voice in Cuban jazz. - Michael Stone
Available at cdroots.com
Fantasía Cubana:
Encantado
La Diosa del Mar