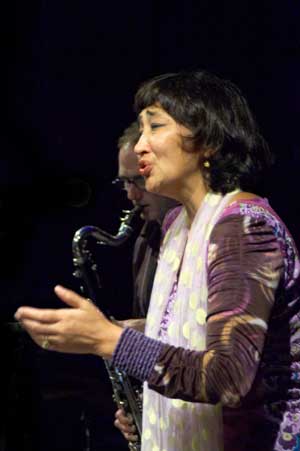 Philip Palmer reviews a unique performance by
Saadet Turkoz and Hans Koch
at Club Re in Krakow, Poland on September 10th, 2006

There has long been a healthy spirit of non-conformism in Krakow, so it is no surprise to receive a visit here from musicians who refuse to compromise. Vocalist Saadet Turkoz and reedman Hans Koch certainly fall into this category, and their appearance at Club Re in Krakow, Poland on September 10th, 2006 was surely uncompromising.

Turkoz' Kazakh parents were forced to leave their homeland (an area administered as the Uyghur Autonomous Region in Xinjiang Province) by the Chinese authorities and she spent her childhood in Turkey, before emigrating to Switzerland, where she now lives. So it is unsurprising, that in addition to exploring the nature of memory, one of her stated aims is to find links between cultures through music. Her music is freely improvised, but is based on a personal interpretation of and reflection on the folk melodies her parents and their friends exposed her to when she was a child. The lullaby, the confession, the curse and the dirge all have their place. Building on this core of universal human experience, she is able to convey dramatically contrasting emotions.

Listen

There are few melodic or rhythmic surprises. Everything hangs on her voice, one of extraordinary variety, ranging from a gravelly growl to firmly controlled upper register shrieks. Highlights of this Krakow concert included a furious monologue punched out with the intensity of Patti Smith, a babbling infant episode which became a song and an intense speaking-in-tongues exchange which brought a song to a close.

There was a strong sense of theater throughout. Her coy introduction to one song, ("He's very pretty, but I'd like not to be his mother"), formed a striking contrast with her posture, which had vaguely resembled the studied poise of an opera diva up to that point. Later, she broke into a graceful dance. In fact, gestures formed an integral part of the performance. At one point, she released an imaginary dove; at another, she mysteriously patted her stomach. At times, she even appeared to be taking on the roles of the characters portrayed in her songs.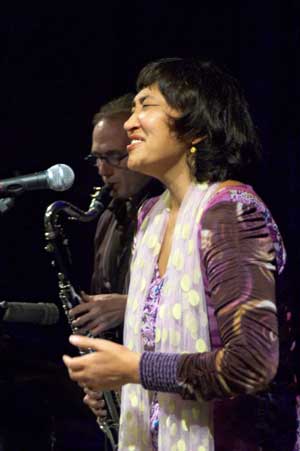 Turkoz clearly gave a great deal of thought to choosing a partner for this performance. It is quite a challenge to accompany such an expressive vocalist without the assistance of a percussionist or chordal instrument, but Zurich-based bass clarinetist Hans Koch gets a great deal of credit. He is a prolific and adventurous musician and composer with quite a pedigree, collaborating with such jazz luminaries as Cecil Taylor and Evan Parker, and it showed.
It is true that he had a laptop computer at his disposal, but he chose not to generate the expected steady beat. Instead, stooping over the flickering screen, he dug out a dull thud-thud and fluttering chirrups and squawks, never falling back on the tried-and-tested method of soloing over the top of a looped sample. The depth of understanding between the two artists was such that a percussionist was unnecessary. In fact, the performance appeared to be riding on a shifting pulse.
The fluidity with which Koch occasionally slithered up and down his horn betrayed the technical facility that he acquired in his formative period as a classical clarinettist, but, on the whole, he was more interested in sound than notes. His arsenal of unusual textures included a clearly audible rush of wind and muffled vocalisations. He even resorted to imitations of life, but not of Genghis Khan's galoping hordes. Rather, the drawn out yawns of a sleeping giant, a wailing siren or a vacuum cleaner with a large object stuck in the end. Somehow it all made perfect musical sense. The encore ended with a dramatic drop in dynamics that encapsulated the spirit of the performance, Koch cheekily punctuating Turkoz's whispered confession with suggestive kissing noises. - Philip Palmer
The photos were taken by Andrzej Miklinski at the St.John's Church in Gdansk, Poland at the previous night's concert at the Festival of World Cultures "Window Onto the World" 2006 organized by the Baltic Sea Cultural Center. Audio is from that same concert, and is provided courtesy of the artists and Baltic Sea Cultural Center. Thanks to Grzegorz Welizarowicz for his assistance in preparing this article.