Oliver Mtukudzi
Vhunze Moto
Putumayo 2002 (www.putumayo.com)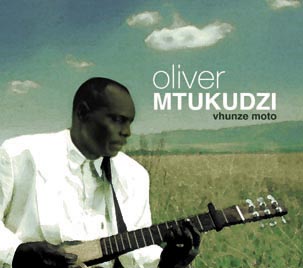 This third Putumayo release by Zimbabwe's Oliver Mtukudzi is instantly likeable. Mtukudzi's deep, gritty vocal, while suggesting that of the late Mahlathini, surpasses it in warmth. It might be tempting to characterize Vunze Moto's calmly rolling, largely acoustic sound as sedated high-life, but that high-energy dance music comes to seem more an over-caffeinated variation on the engaging natural flow of Tuku music. The supporting vocals are outstanding, their precision and brightness an intriguing contrast to Mtukudzi's low rumble. English lyric translations provided in the booklet reveal Mtukudzi's gift for detailed and penetrating observation, as well as a taste for proverbial advice.
Calmly rolling acoustic guitar, bongos, and subtle keyboard introduce "Ndakuvara," the most melodic track on the record; Mtukudi's low, gritty vocal cracking dramatically on occasion, male vocal harmonies and piercing female chorus emphasizing the plaintive melody on verse, heightened urgency on chorus, a cautionary tale about being kicked by an unruly young ox. Moral: Know your oxen! "Gondo" is nearly calypso, Mtukudzi's strong, deep vocal powerfully enhanced by mixed vocal harmonies. "Ziva Nguva" changes the beat, a prancing, lilting rhythmic introduction leading into a contrasting staccato chorus, simple repeated guitar figure and gyring balafonic keyboards supporting Mtukudzi's soulful vocal with a trancy atmosphere before a final return of the initial staccato chorus. "Wongororo" adds a jazzy tang to the signature rolling beat, mixed chorus providing an anchor for Mtukudzi's vocal peregrinations, rejoining and reinforcing them at strategic points. Mtukudzi's voice skips across a lively, stuttering polyrhythm on "Kucheneka," dense percussive instrumentation highlighted by subtle chimes and clangs, an understated tonal feast. "Moto Moto," the slowest song on the record, has a profound R&B feel, Steve Dyer's guest soprano sax a smooth melodic commentary on Mtukudzi's sandpapery vocal.
Vunze Moto is the herbal tea of contemporary African music: calming, but with sufficient zing in Mtukudzi's affable vocals to keep it tasty to the last drop. - Jim Foley
Oliver Mtukudzi's recordings are available at cdRoots